Atlantic City Small Businesses Challenged by Casino Closings
Atlantic City's shrinking casino revenues aren't just bad for the gambling industry, they're also affecting the small businesses in the resort city who rely on the gaming houses to drive tourism.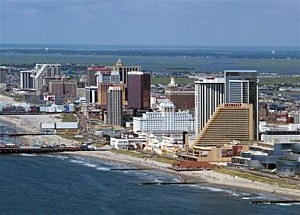 Atlantic City Times publisher Earl Harvey said it's difficult enough for small businesses, without cannibalizing one of their biggest economic drivers.
"The small business community is vested in having those tourist dollars come into the city to support the local economy. So anything that divides that effort can be looked at as a negative."
Harvey said business face a litany of challenges in New Jersey, but even more so in Atlantic City. "A lot of them are being undercapitalized. They need help with capital improvements on the properties that they're buying. The taxes in New Jersey are considered very high, so there are natural barriers that already exist."
The roughly 27 million people that casinos attract help offset the challenges Atlantic City businesses face, said Harvey.
And while overall casino revenue is down, it's still a substantial financial anchor for the city and its small businesses, according to Harvey. "You're still looking at a two to three billion dollar casino market in this town, which is nothing to sneeze at."
Source:
Atlantic City Small Businesses Challenged by Casino Closings