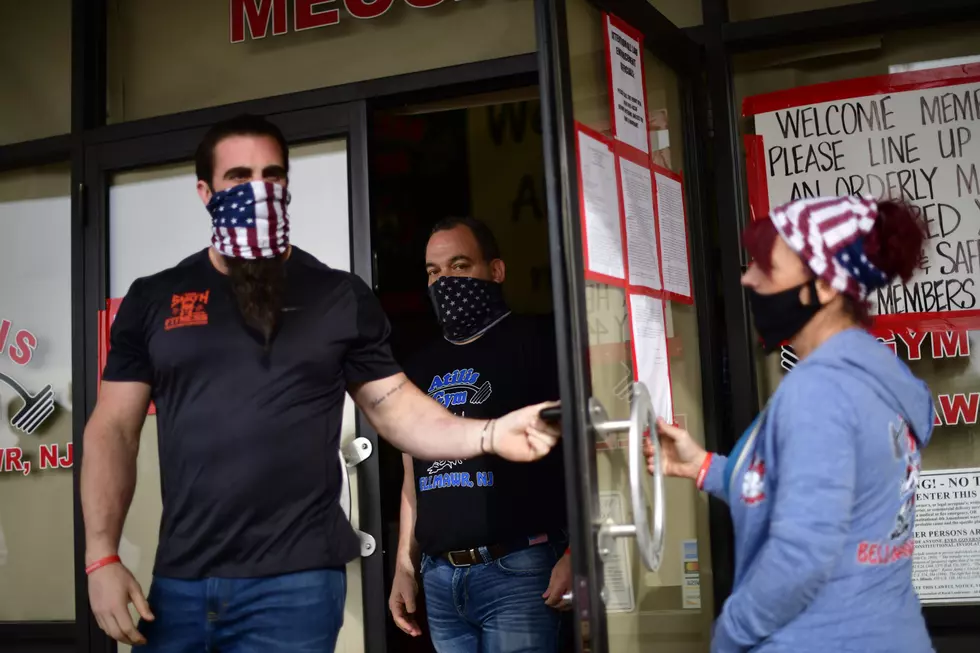 Murphy administration allows defiant gym to open, if they follow new rules
Getty Images
BELLMAWR — Gov. Phil Murphy has given the thumbs up for gyms to fully open starting Sept. 1 — and that includes the gym that's made national headlines for defying the governor during the deadly pandemic.
In addition to Murphy's executive order this week reopening gyms at 25% capacity, Health Commissioner Judith Persichilli on Friday signed an order allowing Atilis Gym to reopen — provided they adhere to the new rules that all fitness centers must follow.
Unlike the overwhelming majority of businesses that complied with the Murphy administration's regulations aimed at slowing the spread of the coronavirus, gym owners Ian Smith and Frank Trumbetti rebelled against the shutdown orders, at one point kicking down the boards that authorities had used to barricade their business. For that, a Superior Court judge found them in contempt and ordered them to pay more than $300,000 in fines and legal fees. Earlier this month, the Borough Council revoked their business license.
Murphy never acknowledged Atilis by name, but on Wednesday noted that there had been a "few knuckleheads who have been more than interested in their own celebrity, frankly, than in working with us to defeat the virus. But they are thankfully overwhelmingly outnumbered by the good guys and gals."
Reacting to the news that gyms would be allowed to open next week, Smith told New Jersey 101.5: "We're still screwed."
Persichilli's latest order permits Atilis to allow customers to exercise in the gym as long as they follow the rules for all fitness centers:
Limit occupancy of any indoor premises to 25 percent of the stated maximum capacity, if applicable, at one time, excluding staff;
Require that reservations, cancellations and pre-payments be made via electronic or telephone reservation systems to limit physical interactions. Such policies shall, wherever possible, consider populations that do not have access to internet service or credit cards;
Install a physical barrier, such as a shield guard, between customers and employees wherever feasible or otherwise ensure six feet of distance between those individuals, except at the moment of payment;
Limit the use of equipment rented or otherwise provided to one person at a time, excluding immediate family members, caretakers, household members, or romantic partners, and sanitize such equipment before and after use;
Demarcate and post signs that denote six feet of spacing in all commonly used and other applicable areas or where people may form a line;
Require infection control practices, such as regular hand washing, coughing and sneezing etiquette, and proper tissue usage and disposal;
Provide employees break time for repeated handwashing throughout the workday;
Provide sanitization materials, such as hand sanitizer and sanitizing wipes, to staff and customers;
Limit occupancy in restrooms and locker facilities that remain open to avoid overcrowding and maintain social distancing through signage and, where practicable, the utilization of attendants to monitor capacity;
Require frequent sanitization of high-touch areas including, at minimum, the following cleaning protocols:Immediately separate and send home workers who appear to have symptoms consistent with COVID-19 illness upon arrival at work or who become sick during the day;
Promptly notify workers of any known exposure to COVID-19 at the worksite, consistent with the confidentiality requirements of the Americans with Disabilities Act and any other applicable laws;
Clean and disinfect the worksite in accordance with CDC guidelines when a worker at the site has been diagnosed with COVID-19 illness; o. Continue to follow guidelines and directives issued by the New Jersey Department of Health, the CDC and the Occupational Health and Safety Administration, as applicable, for maintaining a clean, safe and healthy work environment;
Require workers and customers to wear cloth face coverings while in the indoor portion of the premises, except where doing so would inhibit that individual's health or where the individual is under two years of age.
Atilis must provide, at its expense, such face coverings for its employees. If a customer refuses to wear a cloth face covering for non-medical reasons and if such covering cannot be provided to the individual by Atilis at the point of entry, then Atilis must decline the individual entry into the indoor premises. This requirement shall not apply when wearing a face covering would inhibit that individual's health, including when in the water and in other situations where the presence of a mask would pose a risk to the individual's safety, or where the individual is under two years of age.
Workers or customers may wear a surgical-grade mask or other more protective face covering if the individual is already in possession of such equipment, or if Atilis is otherwise required to provide its workers with more protective equipment due to the nature of the work involved. Where an individual declines to wear a face covering in the indoor premises due to a medical condition that inhibits such usage, neither Atilis nor its staff shall require the individual to produce medical documentation verifying the stated condition.
MORE: 55 baseball players from NJ (that Joe V could find stock photos of)
More From WPG Talk Radio 95.5 FM