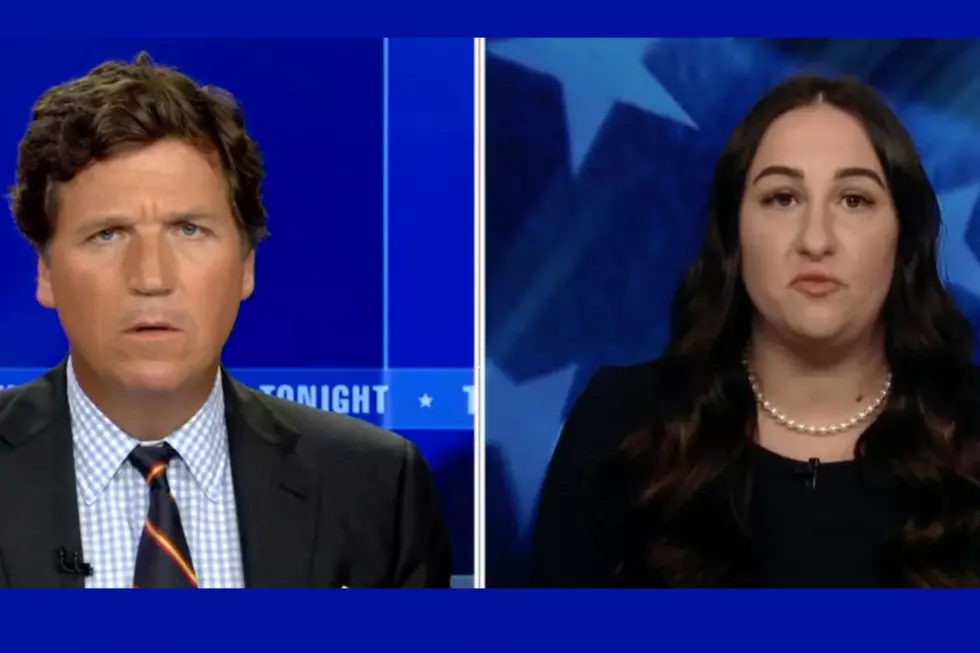 NJ Mom's Free-speech Lawsuit Says Military, Local Officials Villainized Her Over LGBT Criticism
North Hanover mother with Tucker Carlson anti-LGBTQ flag use in student posters on display (via Fox News)
A South Jersey mom who publicly criticized student-made posters that included gay pride messaging has now filed a lawsuit saying her free speech was targeted and she was made out to be a villain.
The Thomas More Society is a national law firm, rooted in conservative religious beliefs.
Attorneys from the firm representing Angela Reading said the mother of two voiced concerns over "offensive signs at a local school," in the suit filed on March 15 in U.S. District Court.
The lawsuit against local police, the school district and Air Force officials at Joint Base Mcguire-Dix Lakehurst, whose service members send their children to local schools, seeks an unspecified amount in damages.
The complaint says Reading was the victim of a "conspiracy to punish a mother who did not welcome a public school's attempt to force a woke ideology upon her own, and other, young children – and to have the audacity to exercise her right of free speech to do so in a peaceful manner in an appropriate forum."
Reading shared photos of the posters, which had been created to mark a week of inclusiveness and respect in the North Hanover public school district.
Reading slammed the posters as "perverse."
In November, she posted a close-up photo of one student's artwork to a public Facebook group with her criticism, questioning how fourth through sixth graders would know how to spell such words and design the flags of LGBTQ awareness without specific instruction.
The suit calls the student posters "sexually explicit material," giving the impression that it was graphic or even illegal, for the use of gay pride flags and words including "polysexual."
Suit: NJ mom posts shared, concern over potential violence was "smear campaign"
More than half of the students in North Hanover School District are children of active-duty military men and women due to its closeness to Joint Base McGuire-Dix-Lakehurst.
In the ensuing public response, critics of Reading's posts included at least one active member of the Joint Base.
The suit says emails from U.S. Army Reserve Major Christopher Schilling were a "smear campaign" against Reading.
Concerns about school safety had been reported to local law enforcement agencies — North Hanover Police Department for the township and the JB MDL Security Forces for the portion of the town located within the base.
In his messages, Schilling said that Reading's Facebook posts had been re-shared to a public group (NJ Fresh Faced Schools) with identifiers of the county and township and that her photos of children's posters also shared the school's name (UES).
"This gives a road map to anyone looking to make a statement, political, ideological or even violent," Schilling said in a message to another Joint Base employee.
The lawsuit says that the initial posts were made as a "private citizen from her personal social media account to a discussion group about New Jersey schools."
"Mrs. Reading did not name names or schools, and invited respectful debate."
There is only one school for fourth through sixth graders in the district where Reading's husband was the Board of Education president. She was also an elected member of the Board of Education for the regional district that serves the area high school.
Nik Stouffer, an administrator of the Facebook group NJ Fresh Faced Schools, as well as Chaos and Control blogger, later messaged Reading to say she had removed the North Hanover school post "because she was asked to" — as seen in exhibits filed with the lawsuit.
After backlash, Reading says her social media posts were 'peaceful' and 'appropriate'
Her photos and concerns were shared beyond her personal account by the public Facebook group, NJ Fresh Faced Schools — affiliated with the NJ blog "Chaos and Control, which labeled it "kiddy sex posters."
During an appearance with Fox News host Tucker Carlson, Reading said that the military had been targeting her.
In a separate blog entry, Chaos and Control also shared an online petition in support of Reading.
One commenter said: "We need the parents from every school to go in and take down all this garbage ... I will help, even if I get arrested."
In a written statement previously issued to Townsquare Media, a Joint Base spokesperson said Joint Base McGuire-Dix-Lakehurst had "no role in investigating this situation and any information or concerns received from the public were passed onto the local civilian law enforcement responsible for jurisdiction."
LOOK: Here is the richest town in each state
Just saying the names of these towns immediately conjures up images of grand mansions, luxury cars, and ritzy restaurants. Read on to see which town in your home state took the title of the richest location and which place had the highest median income in the country. Who knows—your hometown might even be on this list.
Most affordable places to live in New Jersey
SmartAsset released a study analyzing the
most affordable places to live in New Jersey
. The eighth annual study weighed several factors, including taxes, homeowners' insurance, and home costs relative to the local median income.
More From WPG Talk Radio 95.5 FM