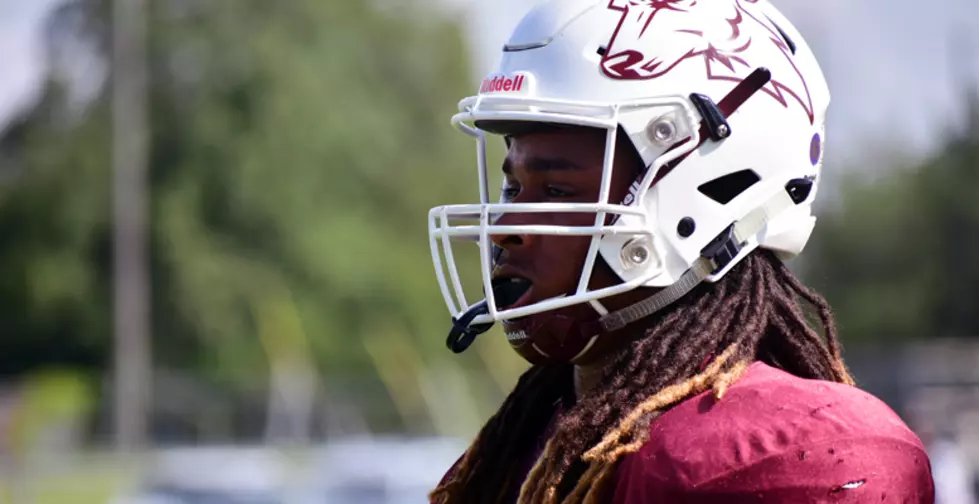 South Jersey Football: Pleasantville is 'All In' This Season
(Glory Days Magazine photo/Dave O'Sullivan)
Chris Sacco took over a winless Pleasantville football program in 2015 with eyes on turning the Greyhounds into a state championship contender. Some may have thought he was nuts.
In the four years prior to Sacco's hire, the Greyhounds went 3-37 with three 0-10 seasons — and even in his first season Pleasantville went 0-10. But by the second year things started to turn around, as Pleasantville went 4-6. Then, in 2017, the Greyhounds went 7-3, and last year they posted an 8-3 record that included the program's second straight trip to the state playoffs and first postseason win in 15 years.
Sacco has always believed in his philosophies and ability to build a winning football team, and now a lot more people do, too. Pleasantville lost to eventual champion Haddonfield in the second round of the South Jersey Group 2 playoffs last fall, and now, Sacco says, the Greyhounds are hungry for more.
"The program has continued to trend upward. A lot of people from the outside looking in will see we lost a lot of seniors from last year, and a lot of them really exceptional football players, but when you start to establish yourself as a program and not just a team, you start to get younger guys who can step up. I think we're starting to see that now," Sacco said. "We're not where we need to be, but we played a lot of young, inexperienced guys in our first two scrimmages. We've made some mistakes, but we like what they are able to do. We're creating some depth and I like the direction and the camaraderie of this team."
"We lost a lot of key players, but we have a lot of young guys stepping up who are ready to play. This year is going to be a big year for them, and for us, and the seniors are trying to lead them the right way," said senior Ernest Howard, the strong-side linebacker in Pleasantville's 3-3 stack defense. "It's a different environment out here now, the city is behind us, we have a lot of energy, we just have to finish this season strong. We just have to push harder now that everybody is on us. We just care about ourselves and working harder to get better every day."
As good as Pleasantville's 2018 season was, the Greyhounds came up empty in terms of championships, as Buena Regional scored a 19-13 win over Pleasantville in mid-October that ended up giving the Chiefs the West Jersey Football League United Division title. Still, having Pleasantville in the conversation for divisional and sectional championships shows just how far this program has come in the last four years, and it started with a complete overhaul.
"Anytime something isn't going well, you want to rebrand it. That's kind of what we did, we changed the Greyhound logo, got new helmets, new game jerseys. Now we have all black uniforms. We reward them for the work they put in," Sacco said. "We started a booster club and they're on board with everything. It's a total team and total program effort. This is our biggest and most talented freshman class coming in since we've been here, so the future is really bright."
Part of the rebranding process also has included getting the student-athletes to understand that a football team is a family, and that everything they do is a reflection on the family. A big commitment to academics helped former star linebacker Mohamed Toure graduate early after landing a scholarship to Rutgers, Elijah Glover is continuing his career at Villanova, and former quarterback Sahmir Jones is about to leave for Boston University on an NCAA Division I track scholarship. That has also meant increased interest in the program, not only from college recruiters, but the fan base as well.
"It all starts with my wife. She allows me to do what I do here with the guys, and (my family) is really a part of the team. The kids come out to practice and they love it, the players are great with the kids, and that makes things easier. When you have to be at the school so much and you're able to bring the family around, it makes coaching a lot easier. It's just that whole family buy-in, like we're all in this together. That's what our shirts say, "ALL IN", and we are. This team is all in with everything we're doing, and we're trying to go the distance this year," Sacco said. "There's continuity on the staff and we all get all. We don't always agree, but we're close enough where we can voice our differences, make a decision and move forward. Everybody is on the same page, and having that consistency on the staff the last five years definitely helps."
"We have to be all in together, and be ready to go together," Howard said. "We have to play as a team. We win as a team, we lose as a team. We're all learning together."
"Our offensive line has to pick it up in practice next week, but overall I feel like we did well. We're looking good for this season," said senior offensive tackle Equallie Bumpass after today's scrimmage against Timber Creek. "It feels better when the stands are full. My freshman year, that was the year we started to build up and the stands weren't that full, but now we're a winning team and everybody comes out and supports us."
As far as the Xs and Os go, Pleasantville looks to have a fast, hard-hitting defense, and offensively likely will rely heavily on the run until Sacco can settle on a quarterback. Senior Joshua Kotokpo is a star in the making, and Howard and sophomore Jaquan Howard likely will get their share of carries. Freshman Marlon Leslie and sophomore Adonis Diaz are battling it out to take the quarterback position that Jones held down the past two seasons.
"Our line is going to come together. We don't have a ton of depth on the offensive and defensive lines, but that's always the last thing to come together. It's the hardest unit to put together, but between Jaquan Howard, Ernest Howard and Josh, we're really set at running back," Sacco said. "We'll try to get two or three of those guys on the field at the same time, and with Keon Henry, Amin Bailey and Kashawn Jamison coming back, Ibn Ragsdale — we have weapons, we just have to get the quarterback position situated. We have two guys competing right now and we've tried to put them in tough situations (in preseason). We stacked the deck with scrimmages against Highland, Timber Creek and Holy Spirit. We wanted to play tough competition right off the bat so we can see who's going to respond. So far, it's been pretty even and they are both progressing well."
Pleasantville has some tough games early on, including a road trip to Haddonfield after a double-zero week opener against Salem, as well as Cedar Creek and Buena in October. The ultimate goal for the Greyhounds is to make a return trip to the state playoffs, and make a statement once they get there.
"Going back to our playoff game against Haddonfield last year, we played a great first half and were up 6-0 at halftime, and probably could have been up 13-0 or 14-0. Our defense was playing great, but then the wheels kind of fell off," Sacco said. "Having a game like that end our playoff run really left a bad taste in our mouth, and this team is hungry to finish it. They've been hearing all year about how we lost so much talent, but we'll embrace the underdog role. They want to show people that we're here to play, and that's what we're hoping to do. If we can do what I think we can do, we'll be OK."
(all games at 7 p.m. unless otherwise noted)
Sept. 20 at Lower Cape May
Sept. 27 vs. Gloucester City
Oct. 11 vs. Gloucester Catholic
Oct. 25 at Buena (6 p.m.)
Nov. 1 at Middle Township (6 p.m.)
Nov. 28 at Ocean City (10 a.m.)
More From WPG Talk Radio 95.5 FM