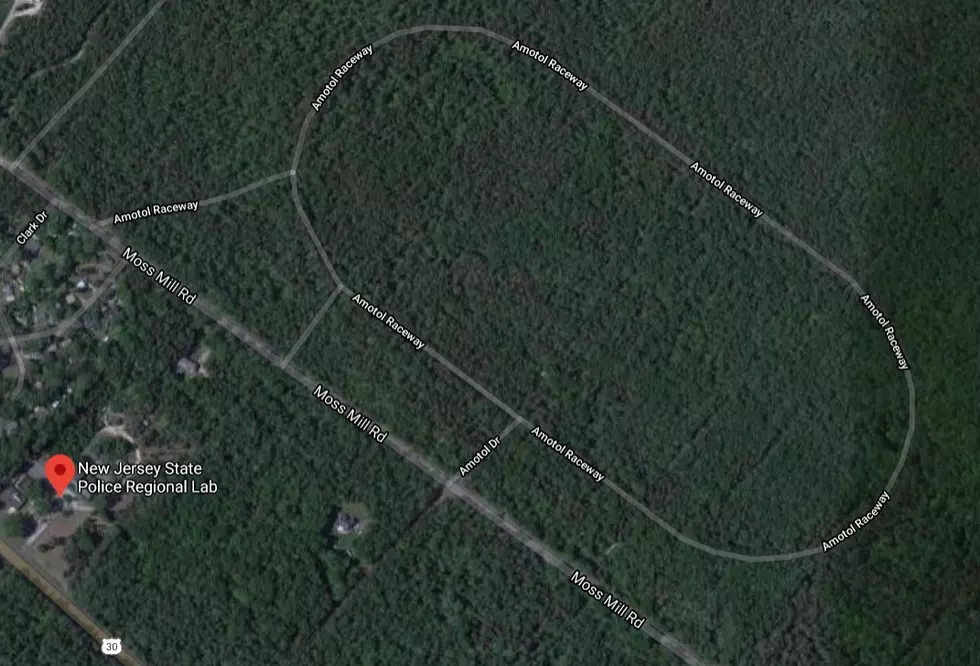 Go Back in Time: Amatol Raceway in Hammonton, NJ
The footprint of Amatol Raceway between Hammonton and Elwood - Photo: Google Maps
Chances are, you've driven on Moss Mill Road across northern Atlantic County -- a very picturesque road that goes through an area that isn't overpopulated or overdeveloped. But did you know that a rather large speedway was once on that road?
The Atlantic City Speedway, also known as Amatol Raceway, opened on May 1, 1926, right on Moss Mill Road between Hammonton and Elwood. Unfortunately, it closed just two years later on May 30th, 1928.
But this isn't a straightforward story about a business plan not working out for a bunch of racing fans -- this story involves TNT and World War I.
The speedway was known as Amatol Raceway because it was located in the town of Amatol.
According to an article on atlasobscura.com, the British invented a new explosive during World War I that they called "Amatol."
When the United States entered the war, the government bought 6,000 acres of land outside of Hammonton and quickly built an entire town for thousands of people, including a munitions plant to make the explosive.
They named the town Amatol.
The Press of Atlantic City says Amatol's location was chosen because of its proximity to Philadelphia and Atlantic City, it had easy access to an existing rail line, and it wasn't located near any existing towns in case there was an accident or explosion at the munitions plant.
So what happened to this well-developed town and its thousands of people? Simply put: the war ended.
When the war ended, pretty much everyone left and within a few years the entire town (which had a population of nearly 10,000) was demolished -- schools, churches, numerous entertainment venues, and more all torn down almost as quickly as they went up.
One report says the government had kicked-around ideas of using the land where Amatol was for experiments involving zeppelins, but that never materialized.
And so enters the story of the racetrack.
In 1926, a man by the name of Charles Schwab (not the stock broker -- he wasn't born until the 1930s) bought a large piece of land where Amatol used to sit and he built a 1.5-mile "wooden bowl" speedway (apparently at a cost of over $1 million), which was the biggest on the East Coast when it was constructed.
The first race was held on May 1, 1926. Thousands of people got to see Harry Hartz win a 500-mile race. Hartz would go on to win two more races in July of that same year.
So what happened to this huge raceway and its thousands of fans? Simply put: Schwab apparently just lost interest in it.
Its final race, won by Ray Keech, was held on May 30, 1928. The track closed and it was demolished in 1933.
(Interesting side note: about a month before his win at Amatol, Keech set a land speed record of 207.55 MPH. He would go on to win the Indianapolis 500 in 1929 but died about two weeks later in a racing accident.)
If you've driven on Moss Mill Road between Hammonton and Elwood, you know not much has changed there since the raceway closed in 1933, but one big landmark of the forgotten town of Amatol exists.
When you drive past the New Jersey State Police lab on the White Horse Pike before you get into Hammonton, look back -- that large white building is the old administration building for Amatol.
If you want to learn more about Amatol and the raceway, there are several videos on YouTube, one of which is below.
The raceway's footprint is also plotted on Google Maps. Should you wish to hike through that area, please note that some of that land is now private property.
And think of this -- if history had played itself out, South Jersey could have been known as a hub for zeppelin experiments had the government gone ahead with its plans. Or better yet, had Charles Schwab not lost interest in his raceway, Hammonton/Elwood -- and not Indianapolis -- could easily have been the auto racing capital of the world.
26 Old Things in South Jersey That You Don't Think of as Old
By the time (no pun intended) you get to the bottom of this list, you'll be looking at things that are over 150 to almost 200 years old right here in South Jersey.
MUST SEE: Weird New Jersey Town Names
More From WPG Talk Radio 95.5 FM