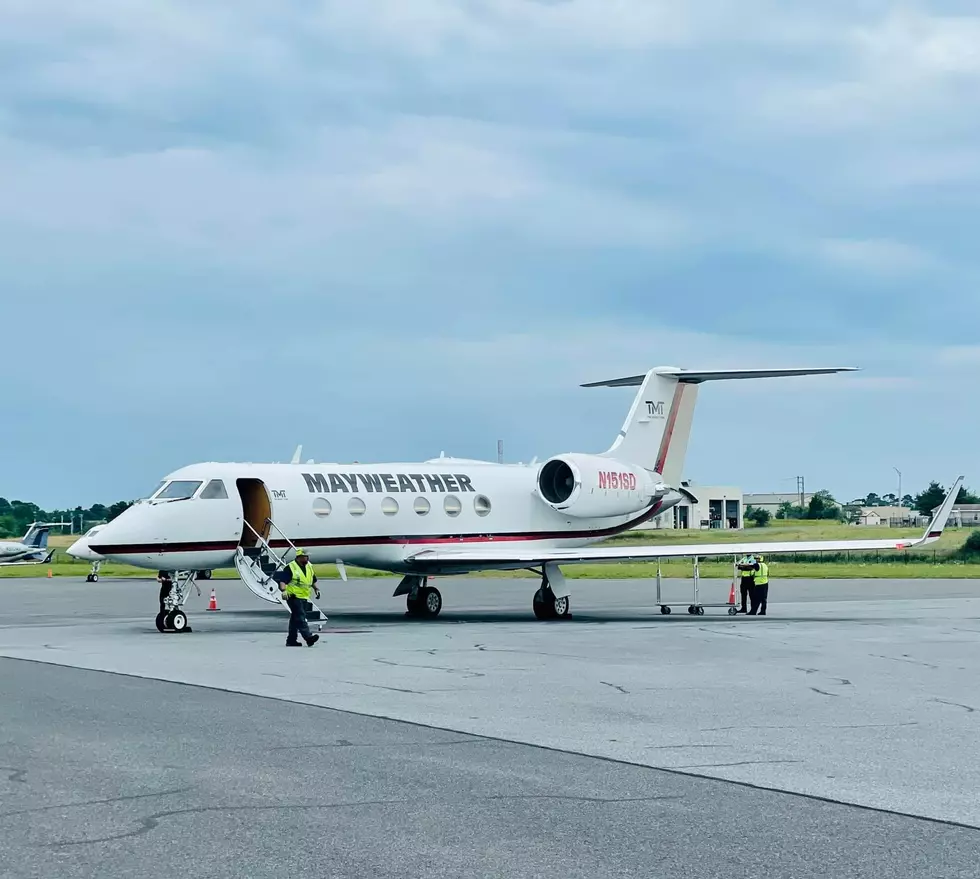 Boxing Great Mayweather Lands His Plane In Atlantic City
Harry Hurley
Floyd "Money" Mayweather, one of the greatest pound-for-pound fighters in professional boxing history landed his private jet in Atlantic City, New Jersey today, Friday, July 29, 2022, at approximately 5:45 p.m.
Mayweather is in Atlantic City for the 42nd Annual National Sports Collectors Convention 2022, taking place at the Atlantic City Convention Center.
With the entire weekend still left to go, the event has packed crowds in and is already a wildly successful national convention.
It has given Atlantic City the opportunity to shine on the biggest stage. This comes right on the heels of the National NAACP Convention convention, on back-to-back weeks.
Here is a link to our previous coverage about how significant this convention really is.
Read More: National Sports Collectors Convention Means Millions For AC Area
Here are exclusive photos of Mayweather's private jet and Mayweather himself at Atlantic City's Signature Flight Support, located right next to Atlantic City International Airport.
This special gem of an airport, for smaller private planes, is also known as Fixed Based Operator (FBO).
Mayweather's accomplishments in the ring read like a human highlight reel:
Mayweather is the twice Ring magazine Fighter of the Year in 1998 and 2007)
Boxing Writers Association of America Fighter of the Year award in 2007
Best Fighter ESPY (ESPNTV)Award in 2007, 2008, 2010, 2012, 2013, and 2014.
An undefeated career record of 50-0.
The lineal champ in four weight classes.
Box/Rec Inc has proclaimed Mayweather to be the greatest pound-for-pound champion in history.
TMT Promotions (TyexMoney Team) led by Floyd Mayweather have become one of the premier Boxing Promotion companies in the world.
Mayweather has generated more than one billion dollars in his boxing career while retaining more than 600 million dollars to his net worth.
SOURCE: Floyd Mayweather biography regarding career statistics.
Fun Things To Do In The Atlantic City Area, Summer, 2022
Our 10 Best Golf Courses In Atlantic County, New Jersey
More From WPG Talk Radio 95.5 FM