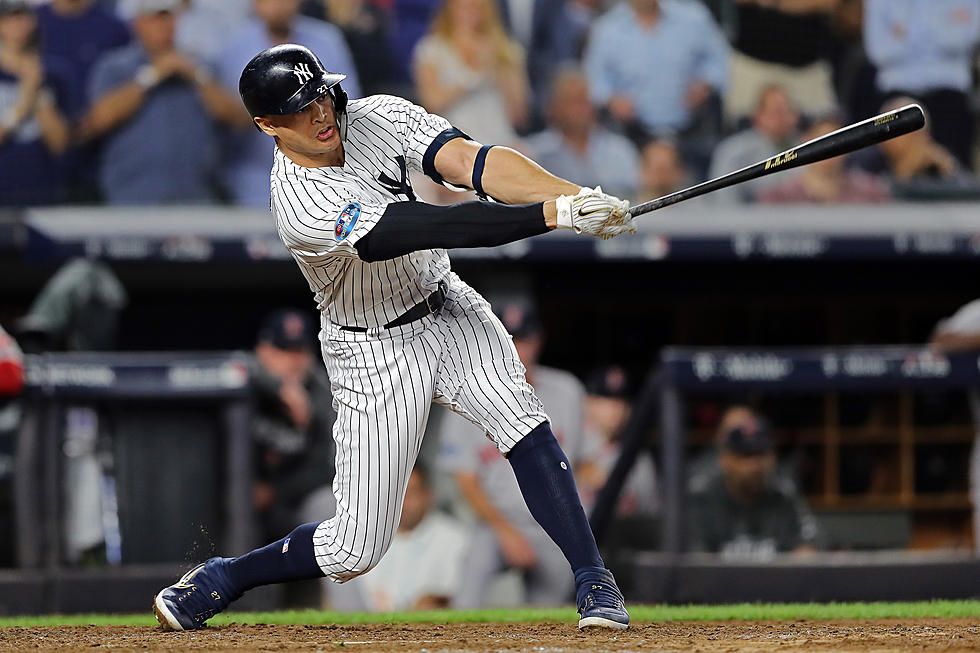 Could the Phillies Make a Trade with Yankees for Giancarlo Stanton?
Could the Phillies make a trade for Giancarlo Stanton? (Elsa/Getty Images)
Just shy of a year ago, a blockbuster trade took place between the Miami Marlins and the New York Yankees. Slugger Giancarlo Stanton was north to the Bronx in exchange for next to nothing as the Marlins dumped Stanton's salary and began yet another rebuild. Might the Yankees look to move Stanton?
There are also long-shot rumblings about the Yankees trying to move Giancarlo Stanton. Obviously it's a massive contract, but if the Dodgers ever felt they needed to do something splashy, Stanton isn't that far-fetched, since that's one team to which he would likely approve a trade. Nor would it be far-fetched if the Giants wanted a big hitter to give their staggering offense a jump start, or if the Phillies decided to include Stanton on their list of superstars to acquire.
The New York Yankees are very right-handed and Harper might give the lineup more left-handed balance than Stanton and open up a space in the Yankees outfield.
Why would the Phillies be interested?
Well, Stanton would come much cheaper than Harper or infielder Manny Machado.  Stanton has 10 years and $260 million left on his contract.  And, $30 million of that is going to be paid by Miami.  That means Stanton would cost the Phillies on average $23 million a year.  That is a lot of money, but we know Harper already turned down 10 years and $300 million from the Washington Nationals.
But the no-trade clause would be the key.  It's unclear how Stanton would react to the Yankees trying to trade him a year later, and what his terms might want to be.  A  year ago, Stanton reportedly turned down a trade to the San Francisco Giants.  Would he come to Philadelphia?
Stanton batted .266 in his first year in New York, hitting 38 home runs and driving in 100 runs, while compiling an OPS of .862.
Of course, if the Yankees successfully clear Stanton from their payroll, they would give the Phillies strong competition for Harper and possibly also Machado.  The Yankees are thought to be able to add one to their payroll, but removing Stanton could open the door for both, leaving the Phillies looking elsewhere for star power.
More From WPG Talk Radio 95.5 FM