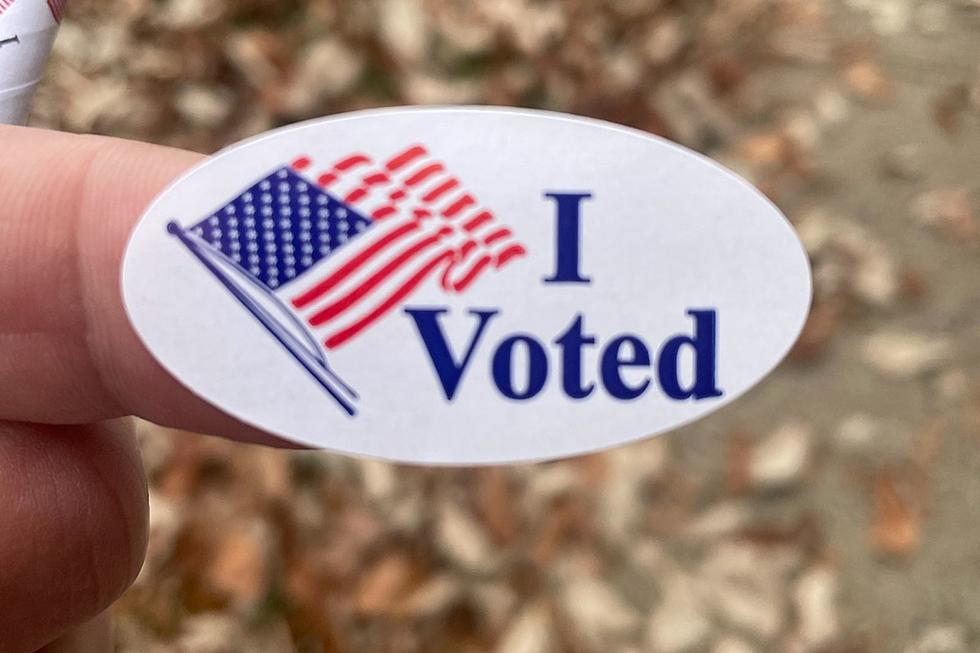 Democrats Keep Control of NJ Legislature
"I voted" sticker (Chris Swendeman)
New Jersey Democrats kept control of their legislative majorities on Tuesday, holding the line against Republican challenges as well as flipping seats in pivotal Senate races and Assembly contests.
The results buoyed the party's prospects after a bleak showing in the last election.
Democrat John Burzichelli defeated Republican Ed Durr, who stunned Senate President Steve Sweeney two years ago by beating him in a race that few expected would be competitive that year.
Burzichelli, a longtime lawmaker and former appropriations committee chairman, was ousted alongside Sweeney in 2021 by Durr, a truck driver who hadn't been elected before, and his running mates.
He attributed the win on Tuesday to a focus on abortion and reproductive health throughout a campaign that featured relentless attacks against Durr. Burzichelli used comments attributed to Durr from before his election, suggesting women could avoid abortions by not having sex.
"I think women's issues played a very big role in this race," Burzichelli said during an interview with NJ PBS on Tuesday. "This win as it's unfolding is reflective of women's voices."
Some races were yet to be called, but Democrats retained control in enough seats to block the GOP's effort to retake one or both chambers for the first time in more than two decades.
A bright spot for Republicans was Owen Henry's victory in the state Senate in the 12th District, which was open because of Democrat Sam Thompson's retirement. Thompson is a long-time Republican who left the party this year after he said he was likely to face a primary challenger.
The Democratic wins are a departure from two years ago when Democratic Gov. Phil Murphy won a closer-than-expected contest against his GOP challenger and Republicans netted seven seats in legislative races. The results ensure Murphy will have a Democratic Legislature in the final two years of his second term.
In the coastal 11th Legislative District, State Sen. Vin Gopal defeated Republican Steve Dnistrian, while incumbent Andrew Zwicker beat former GOP Rep. Michael Pappas in the 16th District, which includes Princeton. Gopal's running mates Margie Donlon and Luanne Peterpaul also defeated Republican incumbents in the same district. In Ocean County's 30th District, Rabbi Avi Schnall defeated GOP incumbent Assemblyman Edward Thomson.
"I think voters are tired of the political bickering," Gopal said Tuesday before his victory. "They want people to bring them together. There needs to be discussion and debate and decorum back in government."
That campaign was among the most heavily contested this year, and saw more political spending than any other race, according to October figures from the state's campaign finance watchdog. Zwicker's contest wasn't far behind.
In southern New Jersey's 4th District Democrat Paul Moriarty won the open state Senate seat, defeating Republican Chris Del Borrello and keeping the seat in Democratic hands after the retirement of incumbent Fred Madden.
Moriarty currently serves as an Assembly member for the 4th District, which covers parts of Camden and Gloucester counties. He's a former Philadelphia TV journalist and has served in the Legislature since 2006.
Democratic Senate President Nicholas Scutari said in a phone interview that Democrats won because they listened to voters on affordability and women's reproductive health.
"I think we're in the right place on that issue and the truth is if Republicans got a foothold on the majority, they would tear down those rights," Scutari said. "They're protected in statue and not in the Constitution."
Gopal and the Democrats aimed to keep the campaign centered on Democrats' efforts over the last year to provide property tax rebates. The Democrats also focused heavily on abortion, arguing that a GOP-led Legislature could begin to roll back abortion protections in the wake of the Supreme Court's overturning of Roe v. Wade.
In an interview earlier this year, Dnistrian said a top issue he heard from voters was concern that parents didn't have enough control over school districts. The issue made headlines when the state attorney general sued three Monmouth County school districts, charging they violated the state's anti-discrimination law with policies that called on officials to notify parents if their children had come out as transgender. State school guidelines and a 2017 law call for keeping a student's orientation confidential.
All 80 seats in the Assembly and all 40 in the Senate were up for grabs, with the Democrats controlling both chambers.
Republican State Party Chairman Bob Hugin said Tuesday before races had been called he thought the GOP was talking about issues that mattered to the public.
"The biggest thing is the issues that we have raised are the ones that voters want to talk about. We changed the dialog in the state," he said.
New Jersey's Legislature has 40 total districts, with each sending one senator and two Assembly members to Trenton. Both parties typically run all three candidates together on a ticket.
(copyright 2023 The Associated Press. All rights reserved. This material may not be published, broadcast, rewritten or redistributed.)
NJ school districts with the highest median teacher salaries
These were the highest median teacher salaries during the 2022-23 school year budget, according to data compiled by the New Jersey Department of Education. We begin with districts whose median salaries are at least $95,000 and work our way up to the highest median salary.
Gallery Credit: New Jersey 101.5
More From WPG Talk Radio 95.5 FM