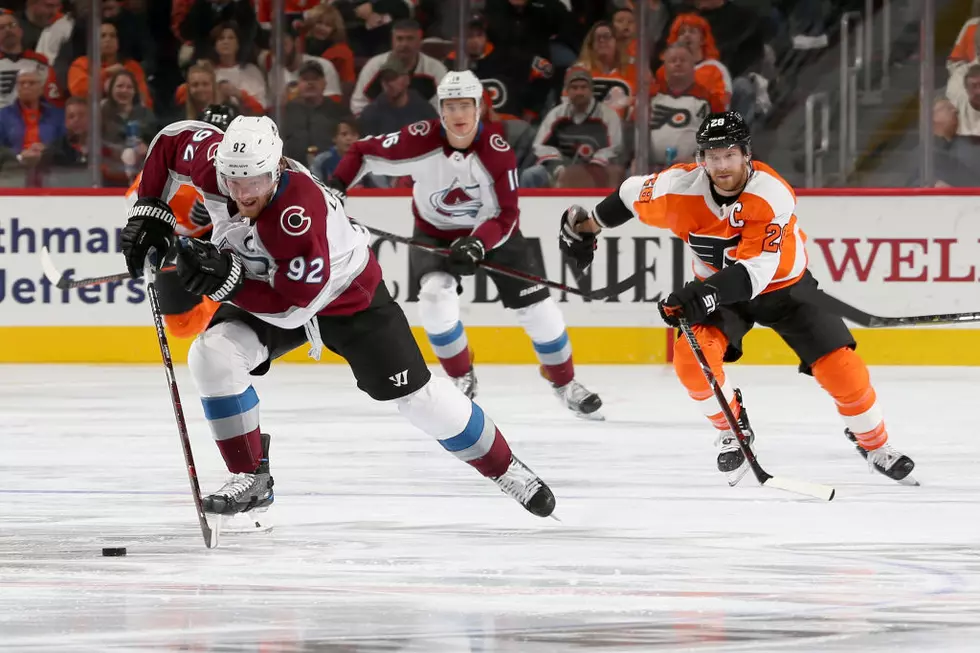 Flyers-Avalanche: Postgame Review
(Will Newton/Getty Images)
After getting one of their better wins of the season on Saturday, the Flyers reverted back to old habits and sloppy play in a 4-1 loss to the Colorado Avalanche Monday night.
The Flyers still have not won back-to-back games all season.
Once again, everything is just off with this team. The passing is off. The defensive coverage has issues. Zone exits aren't clean. Zone entries aren't made with conviction. The forecheck is lacking or at times completely missing.
On nights like these, you see that this team has a work issue. It's selective, turned on and off like a switch. It's a big reason the team is as inconsistent as it gets. That's a team-wide problem from coaching to players that will get them in trouble in the standings fast.
Takeaways from another frustrating loss on home ice.
Penalty Kill Strikes Again - Early on, it was the same old penalty kill for the Flyers. One thing the Flyers have done well when shorthanded is try to stop the entry attempt and prevent the set up before it even gets going and to their credit, it has worked in some capacity.The problem is that once a team does get set up, they collapse, the pressure is off and a team is able to work at will. With a team like Colorado, who has such a great top unit, you can't take a second off. The Flyers make their attempts to prevent zone entry, but once a team really gets set up, you're just counting down until a goal is scored.

And this is the thing about the penalty kill. In one sense, it is improving because there was an effective change in strategy, an added aggression to preventing opportunity. But then there's nothing to follow it up and it makes the numbers look as bad or worse than they were in the past. It realistically solves nothing.

It also comes down to little plays at big moments. Sean Couturier had a chance to clear on the team's second penalty kill as Robert Hagg was working a man along the board in a battle. The puck squirted out and was there for a split second. Couturier's reaction was late and by the time he composed himself to try to make a play, not only was he locked in the battle, but he lost it and it led to two more great scoring opportunities. It can't happen, and it will as long as the Flyers are losing in effort in the small areas where a penalty kill can be conquered.

Brian Elliott and Breakaways - Let's start with this: the first goal of the game was not on Brian Elliott. He made two incredible saves on two great goal scorers before the third opportunity was put in front to Mikko Rantanen with an empty net. At some point, especially when you are down a man, you have to help out your goaltender and the Flyers simply don't.On the second goal, Elliott was screened a bit and the Flyers really broke down in coverage in front of him. All five players were below the hashmarks and a lane opened wide for a pass from Matt Calvert to Matt Nieto.

That said, when Claude Giroux makes a mistake in the offensive zone and whiffs off a face-off and the turnover that follows sends Gabriel Landeskog in on a breakaway, well, let's be honest. You knew Elliott wasn't making the save there.

And that's Elliott's biggest flaw, even more so than allowing soft goals a little too often. Elliott played a solid first period, stopping 13 shots and his second period was pretty good up until the goal. In that spot in the third period, though, you need a save. Elliott going against a breakaway is almost a guarantee. He always gets fooled by the move and these skill players are able to finish upstairs.

Where's the Forecheck? - A big issue I have with this game is the lack of effort the Flyers seemed to show in trying to generate chances during the first 40 minutes. It's not like the Flyers didn't have opportunities to get on the board before the third period. It's not like the Flyers weren't attempting shots.If anything, the Flyers were a little too "one and done" for my liking. Far too often, the team either tries the dump in attempt to establish a forecheck or tries the creative zone entry that has a low success rate. Whichever it is, it usually doesn't work.

There was an element of hard work that felt left out in this game. Once Nolan Patrick scored on a deflection in front at 3:26 of the third, the next few shifts you saw a team working in the corners, winning some battles, keeping the puck in and generating chances. But that also quickly faded with under seven minutes to play and the Flyers never regained it.

Look, when your hardest working and best performing line for the majority of the game is the fourth line, which includes much-maligned players Jori Lehtera and Dale Weise, that's a problem.

Working in the hard areas can't be optional, and far too many times it seems that it is. It seems that the team isn't going there and doing the work and more like waiting for the opportunity to be presented to them on a silver platter. Or they will try to avoid the board battle and get too cute with the passing on entry. They are not a good enough team to play cute. On a night when the team gave away t-shirts of the new mascot, Gritty, that was what the Flyers needed. Let's just say Gritty was the only thing gritty about the game.

Powerless Play - Remember last season when it seemed like the top power-play unit was money, so much so that it still gave the Flyers a modest percentage even without much of a second unit? Not this season so far.The Flyers are 1-for-14 of late with a struggling power play that is also becoming too one and done. Again, entries are weak and predictable. Teams are on to what the top unit is going to do because it's been done for the better part of three seasons now, with the same personnel to boot.

The second unit is actually getting the better chances, but also getting limited time to go to work. They essentially get one chance to make an impact and if the opposing PK clears, it's over.

We tend to focus on the flaws of the penalty kill, but the power play has been too powerless to start the season.

Injuries -  Flyers trainer Jim McCrossin should be getting paid overtime. The team lost Michael Raffl late in the second period when an innocent-looking hit into the boards left him staggered and unable to put any weight on his left leg. In the third, Shayne Gostisbehere caught a dump-in attempt off his knee and struggled to get to his skates. He at least stayed on the bench and returned to the game, but still, how many injuries can this team deal with in October.It's not enough that the team is already dragging their feed on their way through October that isn't good enough compared to the likes of playoff teams. Between Andrew MacDonald coming back too soon, Michael Neuvirth being down again, James van Riemsdyk being lost for weeks and now Raffl looking like he'll miss some time, when is it enough in that department?
The advanced stats will tell you the Flyers didn't play a bad game at 5-on-5, and after the first period, they really didn't play terribly. The issue with the Flyers is that of their 38 shots on goal, there weren't many in dangerous scoring areas. They were held to the perimeter quite a bit. Despite that, they still had a 60.82 CF% in the game at 5-on-5 and nine high-danger scoring chances to Colorado's five.
Colorado finished the game with 22 blocked shots to the Flyers 10. Usually a defenseman is leading the way in that category, but it was actually Colorado forward Sven Andrighetto who led the team with four.
More From WPG Talk Radio 95.5 FM