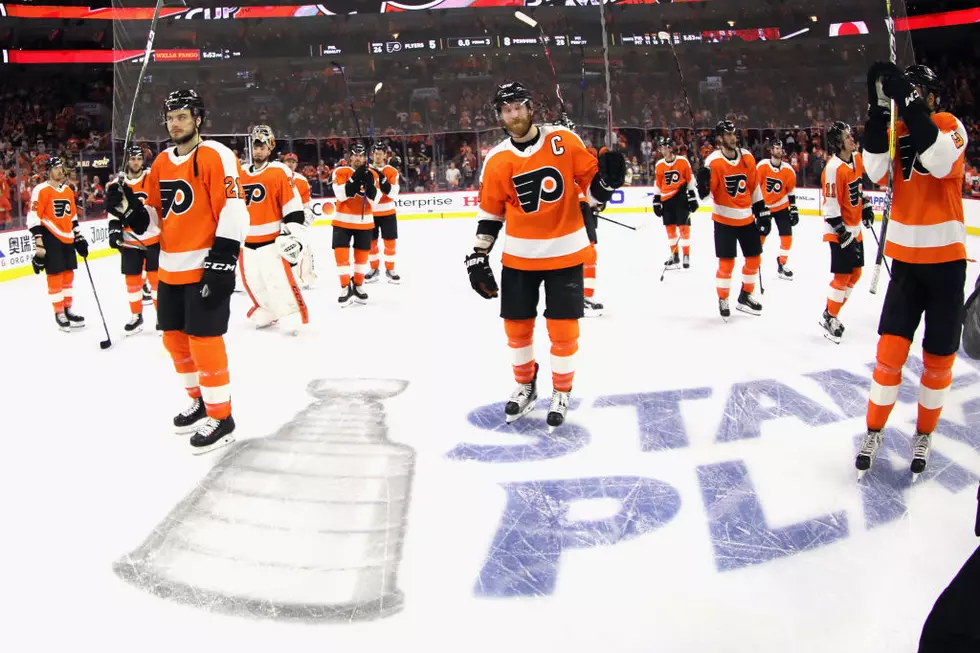 Flyers-Penguins: Game 6 Postgame Review
(Bruce Bennett/Getty Images)
The Flyers season came to an end on Sunday afternoon. There were times where it looked like the Flyers had the makings of forcing a Game 7, but the Pittsburgh Penguins relentless pressure and tremendous skill ultimately overpowered the Flyers in the end.
There will certainly be a lot of things to look at moving forward for the Flyers now that the 2017-18 season has come to a close. For today, we're going to simply look back at Sunday's game and the series as a whole. Instead of the usual five points that follow a game, here are 10 points from the game and series.
Let's hit it with our Postgame Review.
Sean Couturier - Sean Couturier scored the game-winning goal with 1:15 left in the third period of Game 5 to force Game 6. In Game 6, he factored into all five Flyers goals, scoring three of them and setting up two more. Five points.But the biggest part of Couturier's Game 6 was what he revealed after the game. Couturier played Games 5 and 6 on a torn MCL. He scored four goals and six points in those two games.

That is the stuff that legends are made of. It also says a lot about a lot of other players on the team. In Game 6, the Flyers best player was Sean Couturier and his line was the team's best in the game. Couturier did more than his part to try to keep the Flyers season going and get the series to a Game 7. Ultimately, the Flyers as a team would not have been able to perform without Couturier at 100 percent. Thus what happens when a team loses their best defensive forward.

Ivan Provorov - Speaking of being a warrior, give Ivan Provorov a lot of credit too. Yes, he had a critical turnover that led to Jake Guentzel's go-ahead goal in the third period. He ended the game as a minus-4. It was far from his best.But here's where Provorov deserves credit. Here is a 21-year-old kid playing in his first playoff series and playing in Game 6 with an injury. Everybody knew he had an issue of some sort with his shoulder, the severity was unclear. Provorov wore his emotions on his sleeve after the game. Through tears, he shouldered the blame for the loss when he certainly wasn't the sole reason.

If nothing else, the Flyers have a good one in Provorov. If he at this age not only feels the need to play in a game where the season is on the line despite being 100 percent, but also takes the blame for the loss because of his mistakes which were probably only fueled by the injury, then you can tell he gets it.

As bad as it may look on the stat sheet, this is a game that showed what Provorov is made of. It's also a game Provorov probably won't soon forget, and that will only fuel him more going forward.

Jake Guentzel - It's not every day you see a four-goal game, so tip of the cap to Jake Guentzel in this one. The Penguins were without Evgeni Malkin and without Carl Hagelin for the last half of the game. Guentzel filled the absence of both very well.If anybody thinks Guentzel's 13 goals as a rookie in the playoffs last season was some sort of fluke, forget it. This kid is a star in the making. Of course, it helps to play alongside an all-world player like Sidney Crosby, but Guentzel makes things happen and that doesn't happen by accident.

A little note on Guentzel, who was drafted in the third round of the 2013 NHL Draft at 77th overall. He was on the board when the Flyers picked at 72nd overall. You know who they took? Tyrell Goulbourne, a fourth-line spark-plug who made his NHL debut and played in nine games this season with no points. The 2013 NHL Draft was the last one conducted under general manager Paul Holmgren.

Claude Giroux - Look, you cannot excuse the performance Claude Giroux had in the series. A team's leading scorer and captain can't finish a six-game series with one goal and three points.That said, aside from Couturier, you can't find a player who commanded the ice in a similar way. Couturier had nine points in five games in the series. Valtteri Filppula, Claude Giroux and Jake Voracek, the next three highest forwards in playoff scoring for the Flyers, combined for the same total.

Ultimately, the Flyers didn't have the same depth that Pittsburgh had and that remained a problem all season. Teams with great depth scoring are able to score and win games when their best players don't show up on the scoresheet.

Think back to the last week of the regular season and how Giroux carried the Flyers into the playoffs with seven goals and nine points in four games. That doesn't go unnoticed by opposing teams. It means teams are going to gameplan as to how to eliminate Giroux and Voracek.

The Penguins never really shut down Sean Couturier in the series, but one player can't win a series. So while Couturier may have been great, there weren't enough great Flyers to offset the offensive output that Pittsburgh was getting.

Turnovers - If there is one area the Flyers players need to improve at, it's decision-making and overall care with the puck.Take out the empty-net goal and focus on the seven scored by the Penguins with Michal Neuvirth in net. A turnover led to the third and fourth goals, both in the second period. The turnover was by the same player -- Radko Gudas. Ivan Provorov turned the puck over on Guentzel's second goal of the game.

There was an indirect turnover on the sixth Pittsburgh goal with Couturier getting tripped up by Kris Letang and the Penguins getting to the puck as the Flyers tried to complete a line change and quickly scoring. Provorov was again on the wrong end of a turnover on the seventh Penguins goal, leading to a two-on-one.

The Flyers watched Game 1 and Game 3 get away very quickly because of turnovers and the same thing happened in Game 6.

Goaltending - It's hard to believe, but in a game where a team scored seven goals, the goaltender wasn't really at fault for any of them.Seriously, look at every Penguins goal in Game 6 and find one that Neuvirth should have stopped. I'll go in order: rebound right to a scorer, player alone in front for a one-timer, turnover to tic-tac-toe passing play, turnover to a long-range deflected shot, turnover to 2-on-0, turnover to one-timer in the slot, turnover to two-on-one.

How many times is a goaltender supposed to bail out his teammates? Especially when the guys taking the shots are very skilled at scoring goals and have proven that all season.

It's one of those games where you feel bad for Neuvirth. He allowed two bad goals in Game 5 and won. He didn't allow a soft goal in Game 6, but was beat seven times because of the lack of help around him.

Coaching Adjustments - The Penguins, or more specifically Matt Murray, are 10-1 after losses in playoff games. That is not a goaltender stat either. It should be a coach's stat.Mike Sullivan said after the clinching Game 6 win that the focus was on pressuring the Flyers defensemen to force mistakes. Gudas had two turnovers that led to goals. Provorov also had two. There was poor coverage on two more goals. Mission accomplished.

Where this comes in is in a coach's ability to help his team adjust during a game and a series. Let's not forget that the Penguins were trailing 4-2 and their only goals came on those poor coverages. They didn't sit back and sulk. They attacked again and stayed with the gameplan. It was 4-2 Philadelphia with 7:46 remaining in the second period. In less than half the game, the Flyers committed four turnovers that lead to goals because the opposing team's coach focused on attacking the Flyers defensemen with the puck.

When the Flyers got a power play in the third and failed to score because of a lack of urgency, did the team make adjustments when they got another one, at 4-on-3 no less, later in the period. Not a chance. It was the same passive approach with too much perimeter passing.

It's been one of the Flyers bigger disparities all season and needs to be an offseason area of focus. You can changes players as much as you want, but if a proper gameplan isn't executed, you will not be able to keep up with teams like this who can adjust on the fly.

Quick Strikes - Another area where the Flyers have been victimized by several teams, but especially the Penguins, is in allowing quick goals.With a 1-0 lead in the first, Sidney Crosby tied the game and Carl Hagelin untied it within a 47-second span. Jake Guentzel's game-tying goal at the end of the second period and go-ahead goal at the start of the third period were separated by 1:24 of game time. Guentzel's two goals later in the period were separated by 10 seconds.

In a 60-minute game, there is no room for sleeping on the job or getting caught up in a mistake. The Penguins are about as lethal as it gets in pounding home goal after goal after goal. They scored 28 goals in the series, an average of 4.67 per game.

Shedding the Dead Weight - With the offseason now here, one thing the Flyers need to focus on is shedding some of the dead weight. When it comes down to it, the Flyers can't have players blocking prospects who are mature enough to make the leap to the NHL.This season, you saw guys like Jordan Weal, Oskar Lindblom, Travis Sanheim and b get extended time in the press box. It can't happen if they are ready. A game or two off the ice can help a player's development. Two weeks is probably not doing your team any favors on or off the ice.

It will be good for Lindblom and Sanheim, who both started the season with the Phantoms, to be able to go back into a playoff race in Lehigh Valley and play some more meaningful hockey.

But after watching a playoff series where the Flyers lacked the speed and skill to keep up with the Penguins, and it was mainly in veteran players, it's time to keep this process moving forward even more and shed the dead weight, bring up more kids and maybe sign or trade for a new veteran that helps you succeed more than serve as a placeholder for someone else who is to come.

All in All, a Good Year - There were moments in the year when this didn't seem possible. The Flyers weren't given much of a chance to make the playoffs out of the gate.Then they turned in a 10-game losing streak in November. The term "lottery pick" was being thrown around again. The team turned things around and started winning with consistency through December, January and February. By the end of February, they were in first place in the Metropolitan Division.

A terrible start to March nearly knocked them right out of the playoff picture and they had to fight to the very end to even make it in, but they did against a lot of long odds throughout the season.

So, all in all, it was a good year with a lot of growth. If nothing else, you've seen a team that, at times, can play with the best teams in the league in spurts, maybe even for an entire game here and there. It's not a team that is ready for the big stage or prime time just yet, but it is taking steps in the right direction.

It is certainly going to be an offseason with a lot of changes and changes are usually needed to move forward in your progress to reach the ultimate goal. For the very short term, the Flyers goal should be to make the playoffs comfortably and win a playoff series, something they have not done since 2012.

Surely it has been a long, trying road to get back into deep contention in the playoff picture, but with young players starting to take the reigns, it will come around sooner or later. The timeline is ultimately in the Flyers hands.
More From WPG Talk Radio 95.5 FM