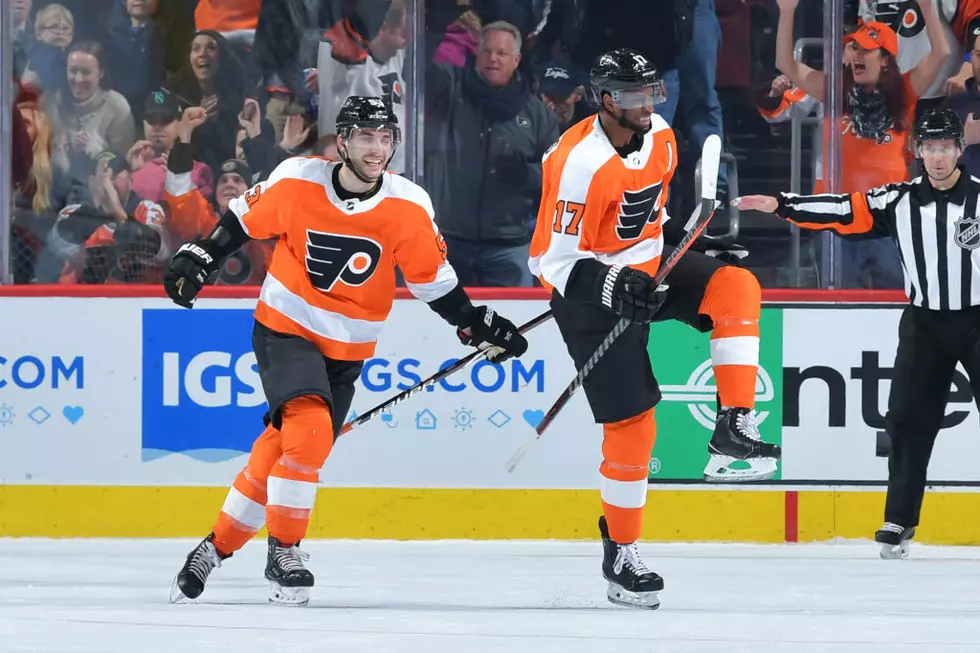 Flyers Trade Deadline Primer: Talbot, Simmonds, Gostisbehere
(Drew Hallowell/Getty Images)
The weekend provided fodder for many different topics as the trade deadline approaches. In less than one week, the NHL trade deadline will be here and the Flyers will have to power forward with the roster as constructed as of 3PM on February 25.
The week ahead is already a big one on the ice, but there are several intriguing storylines as the week moves ahead. Here are three that have stood out.
Chuck Fletcher was busy on Friday night, making a trade for Edmonton goalie Cam Talbot and shipping off backup netminder Anthony Stolarz in a one-for-one swap. It was met with many thoughts.
The thing that needs to be addressed first and foremost is that this was a backup for backup deal. Talbot is not here to take starts away from Carter Hart. He's the new backup.
To a degree, I get the frustration. Stolarz had played well in his three games back from injury. One of those games was a shutout where he stole you the result. If the next six weeks were an ongoing audition to be the backup, it was completely acceptable.
The problem with Stolarz is two-fold. First, the injury bug has bit him quite hard over his young career, no bigger than last season when he had to miss essentially the entire season with a knee injury. He has had two major knee surgeries in his career already and he's only 25 and has just 19 games in his NHL career.
The Flyers wanted to have a veteran serve as both a backup and mentor to Hart. Stolarz may have been a great guy in the locker and perfectly capable of helping the 20-year-old, but he was no veteran that could be thrown into the fire for extending starting time if Hart has any sort of issue.
Talbot, on the other hand, has worked out with Hart over the last two summers. Hart called Talbot the night before his first NHL start for advice on handling the nerves. They have a great relationship. It sets up nicely for the two to be a solid tandem.
The second issue with Stolarz is the perception that the Flyers still had club control. The Flyers signed him as a restricted free agent to a one-year deal. That said, unless he played in 11 more games this season with the Flyers, and played a minimum of 30 minutes in each, he was eligible to opt for Group VI free agency and become an unrestricted free agent. Even if the Flyers found a way to re-sign him, they would risk losing him through waivers if he did not make the NHL roster out of training camp.
Talbot may be an unrestricted free agent as well, but by trading a player that almost definitely did not factor into the Flyers plans beyond this season, the team gets a goalie that they can work on signing for months, not just one week leading to free agency.
For Talbot, this is a chance at a new beginning. One look at his 3.36 GAA and .893 save percentage, and you wonder what the Flyers were thinking. Two years ago, however, Talbot was in the running for the Vezina with Edmonton, posting a 2.39 GAA and .919 save percentage as a starter, playing in 73 games. Last season, the numbers declined to a 3.02 GAA and .908 save percentage, but Talbot also started 67 games.
With 140 starts over two seasons, the Oilers essentially had run Talbot into the ground behind a defense that was very mistake-prone and struggling. In any sport, it's what have you done for me lately, and Talbot's numbers have declined in Edmonton. The last thing Flyers fans wanted to see was an eighth goaltender come in this season, while carrying numbers like a 3.36 GAA and .893 save percentage. However, Talbot has a 2.59 GAA and .915 save percentage for his career. Those are league average numbers for any starting goalie. The Flyers brought him here to back up and mentor their young starter.
The number of starts is one of Talbot's top qualities. He's as durable as they come. After joining the Oilers to go from backup with the Rangers to a starter, he started 193 games in the next three seasons. This season, at just 29 starts and 31 games, he was clearly being phased out by the Oilers.
So Talbot goes to Philadelphia with his role of backup pretty firmly defined. The trade becomes a win for the Flyers if they can re-sign Talbot to be the backup to Hart to a cap-friendly deal. Talbot was making $4.16 million per year with the Oilers.
So Stolarz gets a chance to make a name for himself elsewhere -- and if there's fear that this will come back to haunt the Flyers a la Sergei Bobrovsky, think again with all of the injury history Stolarz has had -- an opportunity he was never going to get here, especially after Hart's call-up and success. Talbot not only embraced the new opportunity, he waived his no-trade clause to approve a trade to Philadelphia. It sure seems like there would be interest for this to go beyond this season, but as Fletcher said on Saturday, "time will tell."
The moment of truth is nearing for Wayne Simmonds and the Flyers. By next Monday, there will either be a new deal in place or Simmonds will be shipped off elsewhere. Or so we think.
There is always a chance that the Flyers don't have anyone meet the asking price and choose to keep Simmonds for the stretch run with the risk of losing him through free agency for nothing.
It's no secret that on the ice, Simmonds is not the player he was even as recently as two years ago. Injuries have piled up, simply by the style that Simmonds plays, and it has created a decline. That said, Simmonds has a number of valuable attributes.
For one, Simmonds production has not completely tapered that he could not be a welcome addition to the third line and power play of a contending team.
Simmonds has also had everything going for him in Philadelphia because he embodies the city. You got a good representation of that in his fight with Anthony Mantha in Sunday night's game in Detroit, feeling like something needed to be done for the hit Mantha put on Claude Giroux late in Saturday's game. Simmonds is a fan favorite and great locker room guy. He's a leader. It's hard to find players with all of those qualities in the package.
That said, this is an opportunity for the Flyers to either gain additional assets or even add to their own roster by trading one of their own. Simmonds will fetch a return. There are teams waiting to see where the market goes, but wanting a big forward. Simmonds is at the top of the list when it comes to forwards with size.
The value may be unknown, but Simmonds should be able to get your something decent back. It's just another decision that is hanging over Fletcher's head with the deadline rapidly approaching.
The Flyers have been carrying seven defensemen around for the last week with Phil Myers patiently waiting his turn to get into the lineup. Myers finally debuted on Sunday night in a game where the Flyers dressed 11 forwards and seven defensemen.
Through two periods, the debuting Myers had more ice time than Shayne Gostisbehere. It was just another telling sign about an underlying saga involving the former runner-up for the Calder that has created a whirlwind of speculation, as told in detail by Anthony SanFilippo at Crossing Broad.
It's a saga that goes back, really, several seasons, but might as well start this season. The Flyers returned with a relatively similar roster from the previous season and the coaching staff intact. By November, there was clamoring for change. People wanted Dave Hakstol out.
The first coach that was dismissed, however, was assistant Gord Murphy. There were rumblings that Murphy was a "spy" for then GM Ron Hextall. It painted a picture of Murphy that didn't look good, so when a player like Gostisbehere was acknowledging that he was essentially going to play his own game, regardless of what the coaches said, to create his own opportunities, it was a little telling.
And under Murphy, it wasn't like Gostisbehere was alone in struggles. Ivan Provorov struggled. Travis Sanheim struggled. So Murphy was let go and the team hired Rick Wilson.
Since then, Provorov's game started to turn the corner. Sanheim's grown tremendously this season. And yet Gostisbehere was still making mistakes, still not showing that offensive prowess that got him 65 points last season. And it was becoming more of a disappointment.
Gostisbehere is not going to be a great defender. That's just not his game. But you can live with a few defensive blunders when he is an elite offensive defenseman. That's why in a 65-point season, any mistakes he made were likely overshadowed. In a year when he has just 27 points, it's a different story.
So the Flyers started to make changes. Wilson came on to run the defense. Scott Gordon eventually took over as head coach. Chuck Fletcher was in at GM. It was a whole new regime and a second chance for Gostisbehere. Any frustration from the past could easily be put behind him.
Gordon is a great coach when it comes to communication with players. According to SanFilippo, it has been addressed with Gostisbehere that his decision-making with the puck in his own zone has to be better.
Which brings you to more noise surrounding Gostisbehere. Last Saturday, the Flyers made a trade sending Dale Weise and Christian Folin to Montreal for David Schlemko and Byron Froese. It was a minor trade that doesn't really move the needle much, other than that it created room for Myers to come onto the roster.
When Fletcher addressed the media before that afternoon's game against the Ducks, it was very telling when he went out of his way to praise Myers on earning the call-up and then give praise to every other defenseman on the team, including Andrew MacDonald, Radko Gudas and Robert Hagg, and not make any mention of Gostisbehere.
In the week that followed, a simple look at the box scores and some now public comments from Gostisbehere and Gordon could give more to read into the situation.
In the next two games, nothing changed. Gostisbehere played over 20 minutes in the win over Anaheim and the loss to Pittsburgh. But on Tuesday in Minnesota, he played just 11:24, easily his lowest total of the season. The Flyers spent a chunk of time in that game on the penalty kill, but even in those games, Gostisbehere reaches at least 15 minutes of ice time. This was different, despite Gostisbehere getting two assists on the power play in the 5-4 win.
On Saturday, Gostisbehere had a goal and an assist in 18:17 of ice time. It was a much more typical Ghost performance. Then came his postgame comments.
Gostisbehere was asked if confidence was a problem this season. His answer:
"I think it's opportunity," Gostisbehere said. "For me, being put in the right situations really helps for me and obviously I can pick up my game a bunch and take care of pucks and be the player I'm supposed to be and I felt like I did that tonight.
SanFilippo followed up asking about the noise coming from social media regarding Ghost and the possibility of trading him.
"I really don't care what anyone says. I know what kind of player I am," Gostisbehere said. "I'm going to go out there and play my game. It's not an easy game to play -- the way I play. I'm an offensive guy and I need to be put in the right offensive situations. I got that tonight and I think it really showed."
So Gostisbehere essentially believes that he is not being put in a situation to succeed offensively when he knows that is the type of player he is.
Scott Gordon is as explanatory and detailed in his answers as any head coach. He does a great job of giving you a no-holds-barred answer, almost to a fault. Following the regular line of questioning after the game, SanFilippo threw some questions about Gostisbehere at Gordon. Here was the exchange:
Q: What have you been saying or doing with Shayne to get him playing more like he did today or to get his confidence back up?
"I think he's been good once the puck has left our zone. He got into the attack and made plays. But what we talked about [Friday] is getting better on the breakout -- making better plays, better reads and not passing off his troubles to someone else when he can possibly do more. It's one of those things where it just doesn't happen for you offensively from the offensive blue line in. It doesn't just start from the neutral zone on an attack. It starts from our goal line and from our net. He's got to do more to help himself. He actually did that today. There were a few breakouts where I was pleased to see how he went about it and where it took us."
Q: He said he considers himself an offensive player and needs to be put in advantageous offensive situations. Is that something going forward that schematically or systematically you are going to look to do to maximize his talent in that end, or was it just the way the game broke today?
"To get into more offensive situations you have to play less defense. A lot of that defense he was having to play -- not all of it, but some of it -- had to do with his decisions and how he was going back for pucks and breaking out. So, when you make that less complicated and you do more to help yourself, you're going to give yourself more opportunities to go on the attack. I thought he did that today."
Q: What did he do to make it better for himself and not pass off his problems to others?
"If you go back to the puck and you don't want it or you don't want to be the guy making the play,  you're not going to do the work to hustle back and get it. You're not going to do the work to shield the puck. Do things that are deceptive -- make the forechecker think you are doing one thing when you do another -- if you are not going to do that work that doesn't show up on the stat sheet, you're going to make it easy for the forecheckers. So, you have a team that's coming with two guys on the forecheck and you've got time to go back and get the puck and you just throw the puck to your partner that has somebody breathing right down his back and he can't make a play but you had an opportunity to make a play -- it's those situations that he can be better at."
Gordon essentially laid out an exact scenario of where Gostisbehere can be better. And he did it publicly.
The next day, Gostisbehere played 12:18 in the Flyers 3-1 win over Detroit. Myers finished with 9:53. Still, for Gostisbehere to be on the lower end of ice time for two of the last three games and for Saturday's comments being what they are, there may be a lot more to this story.
There is no indication that the Flyers are trading Gostisbehere as soon as possible or even at all, but this can also be taken as a sign that they are not enamored with him or feel he is untouchable either. Perhaps this is more of a situation to watch during the offseason. Perhaps it's nothing at all and Gostisbehere remains a key part of the franchise's future. But there is an awful there to digest.
More From WPG Talk Radio 95.5 FM