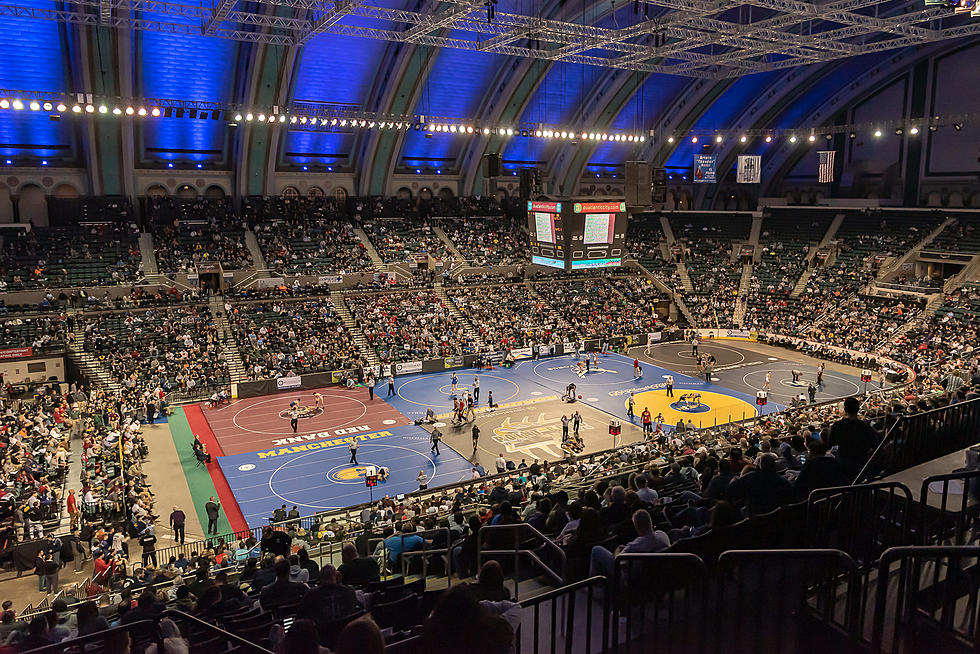 Gov. Murphy signs executive order allowing indoor contact sports to resume with restrictions
Photo by Richard O'Donnell.
New Jersey Governor Phil Murphy signed an executive order Monday that paves the way for a winter season of high school athletics to take place this academic year.
Executive Order 187, which goes into effect immediately, allows the resumption of contact practices and competitions for youth, high school, college and adult indoor sports defined as "medium risk" and "high risk" by the NJ Department of Health. Those sports include basketball, wrestling, ice hockey, rugby, boxing, judo, karate, taekwondo, cheerleading and group dance. Murphy had previously signed executive orders that allowed the resumption of outdoor sports activities, "low risk" practices and competitions for indoor sports and non-contact indoor practices for "medium risk" and "high risk' sports.
"The COVID-19 pandemic has been challenging for our student-athletes, support staff and school communities," Murphy said. "After consulting stakeholders and medical experts, we have concluded that, with proper public health and safety protocols in place, indoor sports may now resume in a way that protects players, coaches, and staff."
Restrictions for indoor sports include practices and competitions being limited to 25% capacity of the room, but not more than 25 or less than 10 persons. If the number of people necessary for practice or competitions must exceed 25, it may proceed without spectators or any other unnecessary attendees. The number of people still cannot exceed 25% of the room's capacity and will have a 150-person limit at all venues.
Health and safety protocols set forth by the Department of Health's "Guidance for Sports Activities" must be followed, including screenings for athletes, coaches and staff, restrictions on the sharing of equipment and requirements for disinfecting and sanitizing of surfaces and equipment.
The previous Executive Orders, 149 and 168, cleared the way for the fall season of high school sports to resume under guidance and structures set by the New Jersey State Interscholastic Athletic Association. The start of the fall sports season was pushed back a month from September to October to allow schools to successfully re-open without throwing athletic competition into the fold. All the usual outdoor fall sports - football, boys and girls soccer, boys and girls cross country, field hockey and girls tennis - were allowed to begin their seasons but the two indoor sports, gymnastics and girls volleyball, were moved to a newly-created season that will begin competition in March.
Just like with fall high school sports, Murphy's executive order, while a necessary first step, merely clears the path for high school basketball, wrestling, ice hockey and other sports to have a season this winter. What that season will look like and what restrictions will be in place will be determined by the NJSIAA. The same goes for New Jersey's colleges and universities, which are governed by the NCAA and the schools' specific conferences.
On Aug. 20, the NJSIAA announced its 2020-2021 Return-to-Play plan and set start and end dates for the fall and winter sports in addition to creating the 'third season' for gymnastics and girls volleyball. Currently, the winter sports can begin practices on Dec. 3 with regular-season competition beginning on Monday, Dec. 21 and concluding on Feb. 3. The postseason dates for winter sports will run from Feb. 5 through Feb. 17 and, depending on the sport, will be structured regionally based on counties or based on NJSIAA selections.
Further clarification was not provided on what that will look like, especially in the case of the wrestling postseason, which has separate state tournaments for teams and individuals and uses a three-stage individual state tournament that culminates with a three-day state tournament at Atlantic City's Boardwalk Hall. Given that one of the NJSIAA's guiding principles during the COVID-19 pandemic is to "minimize the importance of postseason, state-wide championships" and "focus this year on participation as opposed to championships", it appears unlikely that a usual state tournament, in any sport, will take place,
Out-of-state competition will be prohibited for the winter season, eliminating the several marquee tournaments that many basketball and wrestling teams usually enter. The eligibility date for transfers who changed schools after Nov. 1, 2020, is Jan. 11. Student-athletes who transferred between March 16 and Nov. 1 will be eligible immediately.
The NJSIAA said dates for the spring season will be announced at a later time and indicated that many variables, including the status of the virus and if any additional sports have been moved to Season 3, will affect the start of the spring season. The organization did say the practice start date and regular-season start date will most likely be pushed back for all spring sports and the postseason will likely end later than in prior years.
Enter your number to get our free mobile app
LET'S GO: The most popular historic sites in America
More From WPG Talk Radio 95.5 FM