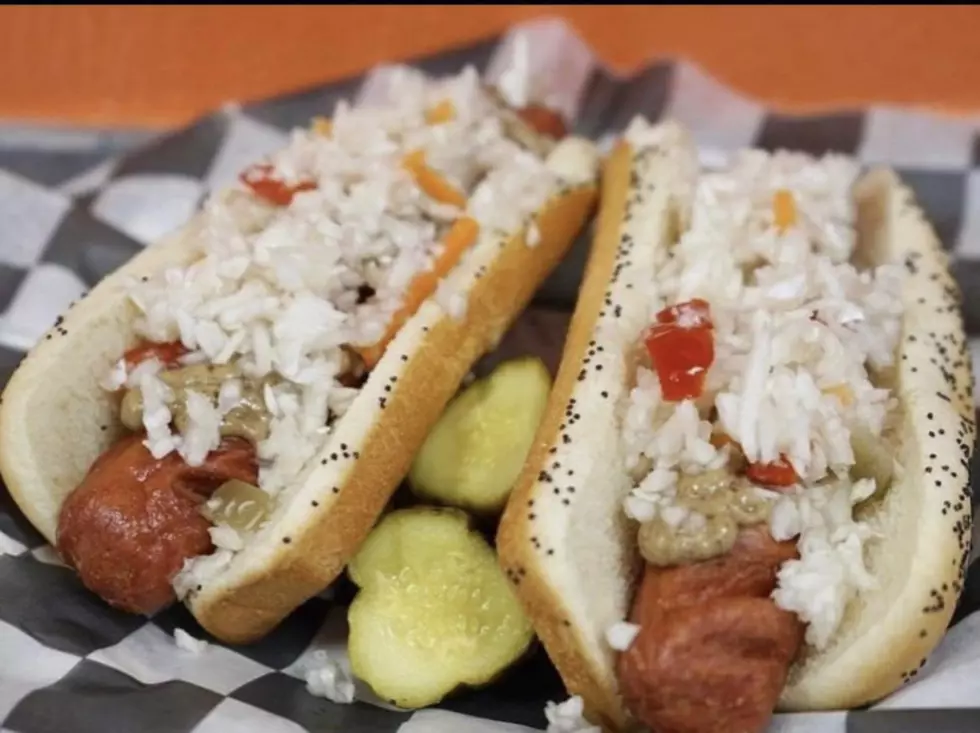 Here Are The Best Hot Dogs In Atlantic County, New Jersey
Water Dog Smoke House - Ventnor, New Jeesey
We went in search of the best hot dogs in the Atlantic County, New Jersey area.
We found 10. Many of them are available right now. Some you will have to wait until this spring and summer to once again enjoy.
Our list was compiled by friends, family, fellow foodies and listeners/readers.
We have included:
Hot Dogs
Chili Dogs
Pretzel Dogs
Corn Dogs
As always, we stipulate to you that our list is subjective, incomplete and that we will have  inadvertently missed deserving establishments during the process.
Please reach out to us with your thoughts, so that we can correct any injustice that may have occurred.
With that … here goes … our list of:
THE BEST HOT DOGS IN ATLANTIC COUNTY, NEW JERSEY
THE JAWS DOG
BLUE HERON PINES GOLF CLUB
Egg Harbor City, New Jersey.
This legendary hot dog is named after Philadelphia Eagles great, Ron Jaworski.
The JAWS dog is billed as "The biggest, baddest dog in town."
THE MARGATE DAIRY BAR
Margate, New Jersey.
Unrelated, The Margate Dairy Bar is even more famous for their fabulous hamburgers, with their legendary logo branded into the bun.

GILCHRIST OFFSHORE RESTAURANT
Galloway Township, New Jersey.
A great friend and food and beverage expert told us, he asks for the bun to be toasted extra. This adds flavor and extra texture.
WATER DOG SMOKE HOUSE
Ventnor, New Jersey.
Simply put, everything they do … They do very well. No exception with their classic hot dog, prepared to perfection.
Here are two versions, classic and chili dogs. As always, their attention to detail, product and bun are just perfect
RUBY'S DINETTE
Located within Resorts Casino Hotel Atlantic City.
The 1950's vibe is just outstanding.
For burgers, shakes and yes … HOT DOGS, give this fun establishment a try. You'll really enjoy the experience.

AUNTIE ANNE'S
Mays Landing, New Jersey
Their famous Mini Pretzel Dog. We love this twist.
This is my favorite pretzel of all time. Combining it with a hot dog is pure simplicity and genius.
Look how good this looks. It tastes even better.
DAIRY QUEEN CHILI DOG
Somers Point, New Jersey.
Let's start with the fact that the quality of Dairy Queen food items is excellent and always underrated … because when you think of Dairy Queen … you think of ice cream and milk shakes.
MAD DOG MORGANS
Atlantic City, New Jersey.
This is a great establishment (food truck) that you will see at Tanger Outlets.
Owned and operated by Blake Morgan, his Mad Dog Morgans pops-up at the Atlantic City Convention Center, too.
Here's a peek at one of their hot dogs:
JOHNNY ROCKETS
Bally's Hotel & Casino
Atlantic City, New Jersey
This establishment has earned its place on our prestigious list because of its famous "The Rocket Chili Dog."
It's all burgers, hot dogs, shakes and fries in a cool vibe, retro setting.
They serve the world famous Nathan's Hot Dogs (seen directly below).
Johnny Rocket's milk shakes are sheer perfection and the whole presentation will transform you back to the 1950's.
NATHAN'S FAMOUS HOT DOGS
The Boardwalk in Atlantic City.
No list would be complete with the World's Famous Nathan's Hot Dogs.
Nathan's has been located on the boardwalk in Atlantic City for generations.
Nathan's always been synonymous for the highest quality, beef hot dogs and they just love pairing this with their Golden crinkle-cut french fries.
FUN FACT: 106 years ago today, this wonderful hot dog (below) would have cost you .10 cents.
Nathan's it's also famous for their annual hotdog eating contest, in Coney Island New York on the Fourth of July each year… The winner is considered the world champion of this sport.
HONORABLE MENTION:
JUNIOR'S DOUGHNUTS & DOGS
Margate, New Jersey
This was an awesome establishment that is presently closed. We have heard that they may reopen next summer.
This is their delicious hot dog.
Well, that's all folks.
Please reach out to us, to let us know who we missed.
Have a great winter season and Happy Hot Dog Eating.
Immediately below, is a wonderful photo gallery of winter comfort foods that gave been submitted by our readers and on-air listeners.
Atlantic City Area Readers Submit Favorite Winter Comfort Foods
More From WPG Talk Radio 95.5 FM