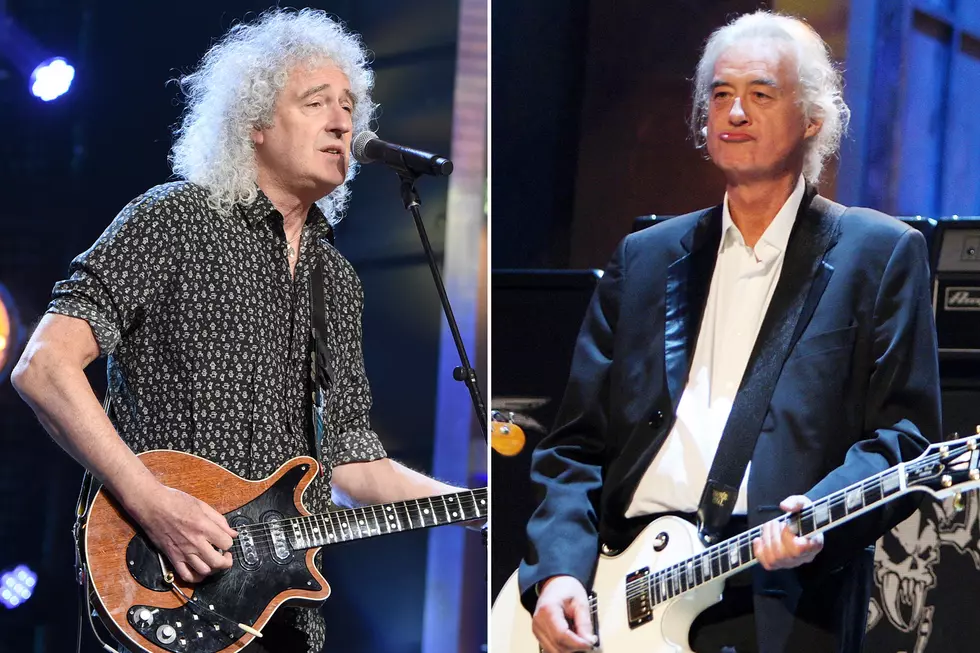 Led Zeppelin Made Queen Fear They Had 'Missed the Boat'
Jamie McCarthy / Stephen Lovekin, Getty Images
Brian May said the members of Queen worried they had "missed the boat" to success when they first heard Led Zeppelin.
Jimmy Page's band formed two years before May's, but in a new interview with Total Guitar, May reflected that it might as well have been a lifetime from the younger group's perspective.
"Those guys were not far ahead of us in age," he said, "but the first time we heard Zeppelin, we thought, 'Oh, my God, this is where we're trying to get to, and they're already there!' So in a sense, there were times when we felt like we'd missed the boat. Like we wouldn't be able to get our stuff out there. But our vision was slightly different from Zeppelin, musically. It's more harmonic and melodic, I suppose."
He added, "But I would never be ashamed to say that Zeppelin were a huge influence on us, not just musically, but also in the way they handled themselves in the business, without compromising. The way they handled their image, the integrity, the way they built their stage show – so many things. I suppose between Zeppelin and the Beatles and the Who, you would see where we came from. That was the kind of platform that we bounced off."
May agreed that Queen's song "Now I'm Here" was heavily influenced by Zeppelin's "Black Dog." "I owe a lot to Jimmy Page, of course – the master of the riff, and the master of getting lost deliberately in time signatures," he said. "I think that song was inspired, definitely, by the spirit of Zeppelin. All those wonderful things that are happening when Bonzo is throwing in things which sound like they're in a different time signature – that stuff has always fascinated me."
Watch Queen's 'Now I'm Here' Video
Listen to Led Zeppelin's 'Black Dog'
Rejected Original Titles of 30 Classic Albums
Titles are more than just words on the album covers. They're reflections of the music and themes inside – and sometimes they make all the difference in the world.
More From WPG Talk Radio 95.5 FM