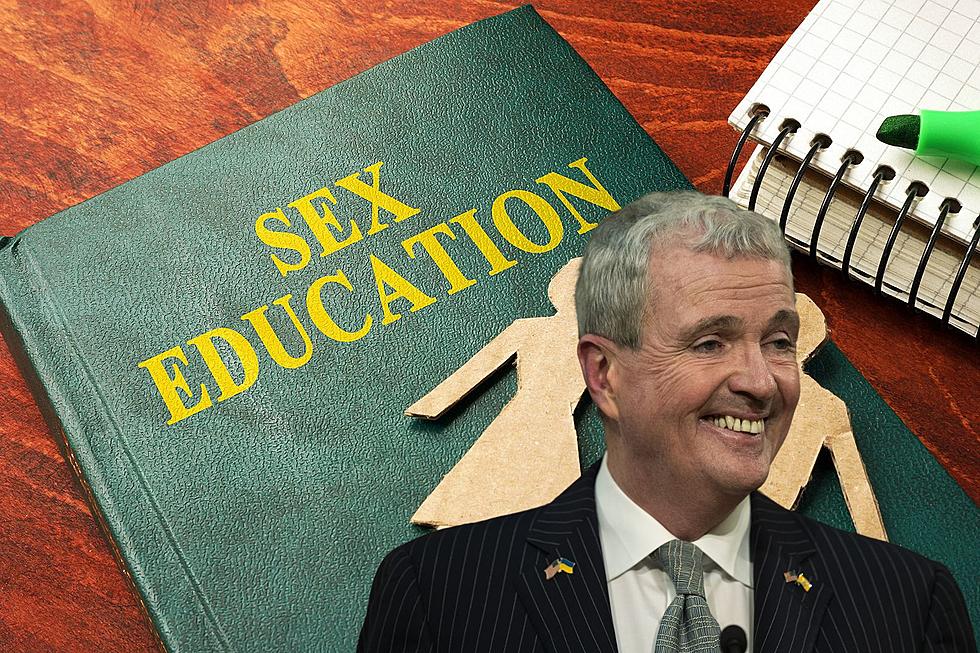 Murphy's Next Move on NJ School Sex-ed Standards
Getty Images/AP/Townsquare Media illustration
Controversial new sex education standards went into effect for all public schools in New Jersey at the start of this school year. Districts are allowed to determine how these classes will be taught, and adopt their own curriculum.
Facing enormous pressure from parents and community members, some districts have sought to get around the new standards.
Districts have gotten creative: Ranging from outright rejection of the new standards to allowing parents to opt-in their children, to teaching lessons on the last day of school to make them easier to avoid.
The LGBTQIA+ community is being ostracized and told they are broken and don't belong, putting an already at-risk community in further danger. - New Jersey Public Education Coalition
Gov. Phil Murphy and his education commissioner were initially harsh when talking about non-compliance.
A spokesperson for the NJ Department of Education said in July 2022, that districts not in compliance "will be penalized for instruction and program in the appropriate curricular area" and that "the severity of the ramifications could vary."
When the Middletown Board of Education opposed the new standards and vowed to adopt an "opt-in" policy, the Murphy administration threatened to haul them into court.
Now, with the current school year nearly two-thirds complete, Murphy and acting NJ Education Commissioner Angelica Allen-McMillan have largely been silent.
A group called the New Jersey Public Education Coalition is urging them to break that silence, and force compliance in all districts.
In a letter to Murphy and Allen-McMillan, the group cites several examples of circumvention mentioned in a recent School Ethics Commission report.
NJ.com reports the letter begs for immediate intervention, "The safety of children is being challenged, and the LGBTQIA+ community is being ostracized and told they are broken and don't belong, putting an already at-risk community in further danger."
What could happen?
The education commissioner does have the power to intervene.
Last September, districts were warned if districts do not comply with the new standards, they face loss of local control, monitoring by the state, and, in extreme cases, loss of state aid.
To date, there has been no evidence the Murphy administration has taken any such action.
The Public Education Coalition is suggesting that school board members who voted against implementing the new sex-ed standards could be forcibly removed, for violating ethical standards.
Removal of a school board member would require a ruling from a judge or state administrative agency.
Citing that School Ethics Commission opinion, the coalition offered to prepare a "test case" the state could use to take such action.
In an extreme case, the state could seek to have an entire school board removed.
It is not clear what action, if any, Murphy and his education officials will take. Murphy has not responded to the letter.
Implementation of the new sex education standards triggered large protests before the start of the school year. Angry parents often packed school board meetings to let their opposition to the standards be known.
Up or down? Average property tax changes in NJ in 2022
Below are the average property tax bills for every municipality in New Jersey last year.
The towns are listed from the biggest cut in the average bill to the highest increase. On the county maps, the deeper red color means a higher increase above 2% whereas the darker green signifies a smaller increase or a reduction.
Each listing also shows how the average tax bill is split among the county, school and municipal governments.
LOOK: Food and Personal Care Shortages We Could See In 2023
Learn about the 13 potential shortages that could impact stores in 2023, from produce and meat to snacks and beverages.
More From WPG Talk Radio 95.5 FM