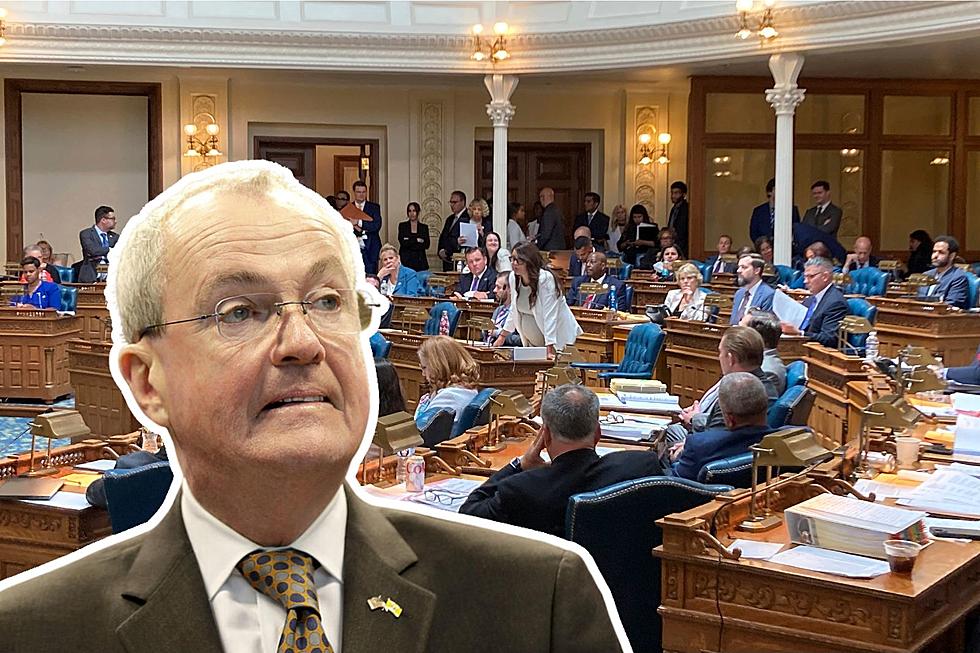 NJ Democrats Approve Budget that's $1B More Than What Murphy Asked For
(AP Photos/Townsquare Media illustration)
TRENTON — New Jersey's Democrat-led Legislature passed a $54.3 billion budget boosting spending 7% over last year and exceeding fellow Democratic Gov. Phil Murphy's proposal by $1 billion — hours ahead of a constitutional deadline and amid howls of protest from Republicans about a lack of transparency.
The budget includes a full public pension payment for a third straight year, a more than $8 billion surplus, increased spending for education and a host of other programs — among them a property tax relief scheme for seniors.
It now goes to Murphy, who's expected to sign it.
Democrats hailed the legislation as fiscally responsible, living up to promises to pay for the pension, education and delivering millions in property tax assistance in a state with among the highest such levies in the country.
It's also, they say, a departure from the previous GOP administration under Chris Christie — currently a presidential candidate — who saw credit-rating downgrades and whose final state budget was nearly $20 billion under the measure passed Friday.
"This is a rare opportunity to have our cake and have some left over," said Democratic Assembly member Raj Mukherji during a debate on the budget.
Some Republican support for NJ budget but concerns about transparency
A handful of Republicans backed the budget, though they didn't speak during debate.
But many were skeptical, pointing to treasury reports indicating falling revenue from taxes for the previous month. They also decried the sharp increase in spending over the past decade, calling on Democrats to cut taxes.
"Fifty-four billion dollars? Really?" asked Republican Assembly member Christopher DePhillips. No family in the state has increased its spending as sharply as the state has over the last six years, he added.
Some of their strongest objections revolved around how the final budget was introduced — late at night earlier this week and without the minority party getting to view the document or the public getting to weigh in.
Republican Assembly member Brian Bergen called it "an egregious insult on transparency."
"This budget was ... prepared behind closed doors," he said. "And when the budget was finally given at the end nobody had a chance to read it."
Mukherji defended the process as following the rules and the constitution. Democratic Assembly member John McKeon pointed out that there had been a series of 14 public meetings on the budget. "Big rush," he said.
$1 billion increase over Murphy's proposal
Exactly what the increased $1 billion in spending over the governor's proposed budget entailed wasn't immediately clear: GOP lawmakers critically cited millions for a marina in Woodbridge and a French arts museum in Jersey City, among other line items.
"There are many names in this budget that perhaps if I was the sole architect I would not approve," said Democratic Sen. Paul Sarlo, who chairs the budget committee and authored the spending plan. "Let's not disregard the fact that this budget includes investments in law enforcement, infrastructure, hospitals and health care, open space parks and recreation, local school districts and property tax relief."
Property tax cut for seniors
A major new program in the budget is a property tax assistance program for homeowners 65 and older who make $500,000 or less.
They'd qualify for up to $6,500 in property tax relief under the plan, and renters would get up to $700. But those benefits wouldn't take effect until 2026 — time that Murphy and lawmakers said was needed for the economy to ramp up. Critics say it's a gimmick aimed at giving the majority a campaign trail talking point during this year's legislative election.
But Murphy has said he's committed to implementing the full rebate program, though it's set to go into full effect just after he leaves office in 2026.
In the meantime, if the bill is signed into law as expected, it would provide a $250 benefit immediately to senior property taxpayers and renters, Murphy has said.
New Jersey's constitution requires a balanced budget to be passed by the start of the fiscal year, July 1, which is Saturday.
These towns actually cut their property taxes in 2022
New Jersey 101.5 examined Department of Treasury data to see which municipalities saw an average drop in property taxes last year. Here are the Top 20 average tax cuts followed by the rest.
More From WPG Talk Radio 95.5 FM