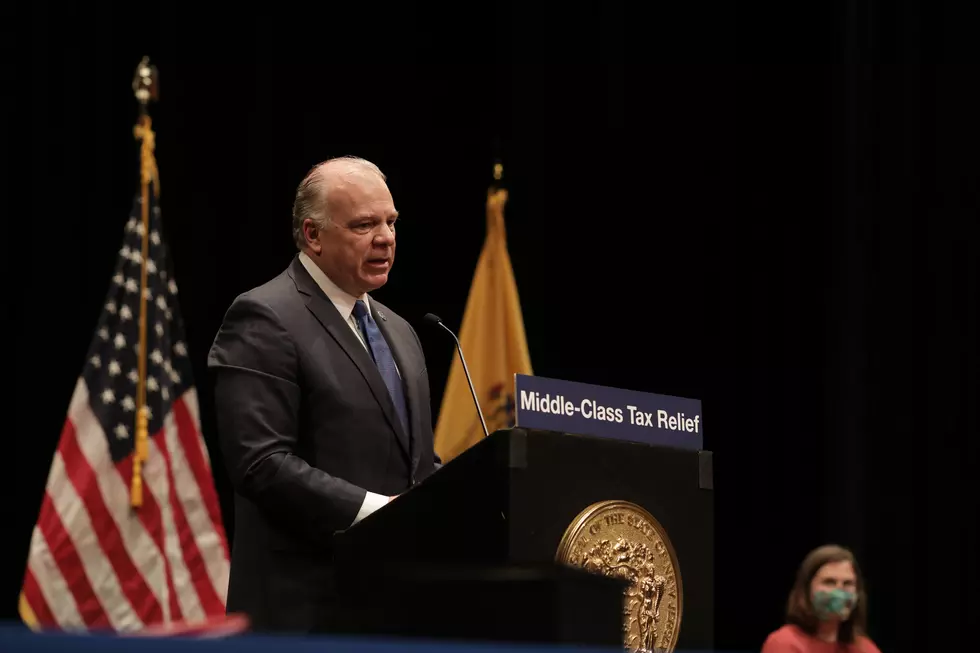 North versus South: It's A New Jersey Democrat 'Political Civil War'
Senate President Steve Sweeney speaks at the budget signing ceremony on Tuesday, Sept. 29, 2020 (Edwin J. Torres/Governor's Office)
A HARRY HURLEY OPINION EDITORIAL
Make no mistake about it … There is a significant North versus South Democrat battle taking place at the present time.
This is the equivalent of a New Jersey "Democrat Political Civil War."
There has long been great resentment from certain North Jersey political brokers about the supreme power that former New Jersey State Senate President Steve Sweeney possessed.
As hard ball, play-for-keeps New Jersey politics goes, Sweeney was actually a benevolent potentate.
However, the moment that Sweeney was upset in his re-election bid to the completely unknown Edward Durr, North Jersey Democrats pounced hard on Sweeney.
Sweeney never backs away from a challenge. He's a fighter.
The most recent example of North Jersey political retaliation against Sweeney was the recent State Democratic Chairman's bogus move to remove Sweeney from the commission that is responsible for drawing the new (40) legislative districts in New Jersey.
In any other time, Sweeney's immense talents and pedigree would be a welcomed asset, even considered to be essential during a process like this.
This is a moment that only comes along once every 10 years. Both political parties put forth their best teams to try to win the day.
It's disguised one way, but, the truth is … Redistricting is all about trying to "Gerrymander" as many districts as you can, to advantage your political party's chance of winning the most legislative seats.
Don't believe anything else that you ever hear on this subject.
Therefore, removing Sweeney is nothing more than self-inflicted, nonsensical internal Democrat politics.
Sweeney believes the move is illegal (so do I) and he has filed a lawsuit against New Jersey State Democratic Chairman LeRoy Jones in state Superior Court in Mercer County.
Sweeney was serving as one of the New Jersey Democratic Party's representatives on the 11-person, bipartisan commission.
Jones decided to remove Sweeney, offering the rationale that he wanted diversity on the commission. Absolutely no one believes that comment.
Jones sent a formal letter to the New Jersey Secretary of State this past Wednesday to make the change.
Jones replaced Sweeney with Laura Matos, who works at the public affairs firm Kivvit.
The commission has the political power to re-draw the 40 legislative districts that comprise the New Jersey state Legislature.
Northern New Jersey Democrats are exploiting Sweeney's election loss, along with other Southern New Jersey Democrat losses to take back political power that Sweeney had amassed over the more than past two decades.
No Southern New Jersey Democrat has ever wielded the amount of political power that Sweeney has.
Yes, Southern New Jersey's Jim Florio won the Governorship, but, Sweeney consolidated and held power for more than two decades.
Certain North Jersey Democrats are trying to finish Sweeney off.
For his part in this, Sweeney has other plans in mind.
Sweeney is preparing a run for Governor in 2025. The North Jersey Democrats are currently overplaying their hand.
Sweeney remains a formidable statewide threat. Do not confuse his New Jersey 3rd District loss, with his statewide potential.
A mutual friend of mine and Sweeney's told me right after the November 2, 2021 General Election that Sweeney will never hire a polling firm ever again.
While Sweeney was busy trying to win re-election, he was focused on trying to save District 2 and other Democrats from around the state in his role as a senior Democrat leader.
Sweeney's internal polling had him leading Durr by at least 16 points.
We've spoken and written extensively about how bad the polling is in New Jersey and around the entire nation.
In summary, North Jersey Democrats are underestimating Steve Sweeney. He is preparing for a second act that is coming … whether they like it or not.
South Jersey Blizzard - January 29, 2022
A blizzard brought over a foot of snow to many locations in South Jersey. Let's take a look at some listener-submitted photos.
26 of the Dumbest Laws in New Jersey
More Reasons New Jersey Is The 10th Best State To Raise A Family
More From WPG Talk Radio 95.5 FM