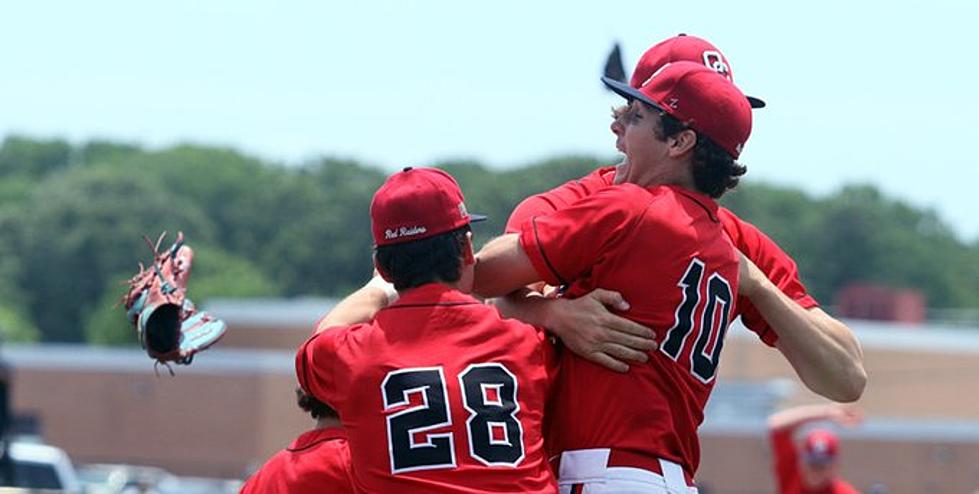 Ocean City Upsets Top-seeded Mainland to Win Group 3 Title
(Glory Days photo/Sully)
When you're going up against your bitter rival, who also happens to be the top-seeded team in the section and the No. 1 team in the state, boy, it's nice to have a guy like Gannon Brady to go out there and pitch. Or Tom Finnegan. Or Matt Nunan. Or Duke McCarron.
Ocean City came into the state playoffs with perhaps the deepest starting pitching staff in the state — with four legitimate No. 1 starters. Brady got the call on Saturday afternoon against Mainland in the South Jersey Group 3 championship game, and he delivered a gem, going the distance and allowing just one run as the Red Raiders beat the top-seeded Mustangs, 6-1, to deliver third-year coach Andrew Bristol his first sectional crown.
The Red Raiders, ranked 9th in the state, will take on Central Jersey champion Colts Neck this week in the Group 3 semifinals.
Second-seeded Ocean City (18-7) delivered three runs in the top of the second, and that was plenty for Brady, who used his high fastball and knee-buckling curve to keep Mainland hitters off balance all day. Mainland (23-4) managed just five hits — four of them singles — and Brady struck out nine while walking just two in seven innings of work. Senior southpaw Mark Elliott took the hard-luck loss for Mainland, as just two of the six runs he allowed were earned. He struck out seven and walked just two.
"When we won that game in the semifinals (against Central Regional), I knew we were going to have a really good game (against Mainland). I knew Gannon was going to go out there and give it his best, and that's what he did, putting strikes over the plate, he struck a bunch of guys out — he just did his job. I couldn't ask anything more from him," said Finnegan, who played first base against Mainland.
"I think the X factor for me always is if I'm able to throw my curve for strikes early in the count. I had that working today. I knew I could trust my defense and they made a lot of plays to help me out today. I felt really confident out there throwing strikes, and when you throw strikes, good things happen. You know you're in for a pretty good day when you can locate your pitches," Brady said. "We've had trouble scratching across runs all year, so (getting an early lead) was huge for me to settle down and have more confidence. It was great to scratch across a couple runs early in the game. That definitely gave us a lot more confidence."
Offensive struggles have been a theme for Ocean City in playoffs and years past, and even this year, in the Red Raiders' seven losses, they scored more than three runs just twice. So to jump out to a 3-0 lead in the second inning made a huge difference.
"That tends to be the stigma when it comes to Ocean City but when you get up to the plate you have to just do your best, do anything to drive in runs, get on base. We're going to be scrappy on the bases and drive in runs any way we can," Finnegan said. "We've been doing a lot of BP and working on different approaches in different counts, and really just playing the game and breaking it down so it's not as complicated. We're playing more of a simple baseball game. We know our pitching is there, we have stud pitching every year, so we know we're going to keep the game to a low score. We just have to get some runs across the plate to win games."
"Once we got the lead I felt really good, but I knew they would never stop," coach Bristol said. "Last week, Mainland was down to its last couple outs (against Triton) and kept battling, so until that last out I couldn't relax."
Shortstop James Mancini led off the top of the second with a single to left, then consecutive mishandled bunts by McCarron and Jack Perry loaded the bases. Ben Liebrand, the No. 9 hitter, followed with an infield single to plate Mancini and then Brady ripped a two-run double just inside the third-base bag to score two more.
Mainland got to within 3-1 with a run in the bottom of the fourth on a sacrifice fly from Cole Campbell, but Ocean City answered right back with a run in the top of the fifth to stretch the lead to 4-1. That came on a sacrifice fly by Mancini, and in the sixth the Red Raiders tacked on a couple of insurance runs thanks to an RBI single by Joe Repetti and an outfield error.
At one point this season Ocean City was just 5-4 and had lost to Mainland, Egg Harbor Township, Gloucester Catholic and Bishop Eustace — the biggest games on its schedule to that point. But a win over EHT on May 21 was the launching point, and since then Ocean City's only loss was a 7-2 setback against Hammonton on May 28.
"I understood that we played a tough schedule and it was going to take some time with a bunch of guys who had never played varsity. So, it was going to take a while for them to click into speed — the varsity speed is much different than the JV speed, so we knew if we could get one big win they could understand (they were a good team). I think it was the EHT game that really turned the corner for us and made them believe that we could beat some quality teams. Then we go out and beat St. Augustine and Holy Spirit, two teams that are playing for state championships. Our confidence just wasn't there at the beginning of the season," Bristol said. "This season taught me a lot as a coach because you expect so much, but I kept having to tell myself that these guys haven't done it before, you have to keep teaching and stay on them, and be patient. They bought in, and to their credit they never quit, they never got down on themselves, they kept at it."
"We definitely fought a lot of adversity this year — a lot more than we expected to have to — but like coach Bristol always says, we just have to fight through it. There was a part of this season when we pretty much lost every big game we played, but then that Friday game against EHT was the launching point. We realized we could come out with a big win, and from that point on we started beating a lot of good teams and that really gave us a lot of confidence coming into the home stretch," Brady said. "It was great because Mainland beat us pretty bad at our place in Ocean City, so we definitely wanted to avenge that loss. I have a lot of respect for those guys. I went to middle school with Brody (Levin) and Mark (Elliott) and have been friends with them for years. But this is huge for us and the community. I'm just happy we were able to come out with the win."
It may take a bit for this championship to sink in, but the Red Raiders can't take too much time to enjoy it, they have to start thinking about Colts Neck in the next round. Ocean City is just two wins away from an overall state championship. Still, the Raiders no doubt will take at least a few moments to savor such a satisfying victory.
"This is a great feeling. It hasn't really sunk in yet," Bristol said amid post-game photos. "If there is any team in South Jersey you respect it is Mainland because they've done this so many times. They've been at the top forever. I've never seen a down season from these guys, so to battle them is always a tough thing. We came ready, they were ready, and we were just better today."
"This is surreal. This was a long season with a lot of games per week. This is just an amazing moment with all my brothers. This is what we dreamed about in the beginning of the season and it finally came true," Finnegan added. "This is something you literally think of when you are 10 years old and you come watch high school baseball games. We want to win a South Jersey final against Mainland, and that's exactly what we did. It was awesome."
What's next: Group 3 semifinals, Colts Neck vs. Ocean City, time and place TBD.
KEEP READING: South Jersey Athletes Who Played/Coached in NBA and MLB
More From WPG Talk Radio 95.5 FM