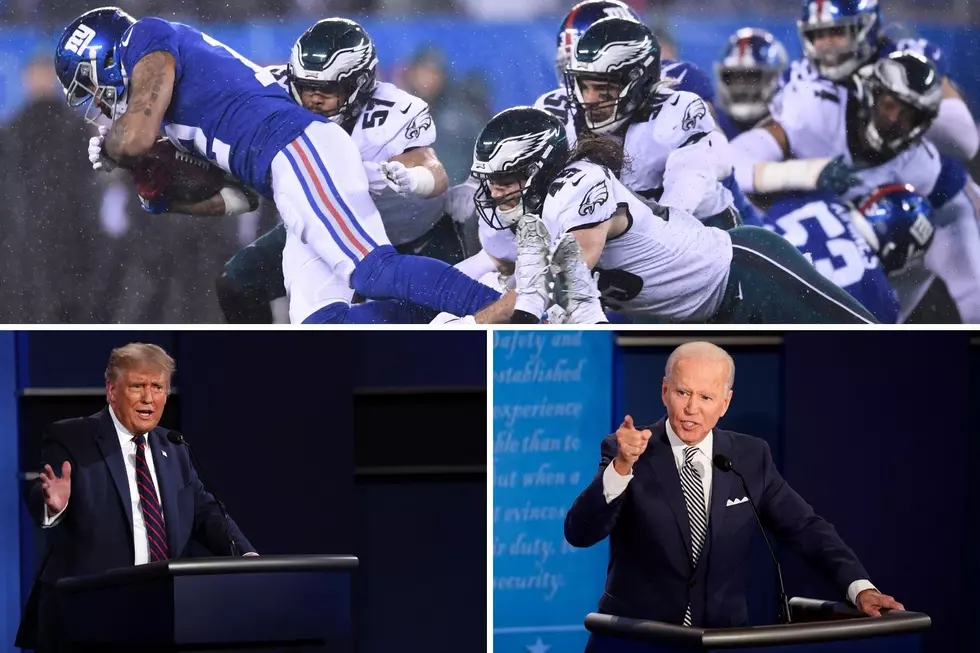 POLL: Eagles Game or Presidential Debate – Which Will You Watch?
(Photos: Getty Images; Clockwise from top: Sarah Stier; Morry Gash-Pool; Scott Olson
The Eagles/Giants game is going head to head with the final Trump/Biden presidential debate on Thursday night.
Enter your number to get our free mobile app
Both televised events should be interesting. It's a tough call. To watch the Birds try to win only their second game of the NFL season against an equally terrible division rival, or to watch President Trump and former Vice President Joe Biden spend 90 minutes not giving direct answers to questions and talking over each other.
While I love the Philadelphia Eagles, win or lose, they've been a nauseating team to watch this season. I end up turning off the game halfway through, or with a migraine headache if I stick it out to the end. But, the same can be said for the Trump/Biden debates (the Harris/Pence VP debate was no better).
There are good reasons to spend your time on one or the other, or both, should you choose to channel surf this Thursday night. I mean, regarding the Eagles, what goes up must come down right? There's a high probability they could defeat the Giants. Maybe, EASILY if they've had a good practice week. And, during the final presidential debate, while one hopeful is speaking to answer the moderator's question, their opponent will have their mic muted so as to ward off any crosstalk.
So, which will you be tuning in for? The Philadelphia Eagles Thursday Night Football game or the last presidential debate?
Enter your number to get our free mobile app
ALSO SEE: 30 Most Decade-Defining Memes
More From WPG Talk Radio 95.5 FM