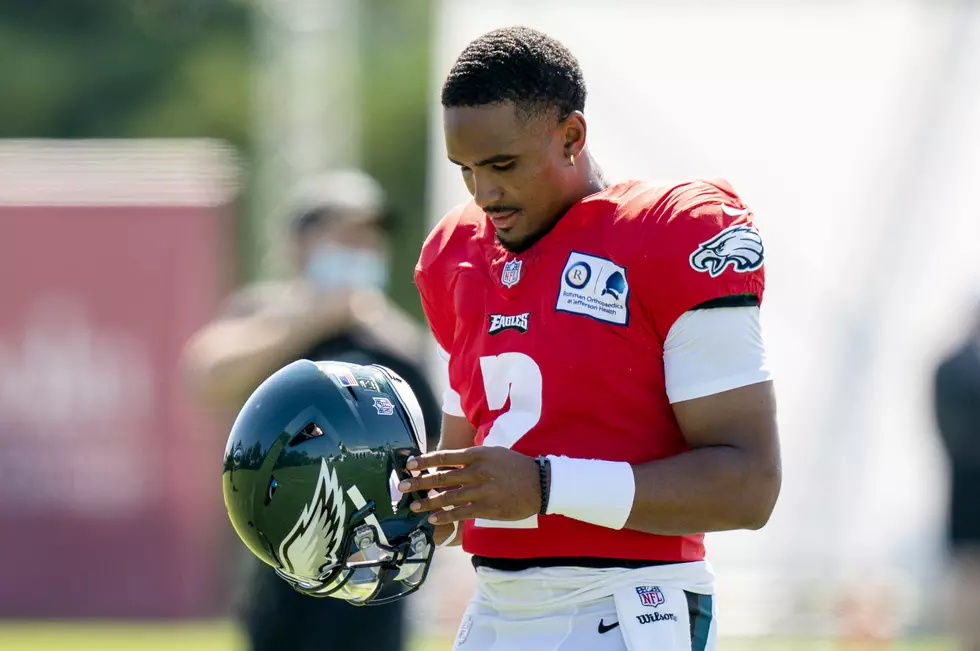 Ready or Not, Eagles' Jalen Hurts Gets his Shot
Getty Images
Eagles' second-round rookie quarterback Jalen Hurts continues to take first-team reps in preparation for his first NFL start this Sunday against the Saints.
The Saints own the leagues top defense and an NFC best 10-2 record, but if one thing is for sure, no moment will be too big for Hurts.  The rookie quarterback enters the league as a winner leading both Alabama and Oklahoma to the National Championship game during his time in college.
"He looks like he is having fun," said Eagles veteran defensive end Brandon Graham.
"Our guys are supporting him and going out with a lot of energy, I can see his confidence growing."
Confidence has never been an issue for Hurts, its one of the things that drew the Eagles to him
He could give the Eagles offense the spark it has been looking for.
Hurts led college football, including running backs, in red zone rushing touchdowns (17) last season, he also led the nation in yards per attempt (11.5) on non-play action passes, meaning he is willing to push the ball downfield.
"His confidence level is through the roof," explained Eagles running back Miles Sanders.
"That's what I really like about him, especially being a rookie QB in the NFL.  Being a quarterback in the NFL isn't easy regardless, but I love his confidence and command in the huddle. I'm excited to see him play."
So is Hurts ready to play now?
Most draft experts had Hurts as a Day 2 pick and stated that watching from the sidelines for a year would be best. He had comparisons to Russell Wilson and Dak Prescott on draft day, but ready or not, now is his time.
Hurts' confidence and leadership qualities are evident, he can extend plays with his legs and make throws on the run. However, one area where he struggled in college was with accuracy and ball-placement, something Carson Wentz has struggled with in 2020.
It's not an ideal situation, but if anyone can step into a situation like this and succeed, it's Jalen Hurts.
Enter your number to get our free mobile app
Eagles QBs Drafted Outisde Of The First Round Since 2000
More From WPG Talk Radio 95.5 FM