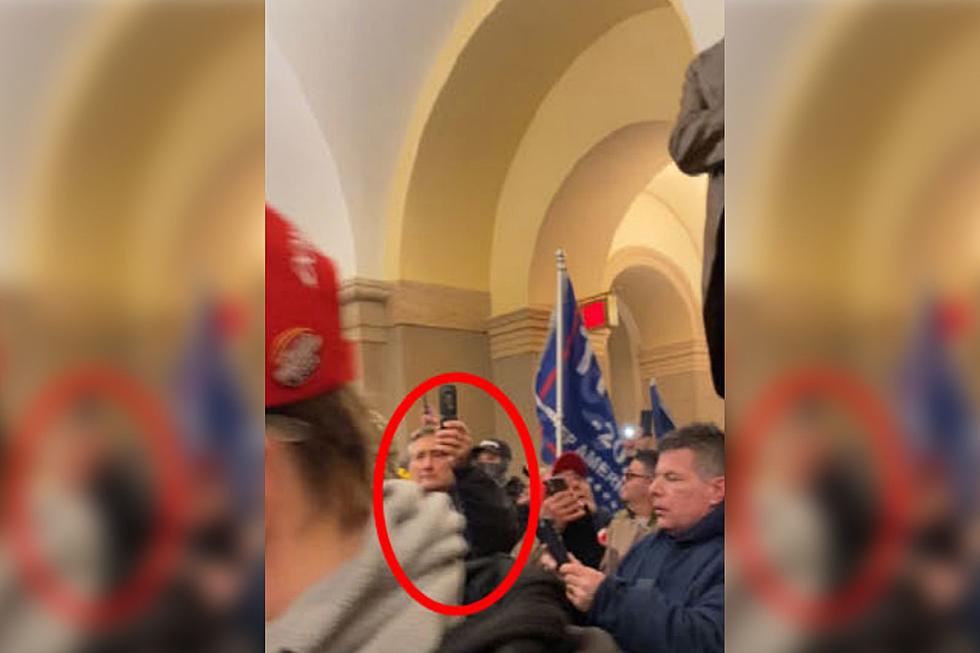 Retired NJ Trooper, Seen at Jan. 6 Attack, Says He Was Just Looking For Restroom
Michael Daniele, of Holmdel inside the Capitol building on Jan. 6 2021 (USDOJ)
A retired New Jersey State Police trooper has been dealt federal charges after being caught on video during the Capitol insurrection on Jan. 6, 2021 — as he claims he was looking for a restroom.
Michael Daniele, of Holmdel, was identified in March 2021 as a retired trooper by the State Police, which notified the Newark field office of the FBI
Daniele was seen at the first breach point by the throngs of rioters before 1 p.m., wearing a black jacket with the letters "MFIC" on the arm in images posted online.
The retired trooper was also seen on camera helping move police barriers that had been pushed over.
About 90 minutes later, surveillance footage has Daniele making his way with the crowd into the Crypt of the Capitol building.
At one point, he is seen holding up his phone while inside.
During FBI interview, Daniele says he was looking for a bathroom
While being interviewed at his home in April 2021, Daniele told federal agents that he had taken a charter bus to the rally in support of President Donald Trump on Jan. 6.
He identified himself from surveillance images included in the criminal complaint filed Feb. 22, telling investigators he had entered the Capitol building through a broken doorway to look for a bathroom.
Other NJ natives have been sentenced for taking part in the Jan. 6 attack
In January, a Somerset man who admitted to assaulting NJ native and Capitol Police Officer Brian Sicknick with pepper spray during the Jan. 6 riot was sentenced to more than six years in prison.
Sicknick, who grew up in South River, died a day later after suffering several strokes.
Julian Khater pleaded guilty in September to two counts of assaulting, resisting, or impeding officers with a dangerous weapon, for the run-in with Sicknick and a second officer.
Altogether, more than 30 individuals with NJ ties have faced federal charges stemming from the insurrection at the U.S. Capitol.
NJ arrests, sentences stemming from Jan. 6 U.S. Capitol riot
By two years later, more than 20 people from New Jersey had been charged with involvement in the Jan. 6 insurrection at the U.S. Capitol.
More From WPG Talk Radio 95.5 FM