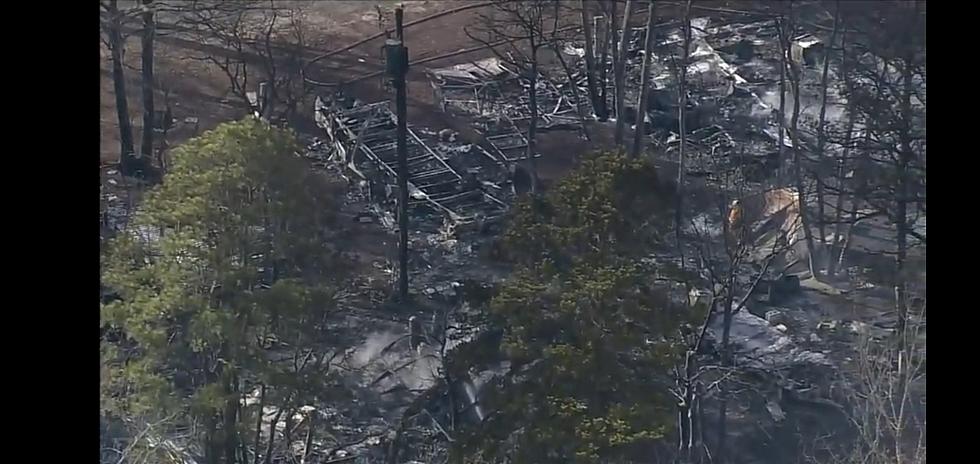 Update: 4-alarm Fire in Upper Twp., NJ, Destroys 12 Trailers, Damages 14 More
Fire at Seaville Shores Campground off of Corsons Tavern Road in Ocean View NJ - Photo: WPVI-TV
Updated information: a four-alarm fire at a campground in Cape May County Tuesday afternoon destroyed a dozen trailers and damaged 14 others.
WPVI-TV reported the blaze started around 3:30 at the Seaville Shores Campground off of Corsons Tavern Road in Ocean View, Upper Township.
The fire was brought under control in about three hours, according to officials.
As many as 24 different fire departments responded to the blaze, in addition to state-based resources.
Tuesday night, The Press of Atlantic City, quoting Curtis Corson, a member of the Upper Township Committee, said five camper units were a total loss and more were damaged, however, on Wednesday afternoon, Seaville Fire Rescue reported 12 trailers were destroyed and another 14 were damaged, some heavily.
There were multiple explosions and jetting of propane tanks and intense heat and smoke at times blocking out the sunlight. The conflagration was so intense it caused damage to many trailers over 100 feet from the fire. Embers caused woods fires in multiple locations burning over 2 acers of woods that was handled by the NJ State Forest Fire Service.
No injuries were reported but one firefighter was taken to Shore Medical Center for evaluation and was released a short time later.
The fire is under investigation by Cape May County and state officials.
38 Photos Show Just How Drastically South Jersey Has Changed in 15 Years
Here are 38 pictures of some drastic changes that have happened in South Jersey over the past 15 years.
An Average House is Worth Over $1 Million in These 16 NJ Shore Towns
More From WPG Talk Radio 95.5 FM