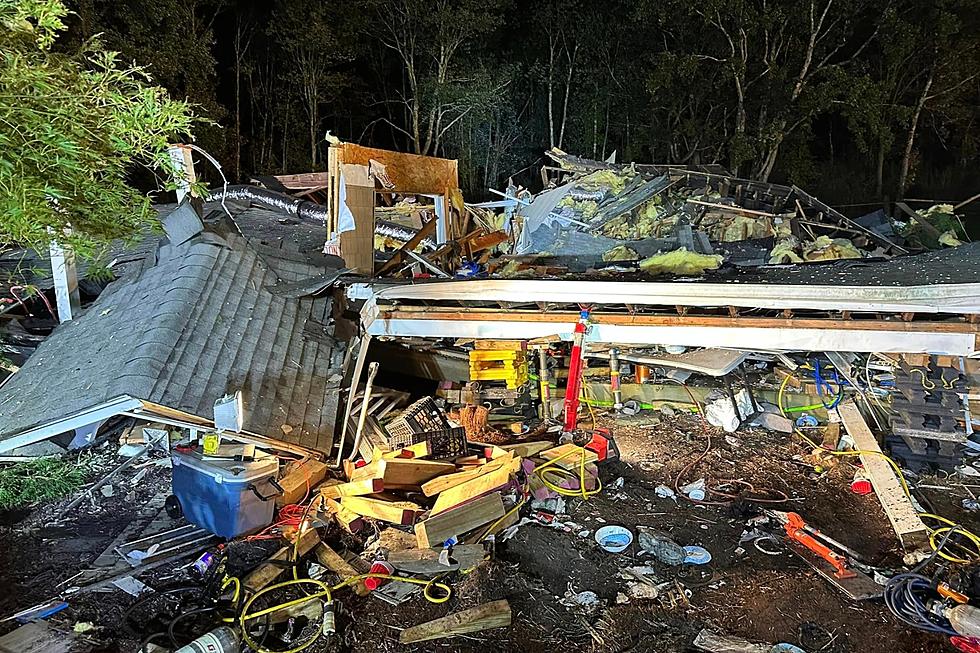 Shocking NJ House Explosion Traps 1, Hospitalizes 5
West Milford home explosion 9/22/23 (Paterson Fire Department via Facebook)
WEST MILFORD — A sudden and forceful explosion leveled a home in North Jersey and sent five people to hospitals in helicopters.
The house on Banker Road in West Milford was leveled by the blast around 9 p.m. Friday evening, police said.
Neighbors called quickly 911 and first responders from West Milford swarmed the scene. One neighbor, who lived nearly a mile away from the home, said to Pix11 that it felt like the shockwave was going to collapse her home as well.
The West Milford Fire Department managed to rescue five people who miraculously survived the explosion, police said. They were quickly brought to safety.
Rescue crews save person trapped in home explosion
But one person remained trapped in the rubble. Ten feet of debris including splintered wood and exposed insulation separated them from medical attention, the Paterson Fire Department said.
The Urban Area Search Initiative Task Force and the Paterson and Hackensack fire departments were called to help. They began tunneling to the trapped victim.
Rescue crews used several pieces of equipment to reach the victim such as airbags, a 50-ton bottle jack, and Paratech Hydrafusions struts.
The first responders managed to lift the collapsed home off of the trapped victim and get them out.
"The victim was successfully removed an hour after our arrival and transported via helicopter to the hospital," the Paterson Fire Department said.
Five hospitalized in home explosion
Along with the person trapped under the rubble, four other people were also taken to area hospitals.
State Police helicopters transported the victims. Two were taken to Morristown Medical Center, one was flown to Cooperman Barnabas Medical Center, another went to St. Joseph's Medical Center Paterson, and the fifth was taken to Hackensack University Medical Center.
One person at the scene denied medical attention.
LOOK: Cities with the most expensive homes in New Jersey
Stacker
compiled a list of cities with the most expensive homes in New Jersey using data from Zillow.
LOOK: Famous actors from New Jersey
Stacker
compiled a list of famous actors born in New Jersey from IMDb.
More From WPG Talk Radio 95.5 FM