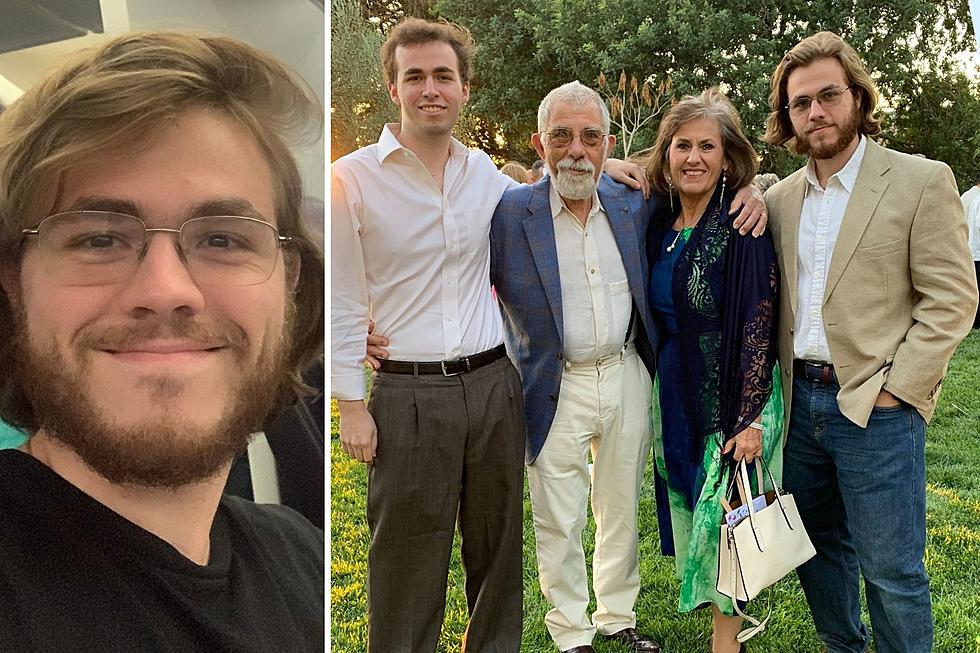 'Suicidal' NJ Man Goes Missing After Driving 2,000 Miles
Brandon Gomes (Gloria Ron-Fornes)
SUMMIT — A family is desperate to locate a 24-year-old man who has been missing in New Mexico for over two weeks and is considered to be at high risk harming himself.
Summit police are working with Albuquerque police and the Sandoval County Sheriff's Office to locate Brandon Gomes who was last seen in New Jersey on Oct. 1 when he left his Summit home in his mother's gray Honda Civic.
Brandon Gomes' last known locations
Gomes checked into a Holiday Inn in Albuquerque on Oct. 3 and checked out Oct. 6 but left the car behind.
His cell phone last pinged in San Ysidro, New Mexico, about 43 miles to the northwest of Albuquerque on Oct. 7 but the phone is no longer active, according to Albuquerque Police.
'It was totally uncharacteristic of him'
His mother, Gloria Ron-Fornes, told New Jersey 101.5 that her son is a Rutgers physics math major. He was working on a startup business and had incorporated in July.
"The startup was building infrastructure for blockchain and crypto. He loves the outdoors, he loves travel, he loves family, music," Ron-Forn said. "He was just an incredible human being. Everybody is in shock that he just got up and left. It was totally uncharacteristic of him. Even when overwhelmed, he would just say 'I need a little time I need some tea.'"
A night out without checking in
He's been living with his mother, helping with his stepfather who suffers from Alzheimer's, and traveling as part of the the startup. But he always found time to FaceTime with his mom to talk about his travels.
Ron-Fornes said the family, which includes a brother and stepsister, had returned recently from a trip to Spain and Portugal for a wedding. Upon his return, he went to Columbia University in New York to visit some friends but didn't call or text his mother to let her know he was staying overnight.
Ron-Fornes was upset with him when Brandon came home which she said he took a little harder than usual.
Brandon Gomes took his mother's car
She and her husband went to church the morning of Oct. 1 and Brandon was gone by the time they got home. He took his mother's car, which Ron-Fornes didn't think was unusual because he was supposed to take it out for a drive because it had not been driven in a while.
"But by the afternoon I started getting worried that he hadn't texted me, again, not normal for him. And then he texted and said that he just needed some time alone. That night, he texted again, saying that he had not slept for 40 hours, and he was just going to crash at a friend's," Ron-Fornes said.
'It's incomprehensible that he would do this'
He texted the next day and said was going to take a road trip. He texted again on Oct. 3 but was not heard from again.
"Then on Friday, the sixth, police show up at my house, saying that they had gotten information from a friend that he was suicidal. So it's just been a complete nightmare because it's not our son. That's not who we know," Ron-Fornes said.
The friend, who is in California, kept trying to text Brandon but never got a response. Albuquerque police joined the search after the vehicle was found at the hotel. Ron-Fornes is trying to understand her son's actions.
"It's incomprehensible that he would do this, that he would just abandon his family, take my car. Even that just first step is not him. So is he in danger of some kind that we don't know? I don't know. Was it that he's so overwhelmed," Ron Forn said.
Albuquerque police asked anyone with information about Gomes' whereabouts to call them at 505-242-2677.
If you feel you or someone you know may be in crisis, call the National Suicide Prevention Hotline at 988 or the NJ Hopeline, 1-855-654-6735
FREE RIDE! These U.S. states have absolutely no toll roads
According to data compiled by
Uproad
, there's no charge to drive on highways in these states.
Gallery Credit: Mike Brant
More From WPG Talk Radio 95.5 FM