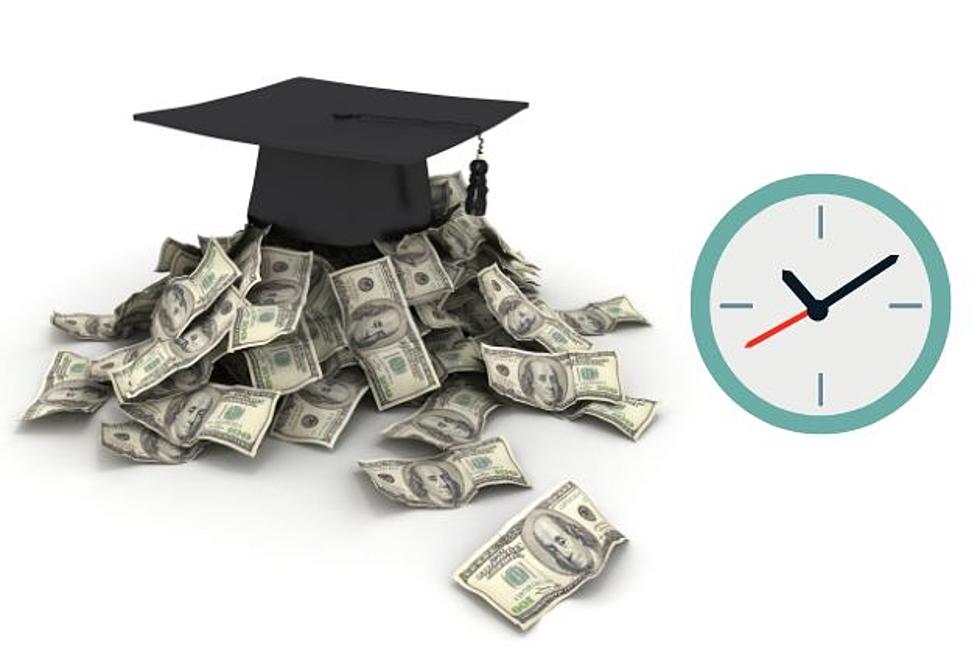 Clock is Ticking: Is NJ Ready For the Return of Student Loan Payments?
Canva
It's likely been three and a half years since the last time you were forced to fork over a monthly payment for your student loans.
But the administrative forbearance prompted by the COVID-19 emergency will be gone in a matter of weeks.
Are you ready?
Experts are urging borrowers to create an account now at studentaid.gov — a site run by the federal government (with no threat of scams or bad info) — in order to see how much money is expected to come out of their pockets on a monthly basis, and whether other repayment plans are more affordable.
When do student loan payments resume?
The payment moratorium, which kicked in during March 2020, comes to an end on Aug. 31. as a result of a debt ceiling compromise made earlier this year between President Joe Biden and federal lawmakers. In another blow to hopeful borrowers, the Supreme Court scrapped Biden's plans to cancel up to $20,000 in federal student loans for tens of millions of Americans.
Interest on the paused loans resumes on Sept. 1, and payments are due in October.
"Figure out how you're going to do this," said Paul Oster, president of Better Qualified in Eatontown. "Do not wait until Sept. 1, Oct. 1."
According to an analysis of federal data by Forbes, the average balance of student loan borrowers in New Jersey is more than $35,000. Estimates in the industry suggest that most borrowers are scheduled to put out $200 to $300 per month once payments resume.
"If you really can't afford it, you have to be very proactive here," Oster said. "The cavalry is not coming in to save you. You have to figure this out yourself."
Can I change my student loan payment plan?
Studentaid.gov notes that you can change your repayment plan at any time, free of charge. For those in need of a more affordable monthly bill, you can sign up for an income-driven repayment plan, tied to income and family size.
Individuals in a "short-term financial bind," meanwhile, may qualify for a deferment or forbearance of their loan.
Non-payment by new borrowers can be detrimental to their credit scores, Oster said. And any parents who co-signed for the loans can be ultimately held accountable as well.
"If you co-signed, you better get involved in the process on how they're going to start paying these loans back," Oster said.
Weird things NJ taxes - and some they don't
In general, New Jersey assesses a 6.625% Sales Tax on sales of most tangible personal property, specified digital products, and certain services unless specifically exempt under New Jersey law.
However, the way the sales tax is applied in New Jersey sometimes just doesn't make sense.
New Jersey puts out an itemized list for retailers that spells out what is, and what is not, taxed.
Perhaps because this is New Jersey, there are some bizarre and seemingly contradictory listings.
Most affordable places to live in New Jersey
SmartAsset released a study analyzing the
most affordable places to live in New Jersey
. The eighth annual study weighed several factors, including taxes, homeowners' insurance, and home costs relative to the local median income.
More From WPG Talk Radio 95.5 FM