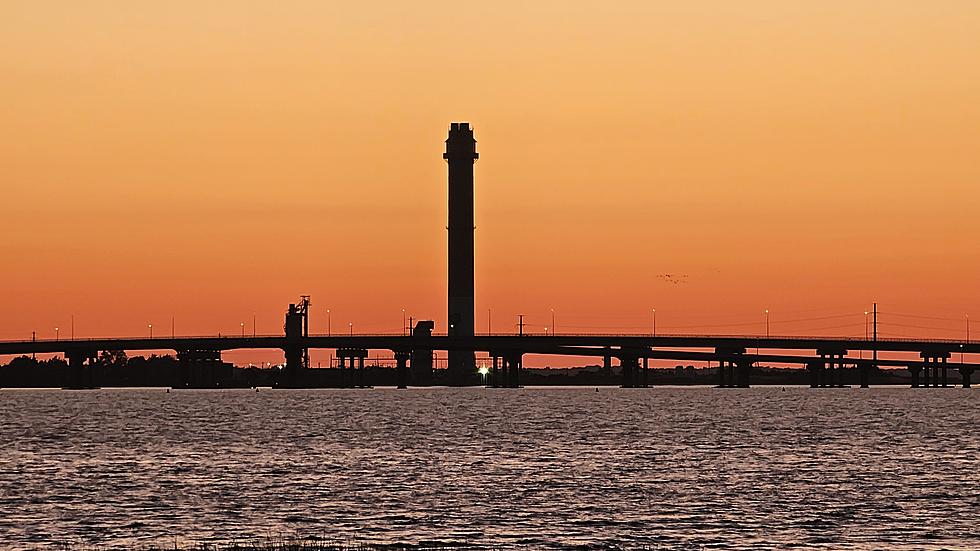 The Sun Sets on One of South Jersey's Biggest Landmarks
Smoke stack at B.L. England Power Plant in Upper Township NJ - Photo: Chris Coleman
It's now just a matter of hours before the landscape of the Jersey Shore changes forever.
Thursday morning at 10:00, the giant smokestack at the former B.L. England Generating Station will be imploded and a landmark will be gone forever.
Since 1987, that stack, which stands a few hundred feet into the air, served as a gateway between Atlantic and Cape May Counties as you went over the Great Egg Harbor on the Garden State Parkway (and, for those that remember it, the former Beesley's Point Bridge before it was torn down).
When you saw that smokestack, you knew you were only minutes away from having fun at the Jersey Shore.
And Thursday morning, it'll be gone forever.
Long story short, that old power plant shut down a number of years ago and crews have been dismantling it lately. After two implosions that made much of the facility disappear, that stack stood tall.
Sadly, the group that is redeveloping that area, didn't feel it was necessary to incorporate that smokestack into whatever they're going to build there. Perhaps it would have been an eyesore to those owning the zillion-dollar condos and townhouses that might be built there that you and I won't be able to afford.
With that said, Mother Nature has been providing an amazing backdrop to send the smokestack into the history books.
Coming back from Ocean City Tuesday evening, an absolutely spectacular sunset was surrounding the stack, offering chances to take a few last pictures that were way too good to pass up.
I'm uploading some rather large pictures here so we all have some lasting memories of the stack before we get rid of yet another piece of South Jersey history.
It appears that the weather this evening should offer a sunset just like last night's.
If you have an opportunity, I recommend stopping at the fishing area on the Route 52 Causeway between Somers Point and Ocean City and grabbing a few last pictures.
Farewell, old friend.
38 Photos Show Just How Drastically South Jersey Has Changed in 15 Years
Here are 38 pictures of some drastic changes that have happened in South Jersey over the past 15 years.
Gallery Credit: Chris Coleman
29 Google Maps Pictures That Show Just How Quickly Somers Point Has Changed
Hop in your car, take a spin around the Somers Point Circle, grab a bite to eat at Mac's, and then sit in traffic on the old Route 52 bridges -- here's how quickly things have changed in Somers Point over the years.
More From WPG Talk Radio 95.5 FM