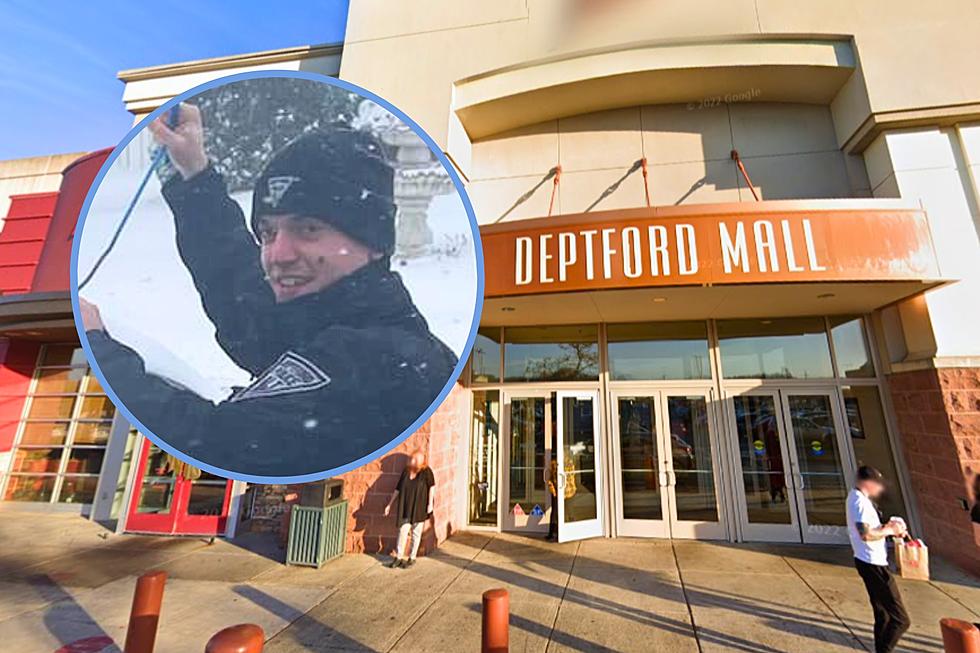 Bystander rescues NJ cop from 'guillotine' chokehold at Deptford Mall, police say
(Deptford police via Facebook/Google Maps)
DEPTFORD — A man seen harassing shoppers at a Gloucester County mall has been charged with attempted homicide after placing a police officer in a chokehold, according to police.
Michael A. Carberry, 43, of Mickelton was being disruptive and bothering people at the Deptford Mall to the extent that his behavior prompted a police response, the Deptford police said.
Officers went to the mall around 7:30 p.m. Friday night. Officer Anthony Gatto was one of the cops at the scene and found Carberry on the second floor.
Gatto repeatedly asked the man to leave the mall. When that didn't work, he tried approaching Carberry and guiding him by the arm but Carberry pushed his arm away, according to police. When it was clear Gatto had made no progress in trying to convince the man to leave, the officer went to arrest Carberry for disorderly conduct and defiant trespass.
However, police say Carberry assumed a fighting stance and a struggle ensued. Carberry is accused of placing Gatto in a "guillotine" chokehold, which is a martial arts move that can cut off blood and oxygen to the brain.
Fortunately, a bystander stepped in and helped Gatto to escape the chokehold. With the bystander's help, the officer was able to get Carberry in handcuffs, police said.
"Now, more than ever, we rely on the strength of community and the strength of each other. We value our relationships with the residents and stakeholders of Deptford Township and we are thankful that a mall patron had the bravery to intervene and assist our officer. For that, I am forever grateful," Deptford police Chief Joe Smith said.
Carberry is charged with attempted homicide, aggravated assault on a police officer, resisting arrest, disorderly conduct, and defiant trespass. He is being held at Salem County Jail.
Rick Rickman is a reporter for New Jersey 101.5. You can reach him at richard.rickman@townsquaremedia.com
Click here to contact an editor about feedback or a correction for this story.
How much your school district gets under Murphy's proposed 2024 budget
Gov. Phil Murphy's porposed 2024 budget includes $1 billion in new spending for school funding including pre-K funding, pension and benefits, and an additional $832 million in K-12 aid, which is listed below by county and district.
LOOK: Here are the states where you are most likely to hit an animal
Hitting an animal while driving is a frightening experience, and this list ranks all 50 states in order of the likelihood of such incidents happening, in addition to providing tips on how to avoid them.
Up or down? Average property tax changes in NJ in 2022
Below are the average property tax bills for every municipality in New Jersey last year.
The towns are listed from the biggest cut in the average bill to the highest increase. On the county maps, the deeper red color means a higher increase above 2% whereas the darker green signifies a smaller increase or a reduction.
Each listing also shows how the average tax bill is split among the county, school and municipal governments.
More From WPG Talk Radio 95.5 FM