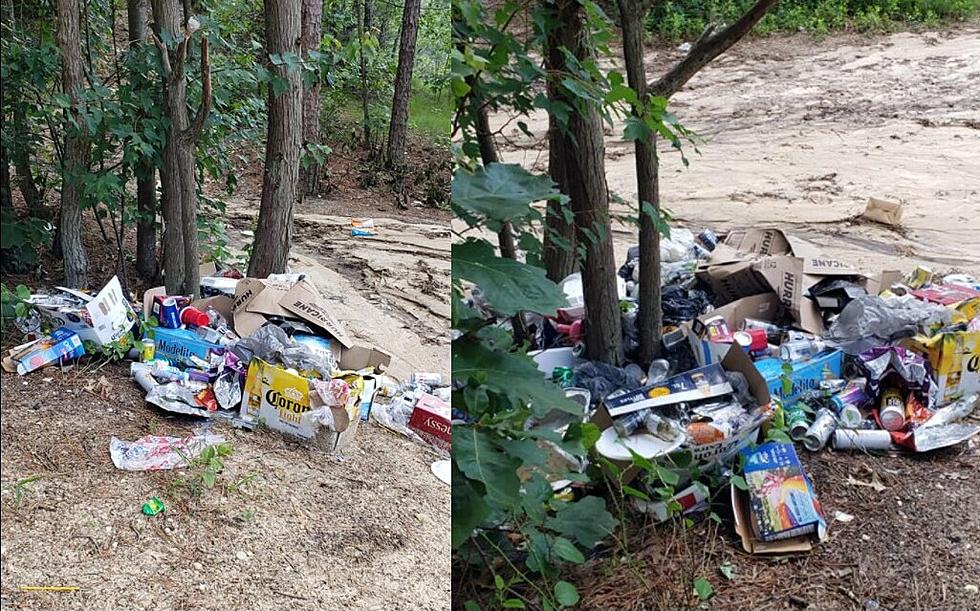 Disrespectful Idiots are Trashing Hamilton Nature Preserve in Mays Landing
Denise Appleget/Facebook
For the second year in a row, groups of people using the Hamilton Preserve at Gravelly Run for summer parties have littered the ground with trash, leaving behind a mess for local residents to deal with.
Denise Appleget, who grew up near the nature preserve, is concerned and disgusted at the way this beautiful piece of land is being fouled by uncaring visitors who are using the spot for illegal parties.
The Hamilton Preserve, in Hamilton Township, is a little less than 2000 acres stretching from Ocean Heights Ave. and Somers Point Road to New York Avenue. Locally known as Gravelly Run Pond, it is part of a large tract of land owned by the NJ Dept. of Environmental Protection, and is managed by the NJ Natural Lands Trust.
The New Jersey Natural Lands Trust was created in 1968 with a mission to preserve land in its natural state for enjoyment by the public and to protect natural diversity.
According to the Trust's website, the Hamilton Preserve is the home to plants and animals essential to the New Jersey Pinelands.
Hamilton Preserve is considered by many to support the world's largest population of the federally threatened and state endangered plant, Knieskern's beaked rush. Seemingly unremarkable, the small 10-12 inch high plant in a family of plants known as rushes, could be overlooked as just another grass-like weed. However, this small rush has come to skillfully select and adapt to disturbed areas with wet sand as well as the Pinelands naturally occurring vernal pond habitats. Sometimes known in this region as "pingos" or coastal plain ponds, these vernal ponds are small and often very round in shape. These ponds are filled in spring but dry up each summer and become grassy openings in an otherwise forested landscape. This drying out period is key not only for the Knieskern's beaked rush, but also for the Pine Barrens treefrog that depends on these ponds for breeding.
The preserve contains the headwaters of the Gravelly Run, a tributary to the Great Egg Harbor River, and part of the National Wild and Scenic River System.
The public is invited enjoy the preserve for walking or bike riding along the Atlantic County Parks Department's new paved rail-trail. The trail follows the route of an abandoned train line.
For those who like to fish, good opportunities can be had for pickerel, bass and bluegill. The Trust allows registration for deer hunting at this preserve.
But, there are strict rules for the land's usage: fires, camping, alcohol and ATV's are prohibited and hours are limited to daytime use.
It appear, from the photos posted on Facebook by Appleget, that all of these rules are being laughed off by a group of disrespectful idiots who are using the area as a waterfront party spot, then leaving their mess behind.
Photos show piles of trash and cardboard containers, beer cans, discarded bottles of lighter fluid, and, even dirty diapers have been tossed aside and left for someone else to clean up.
Appleget, who has been in touch with the manager of the land trust and the local police, says this is at least the second consecutive summer that the Hamilton Preserve has been misused this way.
Why aren't Hamilton Township Police, the sheriff's department, or Atlantic County park rangers patrolling this area?
These Beautiful South Jersey Sunsets Will Take Your Breath Away
KEEP READING: 7 South Jersey Dream Proposal Spots
More From WPG Talk Radio 95.5 FM