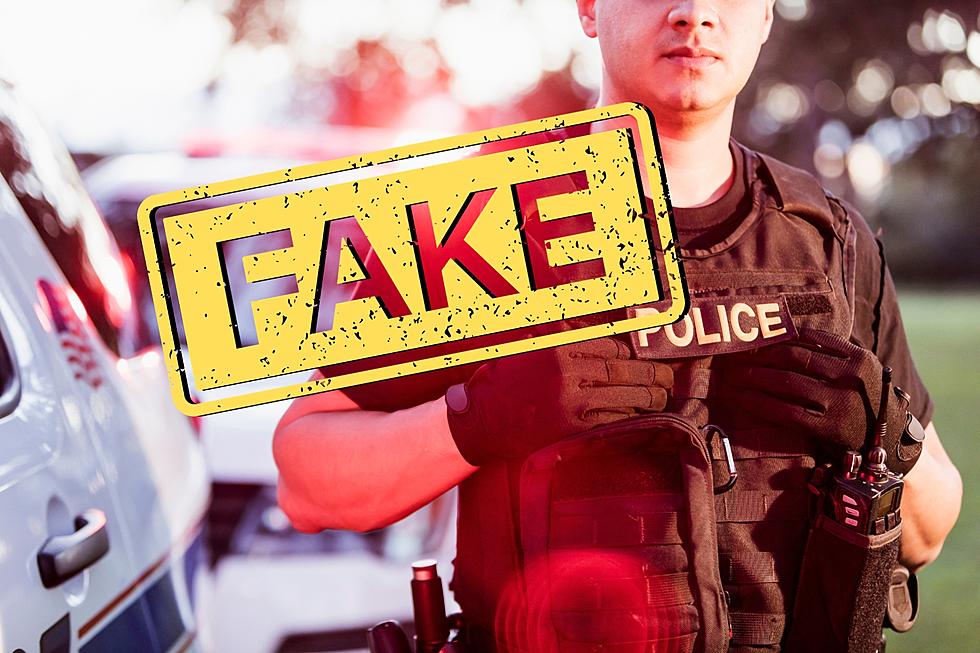 Police Searching For Several Fake Cops in South Jersey, One Armed
Fake cops wanted in NJ - Photo: TSM Illustration
Authorities in South Jersey are asking you to be vigilant as they search for several men who are impersonating police officers in the region.
First incident
The Winslow Township and Lindenwold Police Departments in Camden County say the first incident happened during the early morning hours of September 28th.
At around 4:45, two men attempted to stop a vehicle on Waterford Road and Route 73 in Winslow.
The victim/driver pulled over and was approached by the men who were wearing badges around their necks.
The duo advised the victim/driver that he had a headlight out and was a suspect in a robbery. The pair then advised the driver that they wanted to search his vehicle. Luckily, the driver, feeling uncomfortable, requested a marked police vehicle be present. That's when the fake cops returned to their vehicle and left the area.
That vehicle was described as a maroon four-door sedan, possibly a Ford, with police/strobe lights.
One suspect is described as a Black male with a light complexion, about 60 years old, with short black hair and patchy facial hair. He was wearing a Carhartt-style jacket.
The second suspect is only described as a man.
Second incident
Officials in Lindenwold say on the night of September 30th, their officers responded to the 700 block of E. Elm Avenue for a report of possible police impersonators.
Upon arrival, officers located two male victims who reported that they were approached by two male suspects who were dressed like plain clothes officers. The suspects searched the victims and stole money from them. When one of the victims confronted the two suspects, one of the suspects displayed a small handgun. The suspects then ran from the area and entered a red four-door sedan with a Pennsylvania license plate.
In this case, the vehicle was described as a red four-door Ford sedan with a Pennsylvania license plate and an emergency light affixed to the roof.
One suspect was described as a tall white man with short hair or balding who was last seen wearing black boots, gray pants, and a black long-sleeved jacket. He may have been wearing glasses and he had a gold badge on a neck chain.
The second suspect was a white man with brown hair who was wearing khaki pants, tan work boots, a dark long-sleeved shirt, and a black baseball cap worn backward, with a gold badge on a neck chain.
Were you a victim?
Detectives are asking for the public's assistance with identifying these suspects and vehicles and they would like any other victims to report their incidents to police.
If anyone in an unmarked vehicle attempts to pull you over and you feel uncomfortable, please slow your vehicle down, activate your hazards, drive to a well-lit area, pull over, and call 911.
Lindenwold Police can be reached at (856) 784-4800 and the Winslow Township Police Department at (609) 561-3300.
20 Things That Shock People After They Move to South Jersey
Gallery Credit: Chris Coleman
Exclusive Pictures: Do You Remember Echelon Mall in South Jersey?
Once upon a time, the Echelon Mall in Voorhees was a premier shopping destination in South Jersey. Let's go back in time and remember what it was like in all its glory.
Gallery Credit: Chris Coleman
More From WPG Talk Radio 95.5 FM