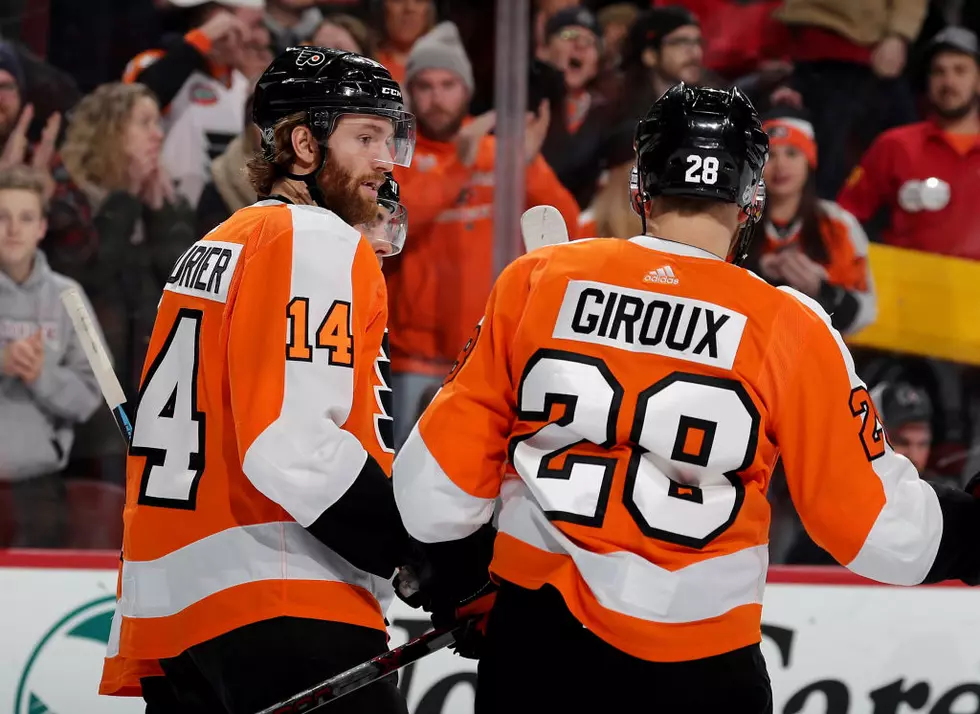 Flyers Hand Out Team Awards for 2017-18 Season
(Elsa/Getty Images)
The Flyers honored several players prior to Thursday night's game in the annual team awards ceremony.
Here are the players that were honored.
Bobby Clarke Trophy (Team MVP): Claude Giroux
This was no surprise. Giroux has not only been the team's leader throughout the season, but a career-high 30 goals and 97 points entering Thursday's game was quite the resurgence.
Barry Ashbee Memorial Trophy (Best Defenseman): Shayne Gostisbehere
This was probably a toss-up between Gostisbehere and Ivan Provorov, but Gostisbehere's offensive surge certainly helped give him the edge. Gostisbehere is the first Flyers defenseman to top 60 points since 1993-94, so he's in some elite company. His improved defensive play surely played a factor as well.
Pelle Lindbergh Memorial Trophy (Most Improved): Sean Couturier
There were a good number of players you could give this too, but Sean Couturier's scoring touch and career year in production made this one a pretty easy pick, especially when you consider how long he's been in Philly already. It is also a player-voted award, so his teammates were directly responsible for this result, which tells you a lot about how Couturier is viewed in the locker room.
Yanick Dupre Class Guy Award: Sean Couturier
Couturier took home more hardware with the Yanick Dupre Class Guy Award. Rewarded for sportsmanship, Couturier is certainly a team player who has garnered the respect of many.
Gene Hart Memorial Award (Most Heart): Sean Couturier
Couturier's big night in the Flyers award ceremony continued with the Gene Hart Award for most heart. It's hard to pinpoint one guy more deserving than another. Truth be told, Couturier is one of the few Flyers who has played in every game and certainly put forth an effort. Sometimes it doesn't always show up on the scoresheet, but Couturier's defensive role mixed with his offensive production make him one of the most valuable members of the team.
Toyota Cup (Most '3 Stars' Points): Claude Giroux
The Toyota Cup is presented to the Flyers player who earns the most 3 Star selection points. It should come as no surprise that the Flyers MVP was right at the top of the list. Giroux takes home that award.
More From WPG Talk Radio 95.5 FM