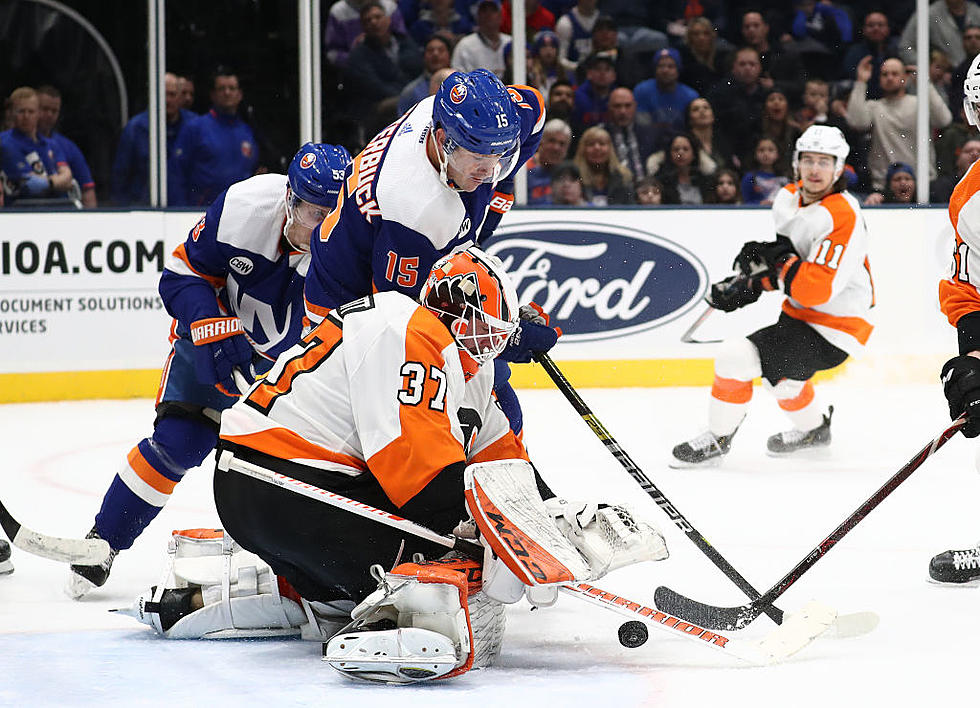 Flyers-Islanders: Postgame Review
(Al Bello/Getty Images)
Facing a depleted Devils lineup to open the weekend was a different animal than what the Flyers got to start a week of difficult games in their playoff push. They make two trips to face the Islanders this week with a home game against the Capitals in between.
Their first trip to Long Island proved to be a success.
The Flyers didn't carry the play for most of the night, but took advantage of the opportunities they had to keep hanging around in the playoff picture with a 4-1 win over the Islanders.
More in our Postgame Review.
Laughton Gets Rewarded - This game was going to be gut-check time for the Flyers. Jake Voracek was already out with a lower-body injury before the game. Just minutes into the game, Nolan Patrick took a puck off the side of the head. His day was done too.With two forwards out of the lineup, the Flyers had 10 left for the remainder of the game. They needed players to step up.Scott Laughton was right in the middle of that. His goal was a just reward for a hard-working effort. In between, he did a lot of the little things that keep a team moving through the difficult times. He remained strong on the forecheck, solid in the neutral zone.It wasn't going to be a perfect game with 10 forwards splitting the playing time, but Laughton remained the energetic player he is. So often this season, he has shown that, gotten the opportunity to potentially contribute offensively and not been able to finish. His goal to make it 3-0 providing a cushion that was going to be difficult to overcome for the Islanders.
Elliott Strong Again - It's hard to imagine what this result would have been without Brian Elliott. Elliott got back in goal after having Friday's game off and didn't miss a beat from the form he had leading up to this game.Elliott's last few games have been very solid, certainly a good audition for the Flyers or any other team that may want his services next season.Elliott has always been capable of this. He had the Flyers recovering from a slow start to the season before his injury really sent things off the rails. That's going to be the biggest concern for Elliott moving forward.During this playoff push, it may seem like there isn't much confidence in Elliott to do what Carter Hart has done and provide that stability in goal. But he's giving you that in these last few games. He'll likely carry the load moving forward until Hart returns.
Sanheim Keeps Growing - What a year this is becoming for Travis Sanheim. Another game, another goal for the young defenseman who keeps growing right before our eyes.Sanheim has really seen his game become more complete in the last half of this season. He's playing with a lot of confidence, showing the offensive skill set that can make him a star while being solid on the defensive end. He's fit right in with Ivan Provorov on that top pairing.Perhaps the thing that is most impressive is how his game has elevated with the increased ice time and bigger role. It can be too big, too soon for some players. The fact that the Flyers treated Sanheim as a sixth or even seventh defenseman a year ago and held him out of games as a healthy scratch seems baffling now. Sanheim's got a ton of talent and he keeps showcasing it with every game.
Konecny's Physical Side - When the Flyers made the trade at the beginning of the week sending Wayne Simmonds to Nashville, it was certainly a question as to how the Flyers would make up for his edge and physicality in the lineup. Ryan Hartman's addition was supposed to be one way, and it has been to an extent.But it probably wasn't expected from Travis Konecny.In the last two games, Konecny has done it all. He has three goals, including the opening tally of Sunday's win, all while showing his physical and protective side. It's a welcome addition to a Flyers lineup that hasn't missed a beat since Monday's deadline, earning points in all four games played since Monday, including three wins.
Stepping Up - At this time of the season, you need players to step into big roles. We already mentioned how Scott Laughton stepped up his game.You could say a number of players rose to the occasion in this game and have been rising to the occasion all week. Sanheim, Konecny and Oskar Lindblom have been excellent. In addition to Laughton, guys like Phil Varone and Corban Knight got more playing time and handled it well, doing a lot of the little things that help a team win.Getting players to step up in these moments is what makes a team a contender for the playoffs. The Flyers still have a long road ahead and not a lot of time left to get help to make it happen. They may not get any closer in the playoff race. But they are stringing together successful results at the right time, and it could make for a hungry hockey team next season.
The Flyers were on the short end of shot attempts in all three periods at 5-on-5, finishing the game with a 41.84 CF%. But the Flyers took advantage of scoring chances, getting 14 high-danger scoring chances. Despite allowing 20 high-danger scoring chances as well, they were able to get the goaltending from Elliott and survive those chances.
Radko Gudas finally picked up his 100th NHL point with an assist on Konecny's goal. He also led the way with five hits and one blocked shot in 15:23.
More From WPG Talk Radio 95.5 FM