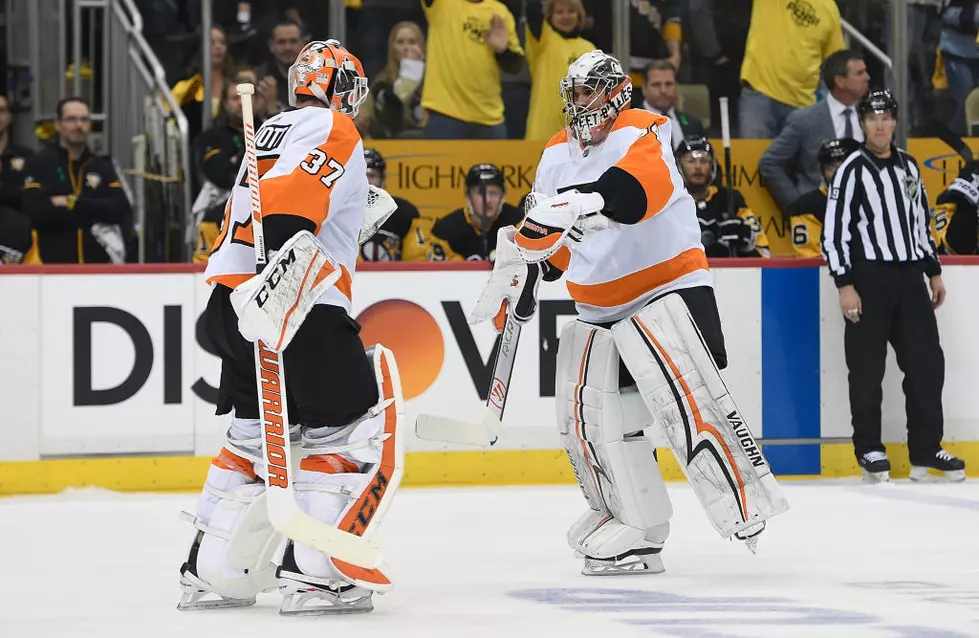 Flyers-Penguins: Game 1 Postgame Review
(Justin Berl/Getty Images)
It's a series, so one game doesn't make a series. But this one was certainly telling.
There's no way to truly know if this was a sign of things to come in the series until Game 2 on Friday, but much like the four regular-season meetings between these two teams, one team was clearly superior.
The Penguins obliterated the Flyers with a 5-0 victory in Game 1 that brought, well, everything into question.
Let's get to it with our Postgame Review.
Turnovers - It's not even just that there were turnovers that led to goals for the Penguins, it was who was coughing up the puck.The Flyers have a number of rookies and players making their playoff debut in the lineup for Game 1. At the end of the night, the only two players who didn't have a negative plus-minus rating were Oskar Lindblom and Travis Sanheim, both rookies.

Wayne Simmonds, Sean Couturier, Andrew MacDonald, Jake Voracek...they all were on the end of some brutal turnovers. You can't even call them giveaways, because if you went by the official box score, the Flyers had just seven in the game. It was way more than that.

This was a pretty terrible game for a lot of veteran players who have been in the playoffs before and certainly know the Penguins well enough to know that this kind of effort doesn't come close to getting it done.

Puck control is going to be crucial to this series. In Game 1, the Flyers were careless with the puck far too often, struggling to clear the zone and protect the puck, and they learned the hard way how the Penguins can make you pay for that really quick.

Special Teams - On paper, it was not a bad night for the penalty kill. Even on the one power-play goal for the Penguins, the Flyers had successfully killed off the penalty to within the final 10 seconds to that point.It was in those final 10 seconds that the Flyers completely abandoned the front of the net and allowed a tic-tac-toe passing play to result in an easy goal.

Additionally, the Flyers power play was awful. Nothing was generated, and while two of those opportunities came when the game was already way out of hand, a couple of early opportunities in the first period provided a chance to chip away at a lead that was still potentially manageable.

Elliott Looks Shaky - Surprise! We're talking Flyers goaltending in a playoff series again.Brian Elliott looked like the goalie from Calgary in Game 1. Last year's playoffs were a disaster for Elliott and they started that way in this game.

Pittsburgh's first goal was a bad rebound from Elliott, he couldn't cut down a deflection that went under his arm on the second goal and let in a stoppable backhand from Evgeni Malkin on the third. The last two goals were not nearly as much on him, but by that point, the damage was beyond done.

Petr Mrazek was not terrible in relief, but the Flyers don't have room for a goalie carousel in the playoffs. It leaves Dave Hakstol with a decision to make ahead of Game 2, go with the relief netminder who looked a little more stable, or turn back to Elliott. With Hakstol, I'd expect the latter, but you certainly never know.

All-Star Game - By the third period, this looked more like an All-Star Game than a playoff game.Look, the Penguins boast a ton of star power and are without question a superior team on paper. That's a fact. But there's having star players and the storyline of seeing what they can do against another team -- and their stars -- and there's letting star players run wild without much of a challenge.

Sidney Crosby scored a hat trick. Malkin scored a goal. Jake Guentzel scored a goal and had three assists. There were only six Penguins players who did not pick up a point, the most shocking being Phil Kessel. That's pure dominance.

To make matters worse, the Penguins did this primarily against the Flyers top two lines that are going to have to defend against them for the entire series. Claude Giroux and Couturier were minus-4. So was Shayne Gostisbehere. Michael Raffl was a minus-3.

This is a team that needs to adjust to find a way to keep up with the Penguins. You don't just discover speed and skill. You are what you are. But you can try to discover new ways to take that away from the opposition.

That's just the thing about the Flyers though. They struggle to adjust. They struggle to make on-the-fly changes within a game and from game-to-game.

More than just the players needing to make adjustments and find a higher gear, this is as big a test as there is for Dave Hakstol. This team needs to be better in Game 2, at least to make it more competitive. It's certainly a big question if they can do that much.

Time to Regroup - There's no other way to look at it. As bad as Game 1 was -- and it was historically bad -- the Flyers have a game on Friday against the Penguins in Pittsburgh for Game 2.It is a series, not just one game. But that game was telling, and if you can't regroup and reach a new level of play, this is going to be a quick series.

So it is on to Game 2 on Friday, and it needs to be better in every area. It's on the Flyers now to not only be better, but be prepared for what Pittsburgh brings in response to this Game 1 spectacle.
More From WPG Talk Radio 95.5 FM