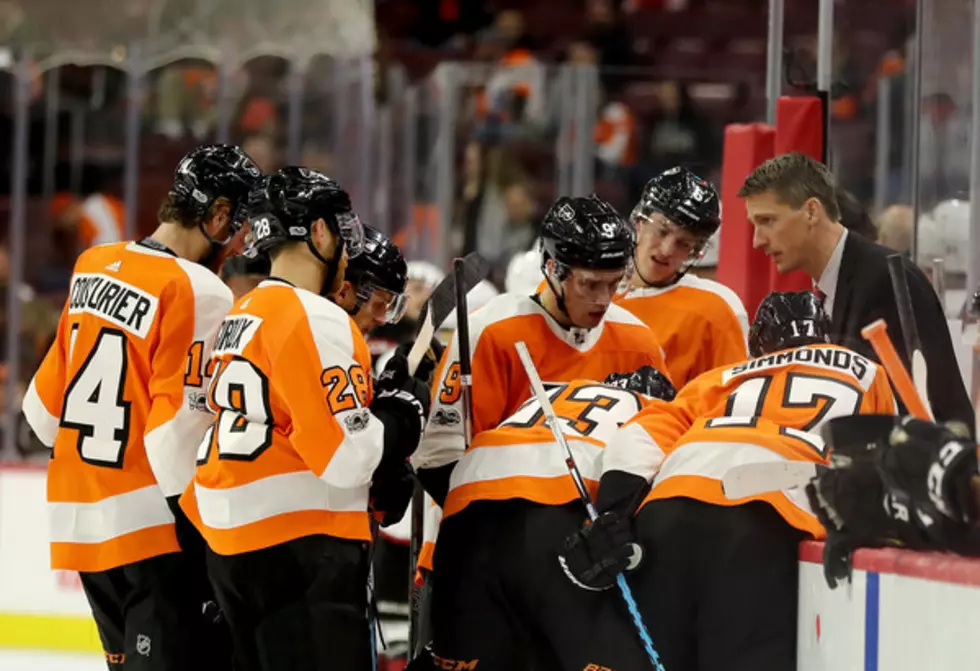 Flyers Scoring Depth Woes are Complete Team Problem
(Elsa/Getty Images)
Before Tuesday's shutout loss, where the Flyers went 0-for-2 on the power play, the frustration was already apparent. Wayne Simmonds was asked about the lack of power play success and gave a sharp answer back.
"It will come," Simmonds said. "You guys always, every single year you guys do the same thing. It is what it is."
The frustration is growing. Ron Hextall talked about the lack of secondary scoring before Saturday's loss, also a shutout. Dave Hakstol might be pleased with the effort, but effort isn't scoring goals and the message is just getting tired.
The Flyers even tried to take some form of action to snap out of their scoring funk ahead of Tuesday's game. The top line was left untouched and the two middle lines were shuffled with Dale Weise moving up and Valtteri Filppula moving down.
A scoring drought like this isn't just the players problem. It's a coaching problem. It's a management problem. And it's catching up with the Flyers fast.
This is really nothing new. The Flyers have always struggled with something. If it isn't secondary scoring or scoring in general, it's defensive play. If it isn't defensive play, it's the goalie. If it isn't the goalie, it's scoring. It's a vicious circle.
Right now, the Flyers are on the not scoring portion. They couldn't ask for much more out of their goaltending, notably Brian Elliott, who has started four games in November and allowed five goals. He's 1-3-0 in those games, each loss being a shutout.
Defensively, the Flyers have really managed to stay afloat more or less. Ivan Provorov and Robert Hagg, given their overall inexperience, have been a solid top pair. Travis Sanheim is progressing as a defensive player and trying to do more offensively, but when everyone is snake-bitten, you're not going to generate much. The rest of the group -- Shayne Gostisbehere, Radko Gudas and Brandon Manning -- have also been fine.
After all, as a team, the Flyers have allowed just 12 goals in six games this month, and three of them have been empty-net goals. The nine goals with a tended net average out to 1.5 per game. Literally, scoring just two goals per game could be the difference for the Flyers.
The problem falls on the players because there are no adjustments. When the neutral zone is clogged, as it was in both games against Minnesota, stretch passes don't work. You need to counter with a mix of speed and physicality to get positioning and be hard on the puck if you're going to play dump and chase. The Flyers haven't had the speed they showed at the start of the season, and it's just too small a team to be overly physical.
The frustration is also setting in. You can see the players that try too hard to make the perfect play. Keith Jones said it on the broadcast on Tuesday night. Looking for the perfect play is no way to snap out of a scoring slump. You need to go to the dirty areas and literally force the puck into the net.
But this is also a coaching problem. A team doesn't get shut out five times in 18 games by accident or by running into a hot goalie. Yes, that will happen from time to time, but five times in less than 25 percent of the season? That's unacceptable.
As a coach, you have to make adjustments too. And adjusting the lines to move a player like Weise up and Filppula back just doesn't seem to make any sense. It starts putting perfectly reasonable bottom-six players into glorified middle-six roles where they don't belong.
It is because of things like this that Dave Hakstol is having difficulty being accepted by many fans. This is a move that he defended following Tuesday's loss, almost to a fault.
It also falls on management. At the end of the day, these are the tools Hakstol has to work with. And while it's his job to put the pieces in the right places, it's Ron Hextall's job to provide pieces for the coach to work with.
The Flyers are still strapped by injuries to an extent. Nolan Patrick is nearing a return, but a player skilled in many facets of the game like Patrick is missed when he's out for an extended period of time, now nine games. Wayne Simmonds is nearing a month without a goal and has just two assists in that time. It's clear he's feeling the effects of some nagging injury, even when the team insisted he is 100 percent.
So while Hextall's hands are tied as well, he's stockpiled young forward talent of late and a lot of it is stored at the AHL level. Danick Martel leads the AHL in scoring. Oskar Lindblom is starting to come into his own as a professional player. Mike Vecchione was the AHL's Rookie of the Month for October and scored two more goals on Wednesday for the Phantoms. So while the Flyers are struggling with production, it's not like they don't have options.
But when you have as much cap space tied into dead weight on the NHL roster, you almost have no choice but to ride it out. That's where the Flyers are now, hoping for some easy goal that makes that ride a short one, especially after going almost eight full periods of hockey without a goal.
More From WPG Talk Radio 95.5 FM