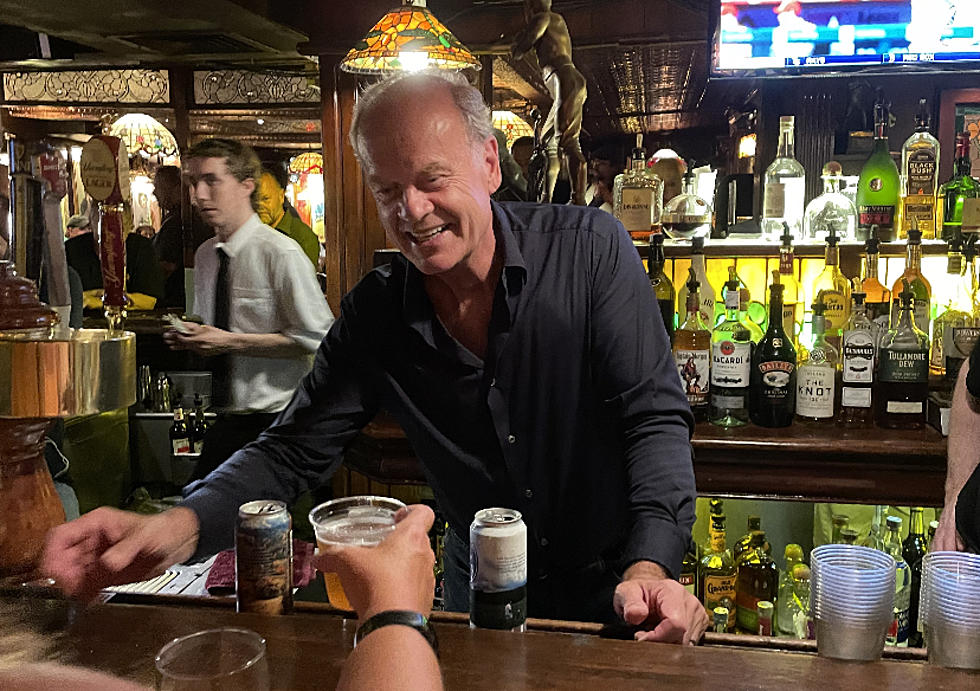 Good Guy Kelsey Grammer makes 2 Stops Today In Atlantic City
Kelsey Grammer at Atlantic City's The Irish Pub - Don P. Hurley photo
It's been an exciting day in Atlantic City.
The very talented and very nice Kelsey Grammer spent time at both The Irish Pub and Steel Pier, today.
During both stints, Grammer spent quality time as a Celebrity bartender.
Grammer brought his star power to The World's Play Ground (WPG) and didn't disappoint.
Grammer is best known for playing Frasier Crane on two iconic television series … Cheers and Frasier.
In 2015, Grammer founded The Faith American Brewing Company, which is what brought him to Atlantic City today.
The sole reason Grammer founded the company was to generate economic activity in the Catskills area of upstate New York.
Grammer said, "Finally we hit on this one. The ale, The Faith American Ale. And I thought that's just right, just like Goldilocks," said Grammer.
During Grammer's time in Atlantic City, he has been generous with his time and kind to so many people that  he has met, during his two stops.
Grammer posed for countless photos with numerous fans and onlookers.
I have interviewed Grammer on-air in the past. He is one of the most generous and kindest guests that I've ever talked with.
Grammer is the winner of :
3 Golden Globe Awards
5 Primetime Emmy Awards
1 Screen Actors Guild Awards
1 Tony Award.
Grammer has won 26 major awards overall and has been nominated for major awards a staggering 102 times.
Kelsey Grammer is a really good guy … proving that Good Guys don't always finish last.
Don Hurley always takes high quality, professional photos for countless people, professional organizations, business, industry and charities.
One good turn, deserves another.
Here's Don Hurley and Kelsey Grammer, from earlier today at The Irish Pub.
2021 guide to beach badges in New Jersey
Get ready for summer by reserving your beach badge. See what this year's policies will be at the Jersey Shore beaches.
Beautiful sunflower fields to visit in NJ 2021
Among reasons why the "Garden State" remains a fitting nickname for New Jersey — late summer means the arrival of sunflower season.
There are at least six fields, spanning the state. Some are in bloom as of early August, while others are planned to peak from late August to late September.
Calling or emailing before heading out is always advisable if weather appears to be an issue.
More Cape May County, NJ, News
More From WPG Talk Radio 95.5 FM