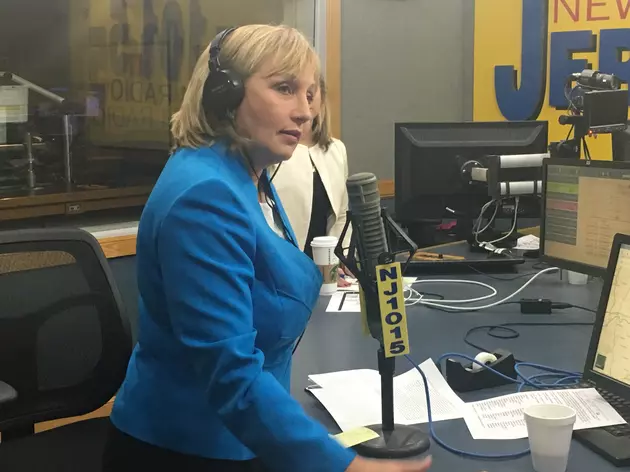 GOP Lt. Gov Pick Carlos Rendo — Dems Campaign is a 'Slap in the Face' to Cops
Lt. Gov Kim Guadagno (Chris Swendeman, Townsquare Media NJ)
TRENTON — Less than 24 hours after being announced as current Lt. Gov. Kim Guadagno's running mate in the race for governor, Carlos Rendo took on two big state political issues.
The Cuban-born mayor of Woodcliff Lake — who hopes to take lieutenant governor role Guadagno currently occupies — said his comparison in his acceptance speech of  Democrats Phil Murphy and Sheila Oliver to the regime he left with his family in 1966 was a shot at Oliver's visit to Cuba. Gubernatorial candidate Murphy announced Oliver would be his running mate this week as well.
"You judge people by their actions. When you have an opponent that travels to Cuba and meets with the repressive regime that my family fled and never even asks them about Joanne Chesimard, who is a cop killer, it's beyond me. It's a slap in the fact of the law enforcement community of this great state," Rendo told WPG's sister station, New Jersey 101.5, Friday morning.
Guadagno announced Rendo as her running mate on Thursday. His first job would be to audit state government and find savings that would be put toward property task relief, the campaign has said. One of his first targets would be a project Gov. Chris Christie has championed, but Guadagno opposes.
"That was just ridiculous. Spending $300 million on Statehouse renovation while people in New Jersey are hurting? No way," Rendo said.
Rendo, an attorney, was 2 years old when his family moved to the United States in 1966. He co-chaired Marco Rubio's presidential team in New Jersey in 2016, when Rubio, of Florida, challenged Gov. Chris Christie and others for the GOP nomination, eventually won by Donald Trump.
More From WPG Talk Radio 95.5 FM