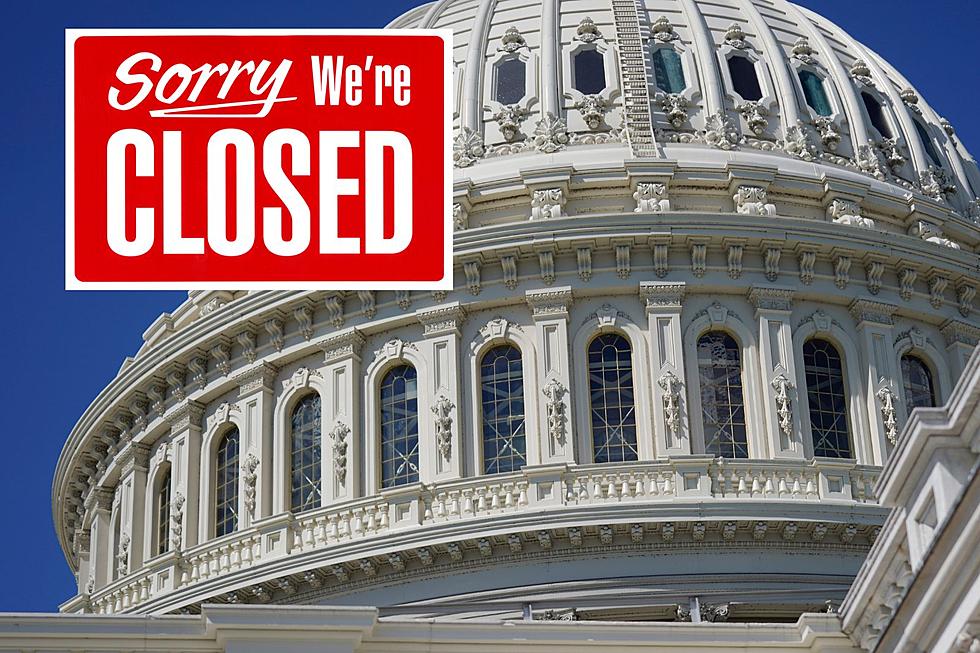 How a Federal Government Shutdown Will Affect NJ
U.S. Capitol dome in Washington (AP Photo/Patrick Semansky, File) (Canva)
Gov. Phil Murphy scolded Republicans for "playing games" as a federal government shutdown gets closer.
If Congress cannot pass the 12 appropriations bills or approve a stopgap measure by 11:59 p.m. Saturday, the current funding will expire. Federal agencies have to stop all nonessential work and will not send paychecks as long as the shutdown lasts.
Republican infighting
House Speaker Kevin McCarthy's last-ditch plan to keep the federal government temporarily open collapsed Friday afternoon when hard-right Republicans refused to support a plan with steep spending cuts and severe border security protections. They called the provisions "insufficient."
The Senate is working on its own bipartisan plan that is widely supported by both parties to continue funding at current levels. The Senate plan is headed for votes this weekend.
Gov. Murphy criticizes 'extremist' GOP
Murphy made a baseball analogy in his statement and blamed the "the extremist wing of the Republican party" for being "hellbent on making an unforced error."
"It's clear they lack both the will to govern or even the slightest desire to do right by the people who elected them," Murphy said in his statement.
"These extreme House Republicans have turned their backs on the bipartisan budget deal President Biden negotiated with Congress, and now Speaker McCarthy has allowed their chaos to march us toward a government shutdown that will damage our economy and national security."
One of the appropriations, sponsored by U.S. Rep. Tom Kean, R-N.J. 7th District, would provide $300 million in funding for Ukraine.
What will remain open
U.S. Postal Service - the agency is self-funded and not dependent on taxpayer dollars.
Military, FAA, TSA - Members of the military, and workers for the TSA  and FAA including air traffic controllers, Customs and Border Protection are considered "essential" and will stay on the job but will not be paid until the shutdown is over when they will receive back pay
IRS: Two-thirds of its staff would be furloughed.  Remaining workers will be paid but most of the agency's core functions would stop during a shutdown.
Social Security, Medicare benefits will not be interrupted.
What about parks in New Jersey & New York?
A National Park Service spokeswoman told New Jersey 101.5 that the impact of a shutdown on New Jersey's nine national parks, including Ellis Island and the Gateway National Recreation Area in Sandy Hook, has yet to be fully determined.
All parks will be open on Sunday if there is a shutdown but then close on Monday. Individual parks are reviewing the park service's shutdown contingency plan to determine how they would be affected.
What will cease operations
— Food and Drug Administration's food safety inspection
— Environmental Protection Agency inspections
— Disaster relief by the Federal Emergency Management Agency
— State employees whose employers depend on federal funds to operate and must shut down certain activities that the government has deemed non-essential.
President Joe Biden said that during the last federal government shutdown in 2019 the pay of over a million federal employees was held during the 35-day closure.
During that shutdown, Murphy urged the state's 800,000 federal workers to file for unemployment and had Supplemental Nutrition Assistance Program benefits sent early. He also asked banks and financial institutions to assist.
Murphy and Jon Bon Jovi hosted a dinner for furloughed federal workers at the JBJ Soul Kitchen in Red Bank.
LOOK: Movie shoot underway in Atlantic Highlands, NJ
Production crews were seen all along the downtown area. Wonder what it could be?
Gallery Credit: Mike Brant
Watch your step! Hard to spot turtle and snakes found along NJ hiking trails
Examples of New Jersey wildlife that might get in the way of where you're stepping along our wooded paths.
Gallery Credit: Mike Brant
More From WPG Talk Radio 95.5 FM