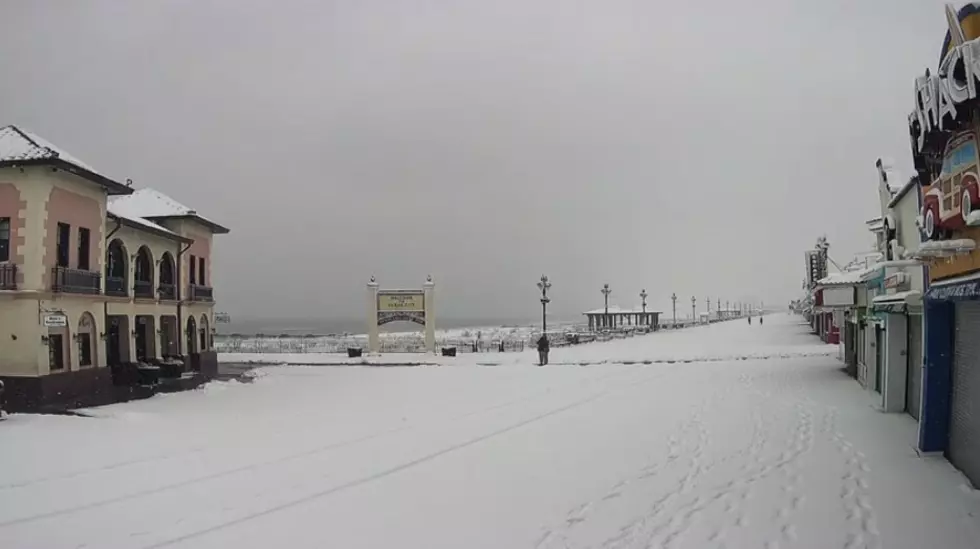 LOOK: Time-Lapse Video of Snowstorm on Ocean City Boardwalk
YouTube
Nothing captures the entirety of Thursday's snow event in South Jersey like this time-lapse video on the Ocean City Boardwalk.
The storm, which left 3 to 5 inches of snow across South Jersey, was the perfect weather system for time-lapse video, lasting almost 12 hours.
The video, caught by the At the Shore Cam from the Hollywood Arcade South at 8th and the Ocean City Boardwalk, gives us a prime view of the famous Ocean City Music Pier and the boardwalk stretching south.
The video begins in the quiet pre-storm, late-night hours on the deserted boardwalk and then follows as the snow lightly fills in the scene with a blanket of white.
As the snow intensifies, we watch Ocean City Police cars and an occasional boardwalker whip by at a fever speed in the darkness of early morning.
With the sunrise, you see the first sign of show removal, as a man with a snow blower clears a path from the boardwalk entrance to the Music Pier. In the background, a beach tractor cleans the 9th Street beach as the snow falls.
Daylight brings more foot traffic to the boardwalk and heavier bands of snow, which accumulate to two or three inches. This sight of a snow-covered boardwalk, so infrequently seen in South Jersey, has always been one of my wintertime favorites.
In the blink of an eye, a plow truck clears one lane along the store-fronts of the boardwalk, as more curious Ocean City residents talk their morning walks and enjoy the winter wonderland.
Just after a minute into the video, the sight of a fast-moving cloud system brings an 'oh-wow' moment.
The final 20 seconds of the time-lapse follow through the afternoon in Ocean City and the boardwalk lights coming on as dusk again takes over on the boardwalk.
And...fade to black.  All in 100 seconds.
Very cool!  Watch it for yourself.
South Jersey sees several inches of snow on February 11, 2021
More From WPG Talk Radio 95.5 FM