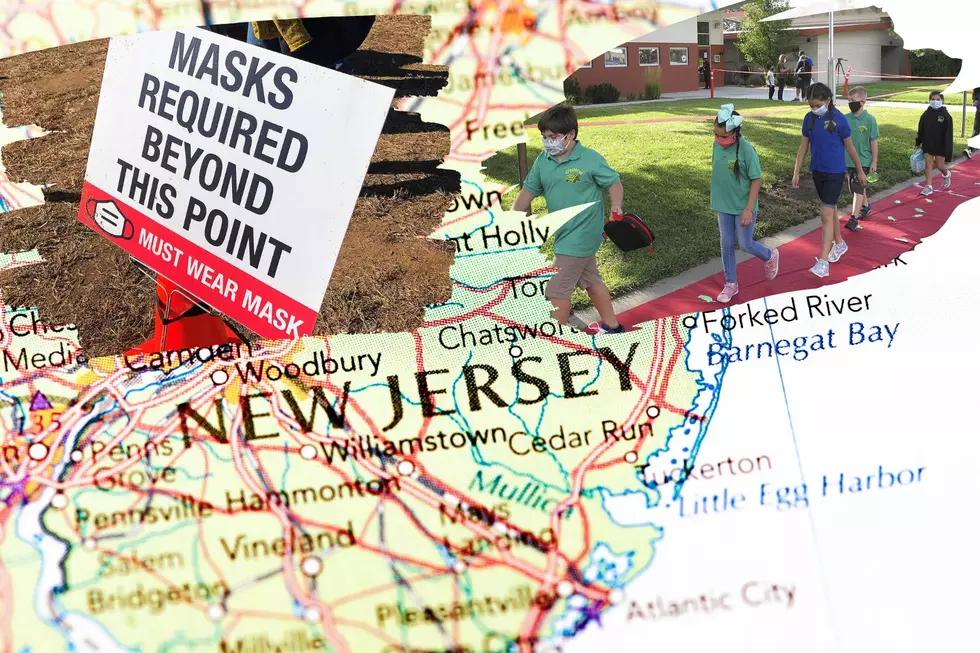 Mask-up! CDC Recommends Masking in All NJ Counties
AP/Townsquare Media illustration
The U.S. Centers for Disease Control and Prevention are urging all New Jersey residents to mask up again as the number of COVID-19 cases rises rapidly.
State and federal health officials have become increasingly concerned with the XBB COVID variant. It is highly contagious and has shown resistance to both vaccine protections as well as immunities from past COVID infections.
Dr. Ed Lifshitz, director of communicable disease service for the New Jersey Health Department, told us, "We're paying very close attention to that, we're watching what's happening in hospitals both in New Jersey and around the world really on an ongoing basis."
According to the CDC, New Jersey residents should be wearing a mask both indoors and outside as community transmission levels are now "high" in all 21 counties.
As of Monday, New Jersey is reporting 4,336 new confirmed and probable COVID cases and 13 new deaths.
The rate of transmission (r/t) in New Jersey is 1.02. An r/t over 1.0 indicates the virus is actively spreading.
An offshoot of the omicron variant, XBB may be highly contagious, but it does not seem to cause illness as severe as previous strains.
In addition to the rise in the number of COVID cases in recent weeks, health officials are also concerned with high numbers of flu and RSV virus. The so-called "triple-demic" has led to an increase in the number of people going to hospital emergency rooms in New Jersey.
The XBB variant is now the dominant strain moving through New Jersey, accounting for 75% of all new infections.
Recommending from the CDC to mask-up does not automatically trigger a mandate in New Jersey. Gov. Phil Murphy has indicated he does not anticipate new restrictions.
A handful of New Jersey schools are now requiring masks for all students and staff as well as on school buses. Murphy has left the decision to mask up to the local districts.
25 richest people in America and how they did it
More From WPG Talk Radio 95.5 FM