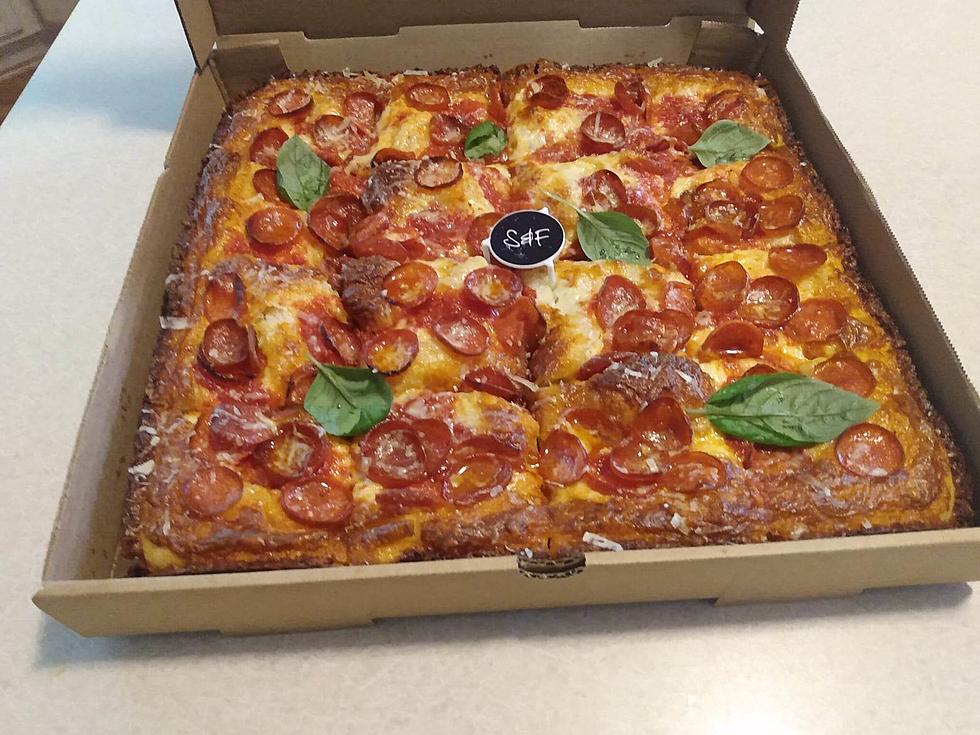 NJ's Best Pizza, Found in Egg Harbor Twp., is Amazing
JK
I knew it the first time I looked at the pizza before I even tasted it.
Actually, I knew it the first time I saw the man who made my pizza.
Maybe I really knew it the first time I heard about the man and his pizza!
I have found the best pizza in New Jersey - but, I'm not the first to realize it.
Last year, I heard about this "secret pizza" in Egg Harbor Township. It wasn't a pizza place - it was a pizza that a local man prepared in his house. You had to pull into his driveway at a certain time of the night, flash your lights three times, then whistle a nursery rhyme.
I'm exaggerating, but just a little.
The  "place" is called Squares and Fare. You need to follow them on Facebook. Visit the website, too. Once a month or so, Squares and Fare "opens" up pizza times, usually several weeks in advance. When that happens, you need to log on at the appointed time and literally reserve your pizza. (Pay for it, too.)
If you're lucky enough to grab a day and time slot, you reserve your pizza, then show up and pick it up. (No light flashing, horn honking, or whistling needed.)
I will tell you, I literally tried for months to get in the queue for this much-discussed pizza. In the end, I managed to secure my pizza!
On the day of my pizza "appointment", I received a text reminder about picking up my pie.
I drove to the appointed address - a modest home in EHT - at the appointed time, parked my car in the driveway, and waited.
Shortly after my scheduled time, the house's front door opened, and here came my pizza. It was carried by the chef, a young Italian-looking fellow, wearing an apron. If ever I saw a man who looked like he was born to make pizza, it was Dominic.
We exchanged pleasantries, and he handed me my pizza and I was off down the road, headed home.
All the way home I smelled the pizza, and I could tell this was no ordinary Jersey pizza. I mean, there were LEVELS of deliciousness that I was smelling. I resisted the urge to open the box until I arrived home and placed it on the kitchen counter.
Again, even before I opened the box, the smell was totally delicious.
I had ordered the "Modern Pep" (pepperoni) pizza, and I was ready to open the box.
OH MY GOODNESS! Look at that! It's not a pizza, it's a work of art.
On the TV series Seinfeld, there's an episode with the "Soup Nazi." One of the jokes is that he suffers for his soup. Well, Dom suffers for his pizza!
This is not some thin, fold-in-half-and-watch-out-for-the-hungry-seagulls slice, this was pizza made with love!
The crust was thick but airy, and the sauce was simply delicious.
Even though the Modern Pep is made with "Diablo Sauce" it was not the least spicy. It was delicious!
Other members of my family - my fellow pizza lovers  - also loved it! No one found it spicy, no one found it anything but delicious. The pepperoni was not-your-supermarket pepperoni, and the sauce was - incredible.
Now, I caution you, if you're idea of "good pizza" is two-for-$16.99, this isn't it.  It's about $30 a pop for a 14x14 pie.
Was it worth the wait? Most definitely.
Now there are great local places that make great pizza. For example, I love South End Pizza's Buffalo Chicken Pizza. This, though, was like a whole different experience altogether.
If anyone needs me, I'll be busy trying to secure my next pizza "appointment."
"Hidden Gem" Restaurants in South Jersey
Every South Jersey Restaurant Guy Fieri Has Ever Visited
Guy Fieri has been to so many New Jersey restaurants, it feels like he lives here, lol! Check out all the places he has visited in South Jersey
More From WPG Talk Radio 95.5 FM