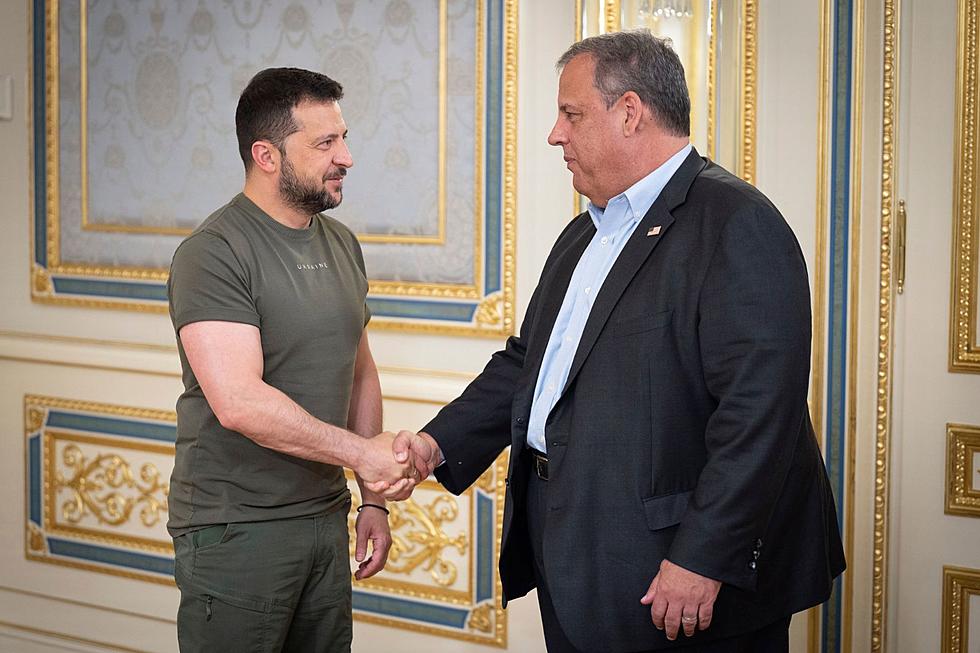 NJ's Christie Reiterates Support of U.S. Aide to Ukraine
Ukrainian President Volodymyr Zelenskyy, left, and former New Jersey Gov. Chris Christie shake hands during their meeting in Kyiv, Ukraine 8/4/23
BUCHA, Ukraine — Former New Jersey Gov. Chris Christie has become the second 2024 Republican presidential hopeful to visit Ukraine, meeting Friday with President Volodymyr Zelenskyy in Kyiv, touring ravaged villages and saying what he saw further impressed to him that the U.S. should continue to help the country fend off Russia's attack.
"I feel the cruelty, and you feel the inhumanity," Christie said during his trip, which included stops in the villages of Bucha and Moshchun, both on the outskirts of Kyiv. "And you look at this, and I don't think there's anyone in our country who would come here and see this and not feel as if these are the things that America needs to stand up to prevent."
During the visit, Christie placed flowers at the memorial complex in Bucha, where there was a mass grave of civilians, and prayed for Ukrainian volunteers who were killed by Russian troops at the beginning of the war in Moshchun.
"I really suspected that if I saw this in person that it would arm me to be a better advocate for support, I think, from the stuff I saw today just now, and the meeting with the president ... I think I'm much better off," Christie said after his meeting with Zelenskyy.
No political talk
Christie said the Ukrainian president spoke about his desire for there to be bipartisan support for Ukraine, but made no comments on the U.S. presidential race.
"He was very complimentary of President Biden, some of the things that he's advocated for, but also made clear that he thought there was more that needed to be done," Christie said. "There was no conversation at all from him about, you know, the race that I'm in."
The GOP presidential field is divided over the future of U.S. involvement in the war.
Christie has leveled criticism over Ukraine at President Joe Biden, whose administration has provided more than $43 billion in military aid to Ukraine since Russia invaded in February 2022. On Friday, he said that "America needs to stand up to prevent and to work with friends like the Ukrainians to give them the means necessary for them to be able to secure once again their liberty and their freedom."
During a July town hall in Columbia, South Carolina, Christie called the conflict "a proxy war between the United States and China," arguing that Ukrainians "don't want American men and women on the ground in Ukraine, nor would I send American men and women on the ground in Ukraine. What they want is the hardware to have a fair chance to beat the Russians."
Former U.N. Ambassador Nikki Haley and former Vice President Mike Pence have both also warned that the failure to stem Russia's advances could lead to further global conflict, potentially signaling to China that it could be successful in moving to overtake Taiwan.
Last month, the U.S. announced $345 million in military aid for Taiwan, in what is the Biden administration's first major package drawing on America's own stockpiles to help Taiwan counter China and to deter China from considering attacking, by providing Taipei enough weaponry that it would make the price of invasion too high.
Pence made a trip to Ukraine in June after launching his own presidential bid.
Christie supports aid to Ukraine
Former President Donald Trump, the current GOP front-runner, has called on congressional Republicans to halt all military support for Ukraine until the Biden administration cooperates with their investigations into the president and his son Hunter Biden's business dealings. Trump has also argued that he could stop the war swiftly after returning to the White House.
Florida Gov. Ron DeSantis — who drew criticism in March from a number of fellow Republicans who expressed concern about his dismissive description of the conflict as a "territorial dispute," subsequently walking it back — has endorsed a cease-fire and argued that the U.S. should not get more involved in the war.
In an interview with The Washington Post aboard a train from Poland to Kyiv, Christie said he hoped Republican voters had begun to reconsider which of their party's candidates will have the bandwidth to grapple "with the really complicated issues that the next president will have to deal with" — including Ukraine — "and who is going to be dealing with trying to keep themselves out of jail."
Christie also told the Post that some of his fellow GOP contenders, including Trump, DeSantis and biotech entrepreneur Vivek Ramaswamy "are giving people a false choice, which is 'Well, we can only do one thing; we can either improve things in the States or we can help Ukraine,'" calling that "a ridiculous statement."
Your hurricane emergency kit: what to pack
CHECK OUT: All the free beaches in New Jersey
The Jersey Shore is notorious for charging for access to the beaches. But there are a few that let you get in for free.
More From WPG Talk Radio 95.5 FM