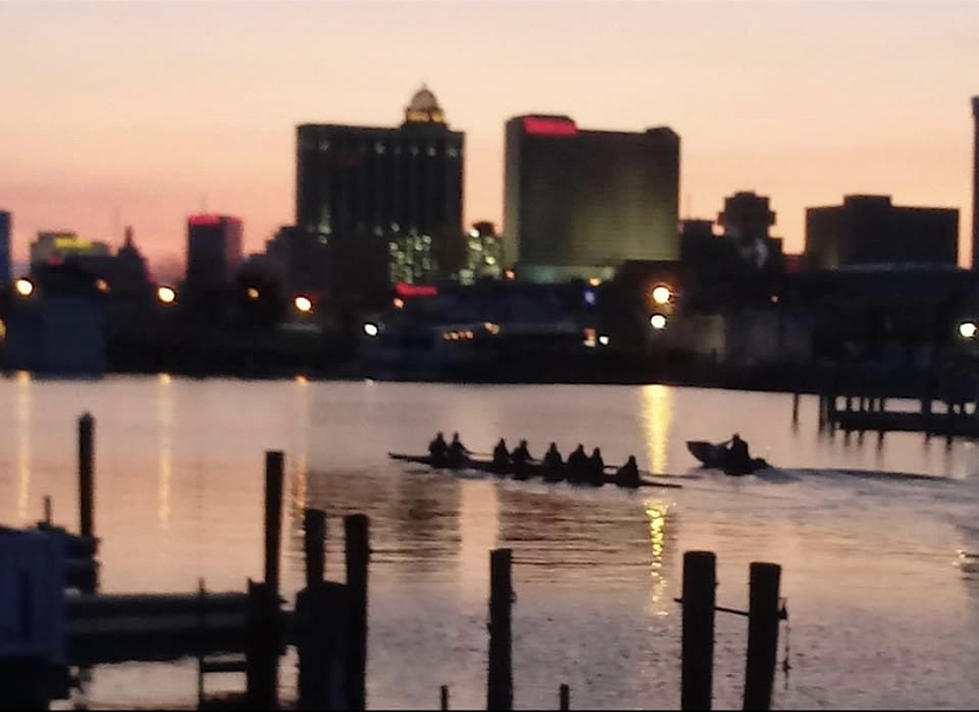 No Deal With Atlantic City – Stockton Crew Moves To Brigantine
Stockton University photo
BREAKING NEWS & OPINION EDITORIAL
STOCKTON UNIVERSITY HAD NO CHOICE BUT TO MOVE ITS ROWING PROGRAM TO BRIGANTINE AFTER THE ATLANTIC CITY BOARD OF EDUCATION REFUSED TO OFFER A RENEWAL DEAL FOR THEIR CONTINUED USE OF THE ATLANTIC CITY BOATHOUSE FACILITIES.
STOCKTON UNIVERSITY HAD WORKED COOPERATIVELY WITH THE ATLANTIC CITY CREW PROGRAM.
This is a shameful and a completely unnecessary situation, as Stockton University had been a great working partner, steward and took exceptional care of the Atlantic City Boathouse; making numerous improvements, donating equipment to the Atlantic City Public Schools, donating boats ($ 10,000 plus a piece), ergometers, they provided elite training and more.
It was a perfect partnership for the past three years, until suddenly it wasn't.
We have reported several times in the past that Stockton University and the ACBOE came close at one time to swap the iconic Carnagie Library Building (which Stockton owns) for the Atlantic City Boathouse, owned by the Atlantic City Board of Education.
It would have been a great trade, as Atlantic City pays a fortune each month for office rental space.
The state of New Jersey should have stepped up and "forced" this equitable trade years ago.
Atlantic City in general, and, the Atlantic City Board of Education has been making terrible public decisions as of late.
Both Atlantic City Mayor Marty Small and Atlantic City Superintendent of Atlantic City Public Schools, La'Quetta Small (his wife) are Stockton Unuversity graduates.
It makes this small-minded decision regretful and more inexplicable.
We have exchanged back-and-forth communications with Stockton University Rowing Head Coach John Bancheri regarding their move to Brigantine.
We can confirm that the highly successful Stockton University Rowing program has been forced to move their highly successful program to Brigantine, when they were unable to work-out a new deal with the Atlantic City Board of Education.
Bancheri did not hold back and explained exactly what happened.
"Our original agreement with the ACBOE was for three years (2018 through 2021). We were informed in late December, 2021 that the School District intends to expand the use of the facility and they stated we should find an alternative location as soon as possible," said Bancheri.
"We attempted to negotiate an extension, but with changes in the superintendent position and the School Board, those negotiations have been delayed and our season needed to begin, said Bancheri.
Bancheri was very complimentary regarding the "incredibly warm welcome by Mayor Vince Sera, former Mayor Guenther, and Kay Papandrew of the Brigantine Rowing Club," said Bancheri.
"They immediately provided us with space and were thrilled to have us back, as we rowed out of the Brigantine Boathouse for years. That boathouse has erg machines, weight room, locker rooms, etc., and we could not be more appreciative of their hospitality," concluded Bancheri.
It is disgraceful that Stockton University, which has invested millions of dollars in Atlantic City, with a multiple phase, sprawling Atlantic City campus had to move its program outside of Atlantic City to Brigantine.
Stockton University also funded - with charitable working partners - a fabulous summer rowing program for underserved children in Atlantic City.
Can you imagine how disruptive this is for the Stockton University Rowing program? However, they are winners and they are resilient.
The truth is, the Atlantic City location was better, however, Stockton University's Brigantine partners are much better, reliable and more stable to work with.
It's a public disgrace.
This is a developing story.
Atlantic City's Firsts Throughout History
Blast From The Past: Brigantine Castle And Pier
Remember Brigantine Castle? It was legendary in its prime. Take a look at the old haunted attraction that used to call Brigantine home and the pier that used to be there, too!
More From WPG Talk Radio 95.5 FM