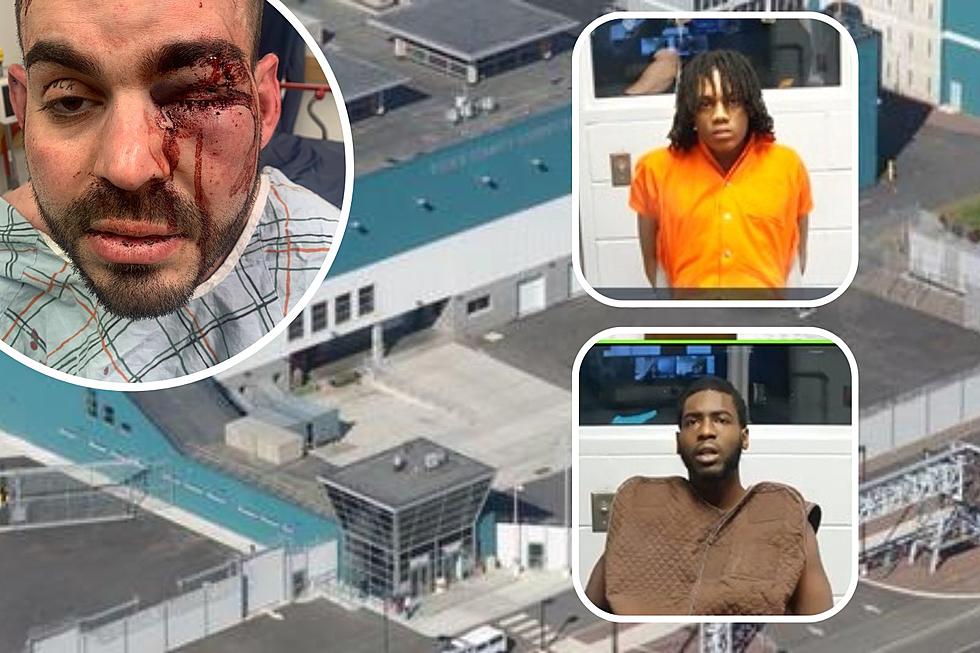 PHOTOS: NJ corrections officer nearly loses eye after attack by inmates
Assaulted correction officer (PBA Local 382), Denarius Hemphill (top), Shakur Richardson (NJ Courts)
🔴 An  corrections officer was attacked at the Essex County Jail
🔴 The 16-year-veteran nearly lost his left eye
🔴 The union president says this is indicative of wider problems
---
NEWARK — Two inmates at the Essex County Corrections Facility were charged Thursday in the brutal assault of a corrections officer Wednesday morning, the third in the past three weeks.
PBA Local 382 president David Matos told New Jersey 101.5 that the officer, a 16-year veteran, was carrying breakfast trays when he was approached by an inmate who bumped him "aggressively." As the officer tried to bring the inmate down, other prisoners joined in and punched and kicked the officer.
An inmate stabbed the officer with a makeshift shank made of debris, according to Matos.
"He needed stitches in his earlobe just above the artery in his neck. Three staples on top of his forehead and three centimeters above his left eye," Matos said. "It was real close. He almost lost his left eye."
Denarius Hemphill and Shakur Richardson were arraigned Thursday in Superior Court on aggravated assault charges. Matos is trying to get the charges increased.
"We come to work to make everybody safe and go home safe and nobody should be experiencing assaults like this," Matos said.
What's behind the violence?
Two other officers were also seriously injured in the past three weeks after assaults by inmates, according to Matos.
"They got into the scuffle and the inmate ended up on top of the officer and basically pounded them out," Matos said.
Matos sees three factors contributing to the violence and tension between corrections officers and inmate: overcrowding, understaffing and a lack of a contract.
"People are being hired here but then they leave. We've been out of a contract for six years so we're definitely underpaid. We're the most underpaid jail in the state," Matos said. "Being the biggest jail in the state we should be top priority. Plus we make a lot of money for the county with a federal contract."
The prison is on a restricted activity schedule which has officers responsible for 64 inmates in two units. It restricts inmate activity which frustrates them and leads to violent incidents.
Keeping up morale
Matos said it's hard to keep morale up among officers.
"I tell everyone to look out for each other, we're in this together. My offices are really exhausted because they're being mandated left and right because we're short-staffed. They work 16-hour shifts a lot. And I just try to keep morale up as much as I can. I do stuff within the union, trying to keep up communication hoping for better days," Matos said.
Essex County Department of Corrections Director Ronald L. Charles did not respond to New Jersey 101.5's request for comment about the assault.
RLS Metro Breaking News,was the first to report the assault.
Dan Alexander is a reporter for New Jersey 101.5. You can reach him at dan.alexander@townsquaremedia.com
Click here to contact an editor about feedback or a correction for this story.
NJ street fairs return for the 2023 spring season
All New Jersey street fairs are listed in date order. Please note that some dates have now passed for the spring season, but future dates are listed for those returning later in the year. Click/tap on the links for each street fair below for more info.
LOOK: 20 American foods that raise eyebrows outside of the US
Stac



ker
compiled a list of 20 unusual and uniquely American foods that might raise eyebrows outside the U.S.
NJ teachers and educators caught in sex crime busts
Over the past several years, state lawmakers have taken on the challenge of dealing with accused child predators among the ranks of teachers and educators.
In 2018, the so-called "pass the trash"
law
went into effect, requiring stricter New Jersey school background checks related to child abuse and sexual misconduct.
The follow individuals were arrested over the past several years. Some have been convicted and sentenced to prison, while others have accepted plea deals for probation.
More From WPG Talk Radio 95.5 FM