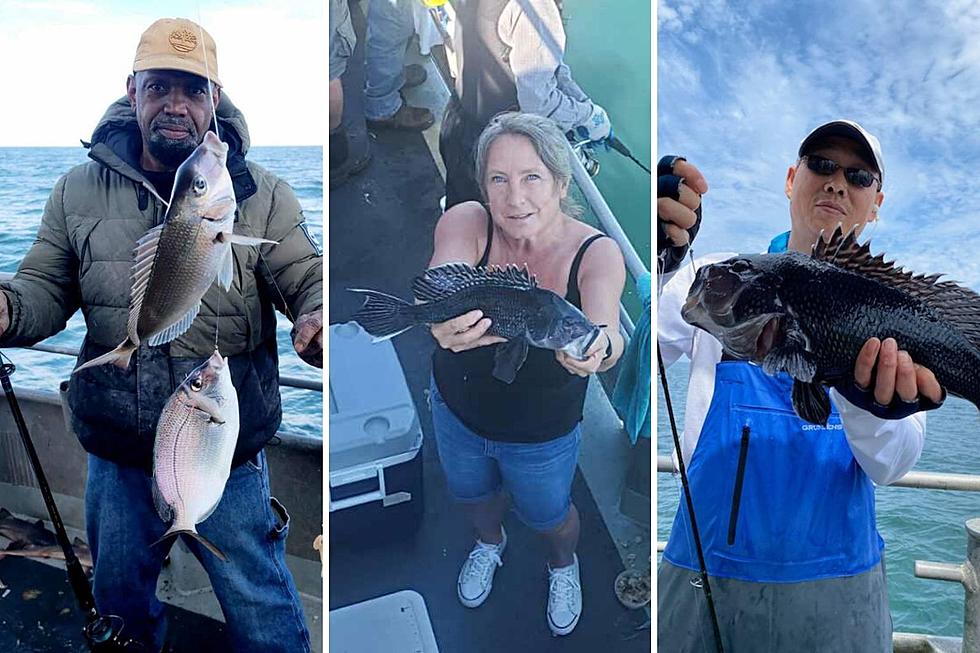 South Jersey Fishing: Fluke, Sea Bass and Porgy Regs Set for '23
The Dauntless
It's all systems go for the 2023 season when it comes to summer flounder (fluke), sea bass, and porgies (scup) as per the dates, lengths, and bag limits decided on by the NJ Marine Fisheries Council last Thursday after reviewing four options and listening to public input.
For the flatties, it's a re-do of '22: a three-fish take, two between 17 and 17.99 inches, and one 18 inches or greater. For Delaware Bay, a trio at a 17-inch minimum, and from the surf at Island Beach State Park, a pair with a 16-inch minimum. The season opens on May 2 and runs through September 27.
There are cuts in the sea bass and porgy recreational fishery in spite of healthy stocks. This is within the framework of a new "ecosystem" management plan that takes many variables into consideration and that, in the years to come, will allow greater flexibility and hopefully longer seasons and/or greater bag limits.
For the sea bass, it's a 10.6% reduction, but with a uniform, 12.5-inch minimum length limits through the segmented seasons. The option chosen shakes it out like this: May 17-June 19 (10 fish); July 1-August 31 (1 fish); October 1-October 31 (10 fish); November 1-December 31 (15 fish).
It's the recreational porgy fishery that's taking a shot to the tackle box and, for party boats in particular, a whack to the wallet.
The '23 scup situation is this: August 1-December 31 with a 10-inch minimum length and a 30-fish bag limit.
This comes to a 10.3% cut.
This is a whopping 20 fish reduction and a significant loss of days, particularly in the winter (December and through February) season when the jumbo scup (often referred to as pie plates and hubcaps) are on the offshore wrecks and are mixed with cod, pollock, and hake.
"It (the new season/bag limit) is horse#&%*!" exclaimed Capt. Willie Egerter III, owner/skipper of the Dauntless, a well-known bottom fishing boat sailing from Pt. Pleasant that's all about sea bass, porgies, tog, winter flounder, and, if around, ling.
Never one to mince words, Captain Willie pointed out that scup stocks are strong and that the way the season is set up, coupled with the segment with the one sea bass limit, there would be little for his army of rail riders to fish for during that time, save for maybe triggerfish.
Lost fishing opportunity. Lost income.
He continued, "There are other boats out of this port that sail for fluke during the summer, and I'm not going to interfere with them. Porgies are a staple with us, and we're losing a significant part of its days and bag limits-wise."
Not all is lost, as there might be some changes made to the porgy regs after meetings in April.
And so it goes.
The good with the not-so-good is how it looks this season for those dropping lines for fluke, sea bass, and porgies.
A couple of additional requirements for 2023, the first being that gaffing of striped bass when fishing recreationally is prohibited. This is to assist in reducing striper mortality and to be in line with the Interstate Fishery Management Plan for Atlantic Striped Bass.
The second is that the use of non-offset, non-stainless steel (so as to corrode) is required when fishing for sharks recreationally. The exceptions are when
using flies or artificial lures. This will help reduce mortality and will comply with the IFMP for Atlantic Coastal Sharks.
7 reasons why you need to kill the spotted lanternflies infesting NJ
LOOK: Here are the pets banned in each state
Because the regulation of exotic animals is left to states, some organizations, including The Humane Society of the United States, advocate for federal, standardized legislation that would ban owning large cats, bears, primates, and large poisonous snakes as pets.
Read on to see which pets are banned in your home state, as well as across the nation.
More From WPG Talk Radio 95.5 FM