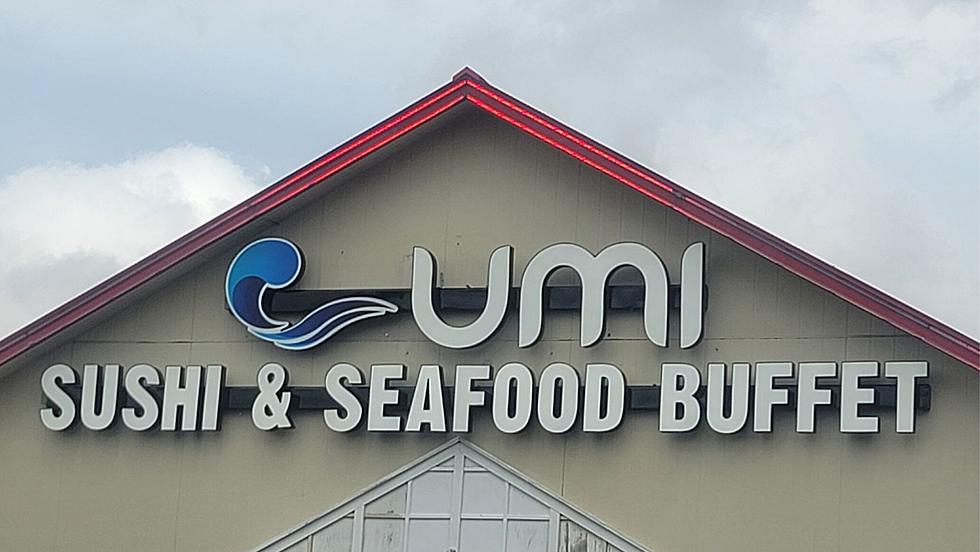 New Sushi and Seafood Buffet Now Open in Egg Harbor Twp., NJ
Photo: Steve McKay
Ever since the Golden Corral in Egg Harbor closed several years ago, there's been a lot of speculation about what would take its place in a location in front of Boscov's in the Harbor Square shopping Center off Black Horse Pike.
It's a great location about a a half-mile off of the Garden State Parkway and has ample parking.  It's been almost a year since the announcement that UMI Sushi and Seafood Buffet would be opening their doors.
Then, as time went on, it seemed like nothing was happening.  It began to look like perhaps, they weren't coming after all.
Last week, that all changed.
Workers appeared to be coming and going and a sign on the front door said they'd be open August 28th.  I went in for a closer look, and there really didn't seem to be much action.
Then I stopped by at lunchtime of the 28th, and the change was impressive.  A big sign appeared on the building, the parking lot was bustling, and UMI Sushi and Seafood was open for business.
I stopped in for lunch and the first thing I noticed was how bright and clean it looked.  As I was taken to my table, I was surprised by the number of people enjoying lunch.
I happen to enjoy buffet-style dining, and it's become more difficult to find buffets in our region.  UMI didn't disappoint.  They offer a nice selection of sushi as well as some sashimi.  Sometimes a place like this skimps on the actual fish.  UMI's sushi was made with a generous amount of fish and was very fresh.
They offered a decent selection of other fish options as well.  From squid to scallops and oysters and shrimp and crab legs, you'll be surprised by the high quality of the food.
You'll also find some typical Chinese food available as well.  This isn't your typical Chinese buffet.  There's a noticeable difference in the quality.
Service was friendly, and though I doubt they'll maintain the same number of staff, they were very friendly, and service was good.
As for pricing, lunch will set you back 20 bucks, and that includes your drink.  The dinner buffet is a bit steep at $32.99, and that is their all-day price on weekends.  One funny thing about their pricing, is that they don't go by age.
Kids between 3-4.5 ft. pay $6.99, 4.4-5ft. $10.99, and kids over 5 feet pay adult price.  I suppose if you're 50 years old but less than feet tall, you'll pay less.  Interesting concept.
I'll say this, this is a unique concept in our area. It's worth a try.
15 South Jersey Restaurants You Must Try This Summer
50 South Jersey Restaurants & Bars That Only Take Cash
More From WPG Talk Radio 95.5 FM