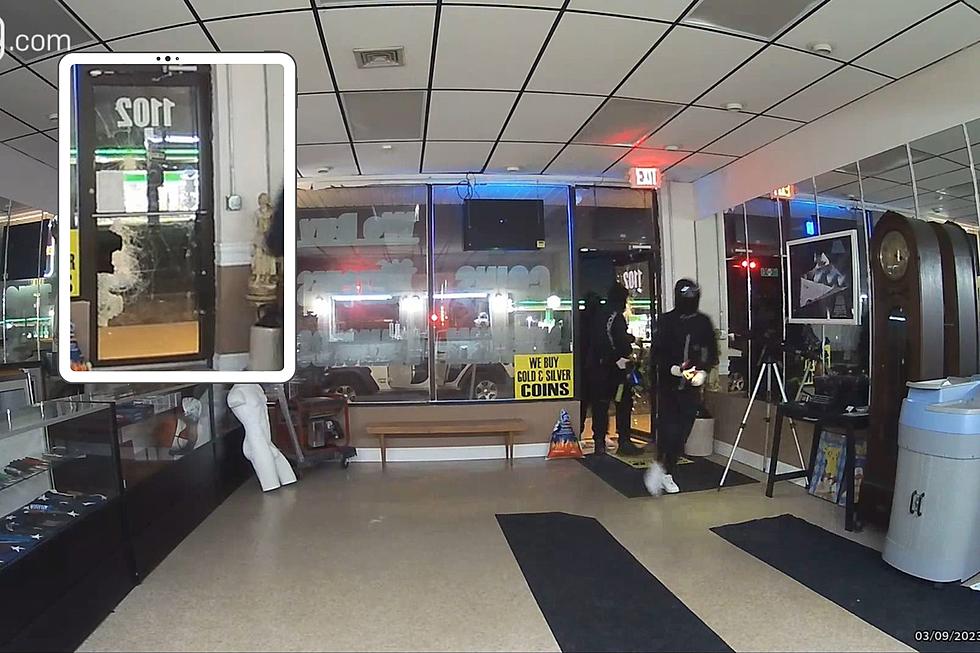 Video: Burglars Smash Into NJ Jewelry Store, Get Away With Nothing
Burglars enter Cash For Gold and More 3/9/23 (Cash For Gold and More)
ABERDEEN — Security cameras captured images of a trio of disappointed thieves who broke into a jewelry store early Thursday morning.
Security footage shared by owner Austin Renaud shows the thieves using a hammer to break the glass of the front door of Cash For Gold and More on Route 34 around 5:30 AM. The would-be thieves, dressed all in black and masks, looked almost disappointed as they looked around the showroom and didn't touch the display cases.
"I don't know if I was scoped out prior but generally whenever people come in a popular question that's asked is 'what's the most expensive thing in your case?' And my answer to everyone is 'everything in the case is fake. There's nothing of value in the cases because there's so many smash and grabs," Renaud told New Jersey 101.5.
The display had gold bars, gold coins, and silver bars, which are all fake, according to Renaud.
Getting away with a handbag
The trio went to a room in the back with two safes where the jewels are kept. They unsuccessfully used a crowbar to pry open the safes.
"There were absolutely not successful. I would say they caused more damage than what they got away with," Renaud said. "They got away with a Louie Vuitton bag and maybe some miscellaneous coins and rings that were on my desk."
They were gone in less than a minute.
Aberdeen Police Chief Matthew T. Lloyd told Townsuqare Media it looks like two vehicles were used to make a getaway. He said an investigation between state and local agencies is underway.
Renaud said Matawan and Aberdeen police did a "phenomenal job" and responded immediately after the alarm was tripped.
Lloyd asked anyone with more information on the robbery to call 732-583-4200 X212.
News 12 New Jersey was first to report on the robbery.
Up or down? Average property tax changes in NJ in 2022
Below are the average property tax bills for every municipality in New Jersey last year.
The towns are listed from the biggest cut in the average bill to the highest increase. On the county maps, the deeper red color means a higher increase above 2% whereas the darker green signifies a smaller increase or a reduction.
Each listing also shows how the average tax bill is split among the county, school and municipal governments.
More From WPG Talk Radio 95.5 FM