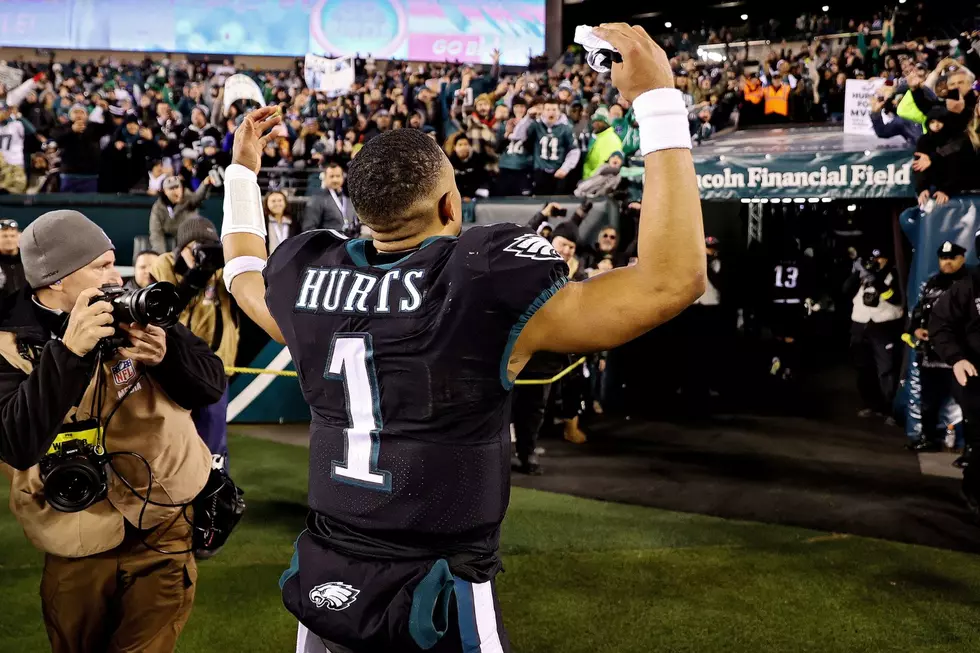 When and Where to Get Eagles NFC Championship Game Tickets
Eagles quarterback Jalen Hurts (Photo: Tim Nwachuku, Getty Images)
Now that the Philadelphia Eagles disposed of the Giants in the NFC Divisional Round playoffs, they'll host the NFC Championship game at Lincoln Financial Field next Sunday.
The winner goes to the Super Bowl.
The Eagles have announced that tickets for the NFC Championship Game will go on sale Tuesday, Jan. 24 at 10 AM. Tickets can only be purchased online at Ticketmaster.com.
There is a four-ticket limit per household and all tickets will be available on a first-come, first-served basis.
Due to the high demand, fans are encouraged to log on to Ticketmaster right when sales open, as there is a very limited quantity available.
The Eagles got to the NFC Championship game, which will be held on Jan. 29 at 3 PM, by beating the New York Giants who play in New Jersey 38-7. Actually, the game wasn't as close as the score indicated.
There had been doubts about the health of Eagles quarterback Jalen Hurts but he looked totally fine going 16-24 for 154 yards and throwing for 2 touchdowns.
After the game, Eagles head coach Nick Siriani compared Hurts to Michael Jordan, according to profootballtalk.com
"To have him out there is like — I know this is high praise, but to have him out there is like having — I shouldn't even go there — it's like having Michael Jordan out there," Sirianni said. "He's your leader. He's your guy. Hopefully, that's the biggest respect I can pay to him comparing his ability to being on the field to a Michael Jordan type. This guy leads. He brings this calmness to the entire team. He plays great football. He's as tough as they come. Yeah, I mean, to me, nobody has played any better football than him this year."
Rock Stars Who Walked Away and Never Looked Back
Sometimes you've just got to move on.
Bands That Broke Up in 2022
Sadly, these bands either announced a breakup, went on indefinite hiatus or broke up entirely in 2022.
More From WPG Talk Radio 95.5 FM