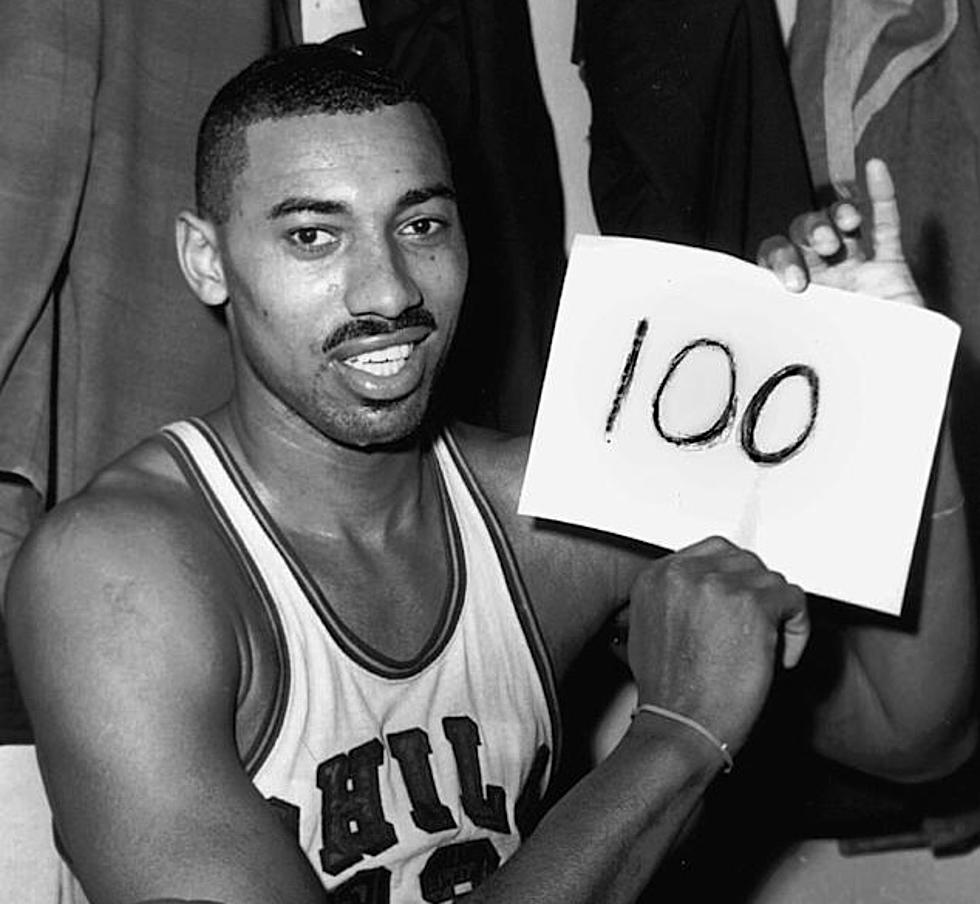 Wilt Chamberlain Scored 100 Points: 1962, Hershey, PA.
Getty Images
They say that records are made to be broken. Whoever "they" are didn't know about what Wilt Chamberlain did 60 years ago, on March 2, 1962.
Chamberlain's record will never be broken!
In Hershey Pennsylvania, Chamberlain scored exactly 100 points, as the Philadelphia Warriors defeated the New York Knicks 169-147.
Chamberlain delivered the most prolific performance in professional basketball history. It broke his previous league record of 78 points.
Chamberlain took 63 shots, (making 57 percent). A very big key was that Chamberlain shot 28 for 32 (87.5 percent) from the free-throw line.
He also pulled down 25 rebounds. Rebound statistics were not kept in 1962.
Chamberlain played for 48 minutes in this record-setting game.
Chamberlain was a poor foul shooter (51 percent) during his entire career. Over the years he switched from conventional technique … to one hand "shot put" … even under hand. Nothing ever worked ... except for this one magical night.
Like the moon landing in 1969, there are vocal conspiracy theorists who don't believe that Chamberlain scored 100 points, or that this game even took place.
It most certainly did. And, actual audio has surfaced that proves it. The legendary Philadelphia broadcaster Bill Campbell called the game. It was not televised.
Here is a link to the final minutes of the record-setting game and Campbell's amazing "call." It's one of the best that you'll ever hear.l in any professional sport.
Chamberlain 100 points – Bill Campbell of WCAU Radio
The audio is about three minutes long. There is allegedly a dictaphone recording of the game that was made by a man named Samuel B. Marcus.
No one has ever been able to locate it over the past 60 years. The fact that the final three minutes has been discovered is incredible.
It's great to have this rare feat memorialized for history. But, it also serves notice to the conspiracy theorists who have denied this once in forever achievement.
I've always marveled over this seemingly impossible feat. However, what inspired me to write this piece was after reading a phenomenal and comprehensive article written today by long-time radio personality and voiceover talent Mark Wainwright for Talkers Magazine.
It's the best article that I've ever read on this subject.
Chamberlain scored 23 points in the first quarter, 18 in the second quarter and 28 in the third quarter for a total of 69 points going into the 4th quarter.
Chamberlain scored 31 points in the 4th quarter to make it exactly 100 points for the game.
Legend has it that the Knicks were fouling any Philadelphia player other than Chamberlain to try and keep Chamberlain from achieving the mystical, magical 100 point mark.
Philadelphia countered by fouling the Knicks, so that they could get the ball back and feed Chamberlain.
Here's a wonderful human interest angle to this iconic game, that a little more than 4000 people attended. Think about that. Only about 4000 people saw the greatest single performance in professional basketball history.
One of them was my very dear friend Tom Cantone, who along with his brother attended the game with their father.
Cantone is now the corporate president of sports and entertainment at Mohegan gaming entertainment Inc.
Ironically, or maybe not, Cantone would one day run the same arena as a young adult, that Chamberlain achieved this scoring feat in Hershey, Pennsylvania.
"I was just a young boy, but, all I remember is the crowd screaming when the last shot hit 100 points… Little did I know that someday I would be running that very arena where history was made and proud to do so" said Cantone.
It's not a hoax. Wilt Chamberlain really did score 100 points in one professional basketball game, held on March 2, 1962.
Cantone was there.
SOURCES: Mark Wainwright, Talkers Magazine, sporting news.com, WCAU & PhillyVoice.com
Hurley's List Of The Best Cakes In Atlantic City & Cape May Areas
The Atlantic City Area Great Hurricane Of 1944 (AMAZING PHOTOS)
More From WPG Talk Radio 95.5 FM