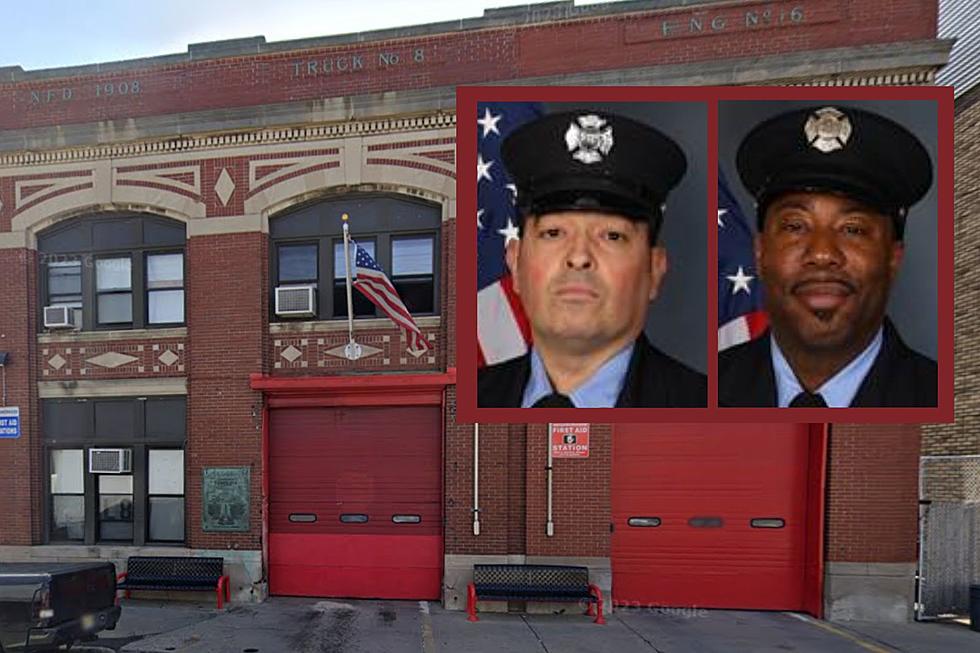 NJ firefighters mourned for 'ultimate sacrifice' in Port Newark cargo ship fire
Fallen Newark firefighters cargo ship fire (Newark Depart. Public Safety, Google Maps)
🔴 2 fallen firefighters mourned after Port Newark cargo ship fire
🔴 The fallen men are Wayne Brooks and Augusto Acabou
🔴 Both firefighters were with Newark Fire Engine 16
---
NEWARK — Two city firefighters killed while helping battle an intense cargo ship fire in Port Newark were being mourned on Thursday.
The fallen first responders were Wayne "Bear" Brooks Jr. and Augusto "Augie" Acabou, both members of Engine 16 in Newark's North Ironbound section, according to Newark Fire Chief Rufus Jackson.
Five other firefighters were also injured while responding to the fire — three of them from Newark's department and two from the Elizabeth Fire Department, according to city officials.
🔴 Brooks recently celebrated birthday, daughter's nursing degree
Brooks served the Newark Fire Division for 16 and-a-half years and was assigned to Ladder 4, Tour 1.
He had just turned 49 in June, according to his Facebook page, where he had celebrated with a fitness routine, among a few other recent family milestones.
His daughter had graduated nursing school this past spring and he and his wife had celebrated their anniversary in May.
"49 Birthday Cycles complete!!!! 50 in view!!! Thank you…. Everyone….for taking jabs.. sending well wishes… birthday shouts.. texts calls!!!! I am always humble… blessed and truly appreciative of it all. Thank you! Thank you! Thank you!!!!" Brooks said in a post on June 4.
Condolences were being shared by friends and loved ones on the same page on Thursday.
🔴 Acabou was also a veteran of the Newark Fire Department
Acabou served the Newark Fire Division for 9 and-a-half years and was assigned to Tour 1.
His brother, Clark Police Captain Miguel Acabou, was among those grappling with the immense loss, according to the mayor of the Union County town.
"Each day first responders around our towns, cities and nations willfully accept risk as part of their daily job. Their families stand at the crossroads of pride and fear each day wondering if they will return," Clark Mayor Sal Bonaccorso said in a written statement. He also urged residents to fly flags at half-staff for the next week in memory of Acabou and Brooks.
Before Wednesday's harrowing tragedy, the last time a Newark firefighter died in the line of duty was 2007, according to ABC Eyewitness News.
"We honor the tremendous bravery and dedication of Firefighters Acabou and Brooks, our two fallen heroes," Newark Public Safety Director Fritz G. Fragé said in a joint release with Jackson and Newark Mayor Ras Baraka.
He continued "Each of these men served the Newark Fire Division with an unwavering spirit of selfless commitment to public safety. We salute each of them and offer prayers of comfort to their loved ones, colleagues, and friends."
The local firefighters' union paid tribute to Brooks and Acabou making the "ultimate sacrifice" while working to keep the people of Newark safe and vowed to support the surviving families.
"The Acabou and Brooks families are part of our family; we will mourn together and hold them tight," Mike Giunta, president of the Newark Firefighters Union, said in a statement on Thursday.
The New York City Firefighter Brotherhood Foundation mourned both fallen firefighters on its own Facebook page, honoring them with a photo of the Engine 16 firehouse.
By Thursday afternoon, the New York Fire Department was among those still tending to the blaze, which had broken out among vehicles being transported on the ship.
Report a correction 👈 | 👉 Contact our newsroom
LOOK: The most extreme temperatures in the history of every state
Stacker
consulted 2021 data from the
NOAA's State Climate Extremes Committee (SCEC)
to illustrate the hottest and coldest temperatures ever recorded in each state. Each slide also reveals the all-time highest 24-hour precipitation record and all-time highest 24-hour snowfall.
Keep reading to find out individual state records in alphabetical order.
NJ breweries with top-rated beer
The reviews are in — see which NJ breweries have the most beers with a great rating on BeerAdvocate.
NJ county fairs are back! Check out the 2023 summer schedule
A current list of county fairs happening across the Garden State for 2023. From rides, food, animals, and hot air balloons, each county fair has something unique to offer.
(Fairs are listed in geographical order from South NJ to North NJ)
These are the best NJ high schools for sports
Stacker
put together a list of the best high schools for sports across New Jersey — using data from Niche that included sports championships, family surveys, student enrollment, athletic participation rate and sports options. Here's the top 25.
More From WPG Talk Radio 95.5 FM