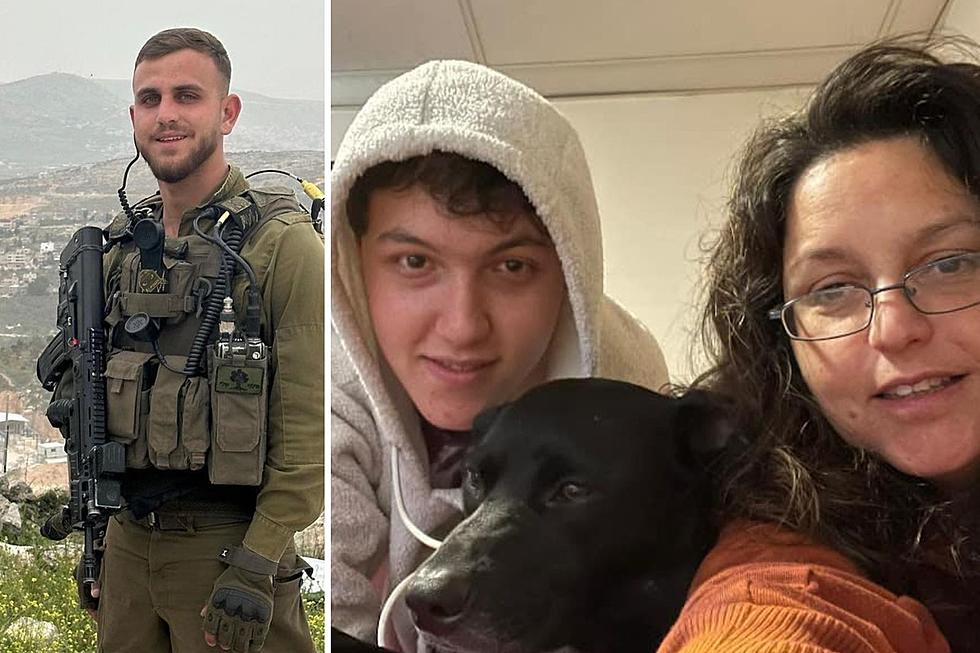 Another New Jersey Native Confirmed Dead in Israel
Itay Glisko, left  (Photo courtesy of Dana Glisko); Laor Abramov, right (Photo courtesy of Michal Halev)
While some New Jersey families continue to wait for word on their loved ones in Israel, others are finding out their sad fate.
The State Department Thursday raised the number of American deaths to 25 following the Hamas terrorist attack on Israel Saturday.
Paramus native dies defending Israel
Among them is Itay Glisko, 20, a Paramus native who was serving with the Israeli Defense Force.  His family moved to Israel when he was 2 but he still has family in New Jersey.
Murphy confirmed his death on his social media Wednesday afternoon.
"My deepest condolences are with Itay's family during this painful time," Murphy wrote.
His sister Dana told Daily Voice Itay was not scheduled to be on duty the morning of the attack and had switched shifts with another soldier.
Another reported New Jersey death
The parents of another missing New Jerseyan, Laor Abramov, 20, wrote on their respective Facebook pages Thursday morning that their son had died.
Laor was a DJ at the Nova music festival that was ambushed by Hamas, the terrorist group that governs the Gaza Strip. The militants killed 250 and others were taken hostage.
"My heart aches on the death of our beloved Or Avramov," David Abramov wrote.
"My only son the love of my life passed from here. The world has come to a standstill," Michal Halev posted.
Laor lived in Hopewell and moved to Israel during the pandemic in 2020.
A missing man found
Edan Alexander, 19, of Tenafly, who is part of the Israel Defense Forces (IDF) Golani Brigade 51st Division is missing.
The governor's office had no update on his status Thursday morning.
Nancy Dubin, of Fair Lawn, wrote on her Facebook page that she heard from her son Ari who is also serving with the IDF.
"I just heard a forwarded message. He's okay - he's going back out but for now he's safe. I'll take it," Dubin wrote.
Father on trip remains missing
Igor Kimenfeld, of Gibbsboro, told NorthJersey.com that his father Daniel Kimmenfeld, 64, has not been heard from since Saturday. He was on Zikim Beach in southern Israel on a fishing trip with a friend.
Igor said he last talked to his dad Saturday who told him he was headed to a shelter.
A ticket home for NJ businesswoman
A Long Branch woman in Tel Aviv at the time of Saturday's terrorist attack told the Asbury Park Press she secured a ticket on a flight home for Wednesday night.
Merryl Kolb, who owns MediSpa by the Shore, said she is running low on her medication for ulcerative colitis.  Kolb said she was in Israel for the first time in 13 years to visit a friend and pray at the Western Wall.
U.S. Rep. Chris Smith, R-N.J. 4th District, said he met with Biden administration officials to push them to come up with a comprehensive plan to bring Americans home from Israel. He said that the plan appears to be coming together and urged the State Department to work around the clock to "catch up for lost time."
Vigils in NJ for victims
Two more vigils are planned for victims on Thursday.  The Solidarty with Israel event takes place at Temple Beth-El in Hillsborough at 7:30 p.m. and will be attended by Lt. Gov. Tahesha Way.  A "Vigil for Israel" at Temple Beth Tikvah & Shomrei Torah in Wayne is scheduled for 7 p.m
Visiting historic Twin Lights in Highlands, NJ: Photos
A virtual tour of the historic Twin Lights National Landmark. Please note that this particular tour was conducted in 2021 while COVID restrictions were still in place. Since then, all mask and COVID related restrictions have been lifted.
Gallery Credit: Mike Brant
LOOK: Movie shoot underway in Atlantic Highlands, NJ
Production crews were seen all along the downtown area. Wonder what it could be?
Gallery Credit: Mike Brant
More From WPG Talk Radio 95.5 FM