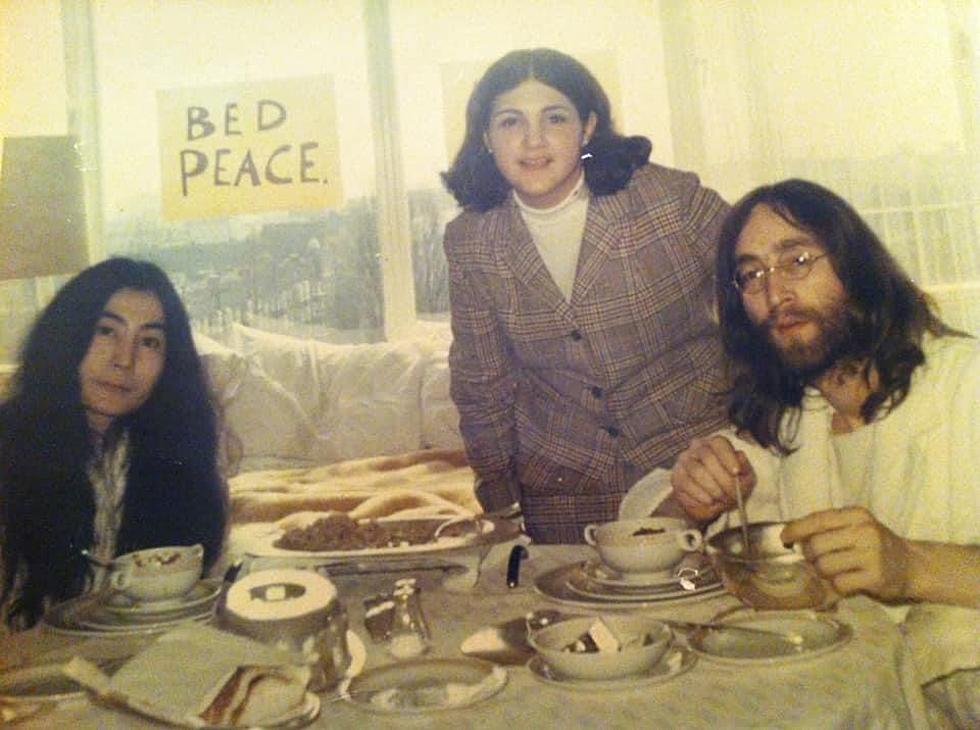 Atlantic City Girl Interviewed 'Beatle' John Lennon & Yoko Ono
Alisa Cooper photo via Facebook.
It's perhaps one of the most unlikely interviews of all time.
It couldn't happen today and it could only happen in 1969 because of the innocence and persistence of a then 16-year-old girl named Alisa Cooper from Atlantic City, New Jersey.
Exactly 54 years ago yesterday, March 26, 1969, Cooper managed to land one of the most difficult interviews on the planet.
In 1969, The Beatles were still together and were in the midst of becoming the most prolific band in music history.
John Lennon was one of the most famous people in the world.
How did a 16-year-old girl from Atlantic City land this high profile interview that every journalist in America coveted?
Cooper literally talked her way into being invited into Lennon and Ono's hotel bedroom during their famous  "Bed-in for Peace."
Cooper is the Daughter of the legendary New Jersey Assemblywoman Dolores Cooper. As a young girl, Alisa learned that all things are possible.
Alisa Cooper is a long-time member of the New Jersey Casino Control Commission and a former Atlantic County Freeholder.
I have been meaning to write about this incredible encounter for years.
Alisa Cooper's Facebook post from yesterday inspired me to do it now.
Here is Cooper's social media post:
"It was 54 years ago today that I had the amazing opportunity to meet and interview John Lennon and Yoko Ono while they were on their honeymoon. They were staying in The Presidential Suite at The Amsterdam Hilton for a week - where they set out to spread their message of peace to the world...and vowed to stay "in bed" for a whole week in what they famously called the "bed-in for peace".
"At various times during the year, I post this picture, when there is a special occasion - to remember and reminisce about the talents and life of the great John Lennon and his outstanding contributions to the world of music," wrote Cooper.
If you're wondering how Cooper pulled this off as a high school student, here's how she did it.
Cooper went to the Amsterdam Hilton Hotel in New York City … she walked into the lobby … picked up a house phone and asked the hotel operator to connect her with John Lennon.
She did not reveal her age, nor the fact that she was 16 years old and on spring break from Atlantic City High School.
What she did say is that she was a talk show host in the United States and that she would like to arrange an interview.
Cooper didn't lie. Did she "stretch" things a little? Maybe. But, she was a broadcaster for a local AM Atlantic City radio station, who reported weekly about school activities.
It was March 26, 1969 and Lennon and Ono were honeymooning on the top floor of the hotel.
Cooper loved The Beatles and she had made her way within 9 floors of John Lennon.
Cooper was with her Mother. She found out where John Lennon and Yoko Ono were and told her Mom that she would be right back and left their dining table.
Good luck met with opportunity. Cooper got to talk with a few people close to Lennon and she somehow talked her way into the interview when she was told to return the next day and that she would be given 10 minutes to interview John Lennon and Yoko Ono.
She had a $ 12 camera and no recording equipment, which she borrowed for the interview.
Here is the photo of Cooper with Lennon and Ono.
In our forthcoming Part 2 article about this most unlikely encounter, we are reaching out to interview Cooper about the content of this 10 minute interview and what questions did she ask John Lennon and Yoko Ono?
Cooper still has the original reel-to-reel audio tape of this once-in-a-lifetime interview.
Cooper proved as a teenager that all things are possible, if you're willing to shoot for the moon.
NOTE: Simply because I can't resist, here is my unlikely 45-minutes with Sir Paul McCartney … my encounter on September 28, 2002. A nearly one-on-one moment that I still can't believe happened.
Here is a link to my article about this extraordinary meeting.
Read More: Sir Paul McCartney In Atlantic City 9/28/02: The Greatest Concert
SOURCE: Alisa Cooper
Atlantic City's Firsts Throughout History
Best Meal Served At Great Atlantic City, N.J. Area Restaurants
More From WPG Talk Radio 95.5 FM